Thea knits



april 2008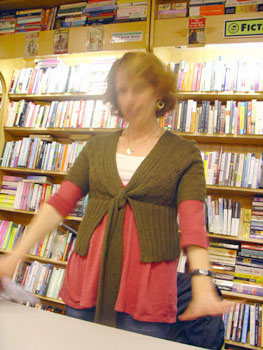 Thea's most recent amazing knit (seems like she's always just finished another awesome sweater!): Stardust from Knitty, knit in Inca Alpaca. Check her blog for a few more pics. Doesn't it look fabulous on her?!

february 2008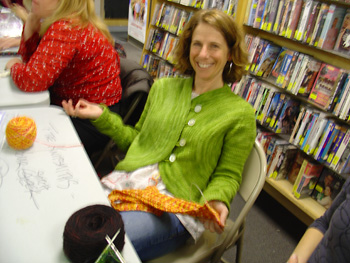 Thea looking beautiful in her incredible sunrise circle jacket.

august 2007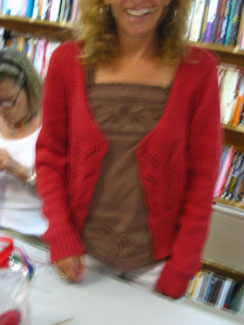 Last week Thea was just finishing her Divine cardigan from Ella Rae book 7. She hadn't done the edging yet, but look how great it fits her!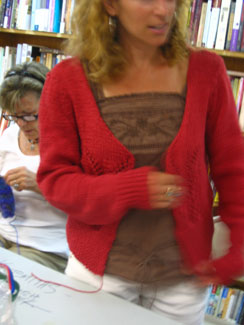 Okay, don't rely on my craptastic photos, check out the finished pics on her blog!

june 2007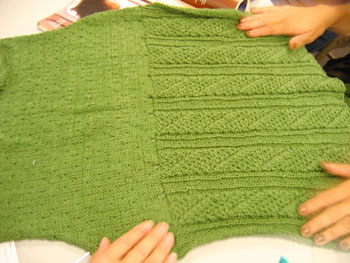 A couple of weeks ago Thea was working on her Josephine tank (from Interweave Knits Summer 07). And now it's all done! See the fabulous finished pics on her blog.

june 2007
Thea's making the lovely Diamond Vest pattern from Jo Sharp's Saturday.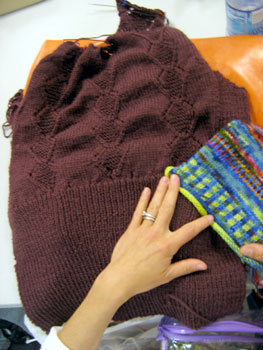 And she's knitting a super fun hat with all of her sock yarn leftovers. Cool!

march 2007
Some fabulous new knits were spotted at the swap.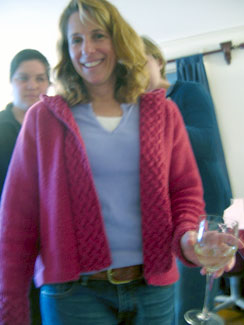 Thea's gorgeous Arwen (from Interweave Knits Winter 06) is the only one I got a picture of. (Check out her blog for more pics.) But there was also Kris' stunning Eyelet Blouse from the latest Vogue Knitting. And Collen was finishing up her Very Necessary Sweater.

january 2007
Thea brought in the most beautiful cable project this week!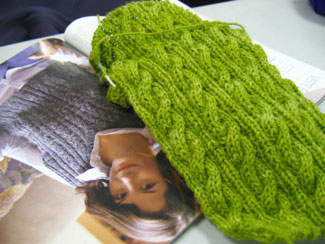 The pattern is Veste Everest by Veronique Avery from Interweave Knits Fall 2005 and that Araucania Nature Wool is gorgeous. Check out the finished vest (which she gave to her sister) on Thea's blog!

december 2006
And Thea came to visit too! In her brand new Starsky cardi.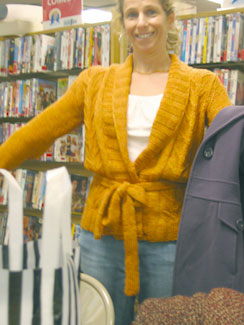 (More, and better, pics of this wonderful sweater on her blog).
This week she was working on a cardigan for her daughter out of all her leftovers.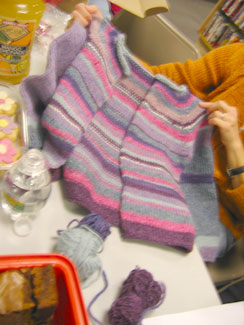 Isn't it cool?

september 2006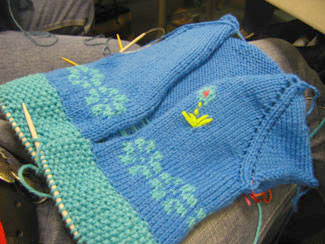 And Thea was also working on a sweet little sweater for her littlest one. (See her blog for a picture of her wee one wearing the finished knit!)

august 2006
Thea brought in her husband's cotton denim sweater, so she could get some moral support while she finishes the repairs.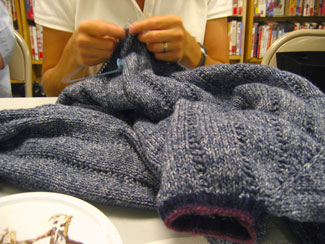 She knit it too long, then shortened it too much and now is adding back a bit to make it the proper length, finally. Check out the story on her blog.

june 2006
Thea's so-called Grandmaflage socks.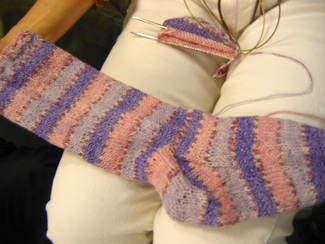 They're actually really pretty, despite the name!

may 2006
Thea is loving the magic loop technique, but hating this sock.
You can't even see the cables. (Yes, there are cables.) Word has it, she's already ripped it out.

may 2006
At the swap, Thea was working on her second Green Gables top.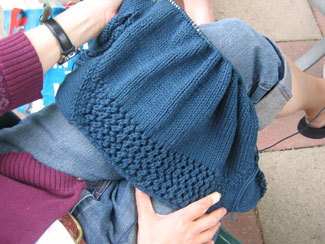 Check her blog for finished pics soon!

april 2006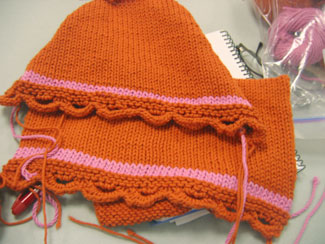 Thea's inventing a cute orange tank for her daughter with some leftover Debbie Bliss dk cotton. Love the pink stripe and that little edging!

april 2006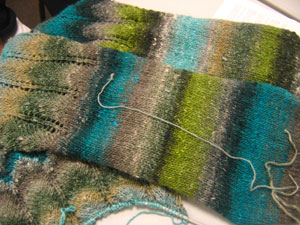 Thea is working on the Mavis sweater (from Jane Ellison's Noro book) for her mom in a fabulous colorway of Kureyon.

april 2006
Last time we saw Thea, she was just starting her Hourglass sweater in Jo Sharp Silkroad DK Tweed.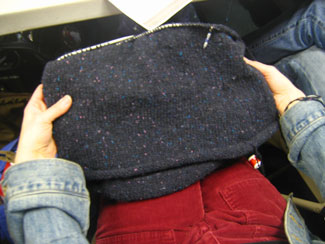 Now she's all done and it looks awesome! Check it out on her blog.

february 2006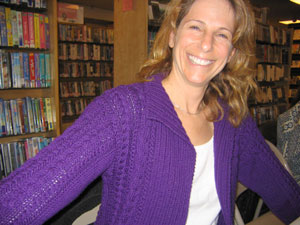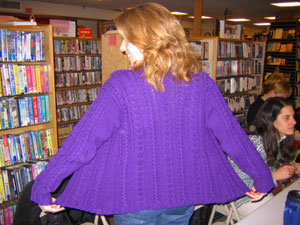 Thea in her beautiful and bright bright bright purple Grace cardi (from Debbie Bliss Cotton Angora book and knit up in Aurora 8). Man, that sweater looks great! And she knit it so fast!
And her now-finished Olympic Socks in Dani's Sunshine Yarns - in Iris.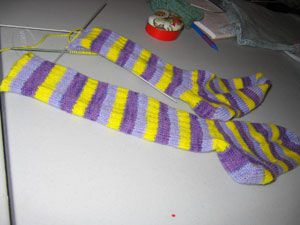 Thea: "I promise, no more purple for a little while."

january 2006
Thea likes purple.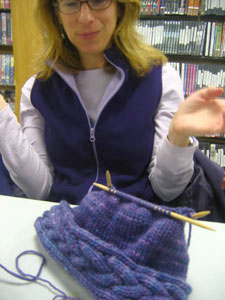 Her Malabrigo hat matches her shirt, vest and coat! And lookie, she finished it!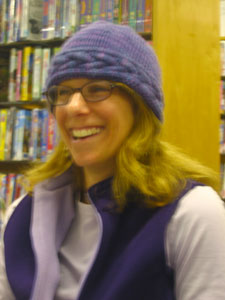 Coronet from knitty.com in Malabrigo.

november 2005
Seen at the swap: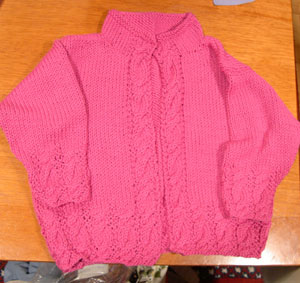 Our swap hostess with the mostest, Thea's pink cabled cardigan for her daughter.

august 2005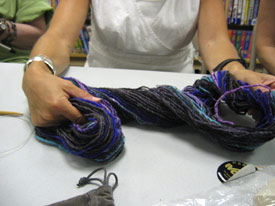 Thea, queen of yarn swaps, got this Noro Iro in a swap to make a fabulous hat from Jane Ellison's Noro Knits book. Ooooh, yarn envy.

august 2005
Thea brought in two of her latest felted bag creations.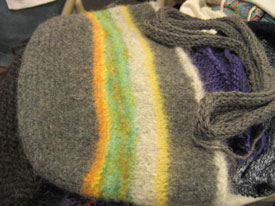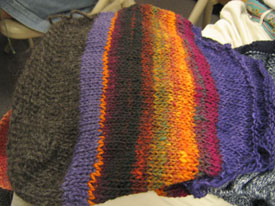 Love those colors! The second one reminds me of sunset over the ocean.

june 2005
Thea's just finished this cute cardigan for her daughter out of recycled yarn from a thrift store sweater. The pattern is Sport from Pipsqueaks.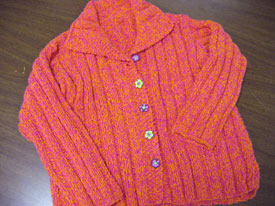 Look at those sweet flower buttons. They're recycled too from an old sweater of hers.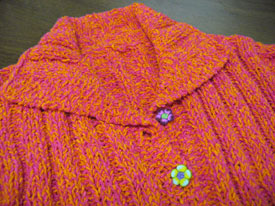 may 2005
Thea rocks! Look at the awesome projects she brought this week.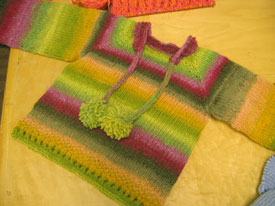 The sweetest little sweater (of her own design!) done in Noro Kureyon she got at our last swap.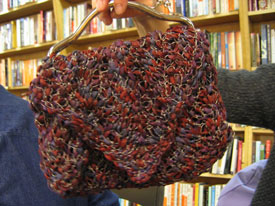 A gorgeous purse in Artfibers' stainless steel/cotton Tesla yarn, following Marnie MacLean's pattern.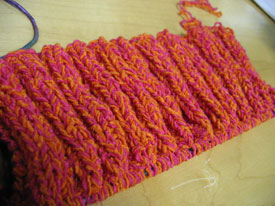 The beginnings of a sweater for her daughter done in yarn recycled from a thrift store sweater. Cool!

march 2005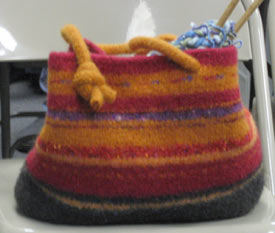 Thea's incredible Booga Bag. Look at those colors!

february 2005
Thea's cute as can be baby hat in peachy colors and fun variegated and fluffy yarns.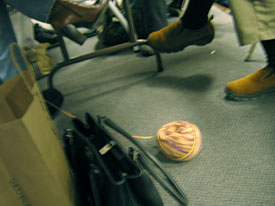 Free range yarn, exploring underneath the table while Thea knits.