Anna knits



may 2006
Anna made it back from Mass Sheep & Wool just in time to make it to Knitsmiths and finish her first Opal "Acapulco" sock.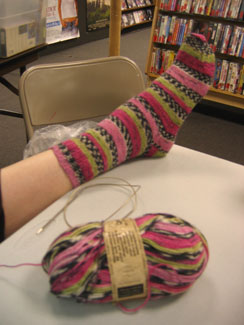 Look, it matches the little felted purse she picked up at the festival.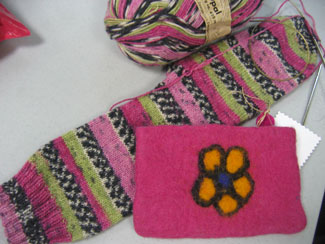 may 2006
Anna came back! (Ahh, we missed that lap!)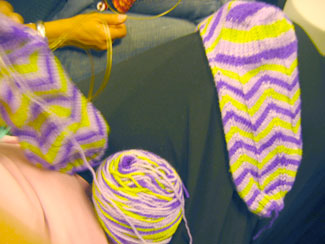 She's working on cool stripey Jaywalkers (sorry Anna, you can't be part of the no-Jaywalkers club anymore!) and a beautiful shadow knitting wrap.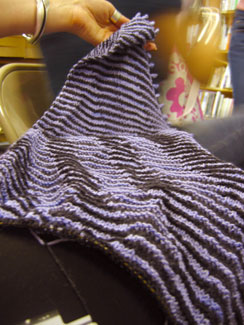 january 2006
Anna's back!!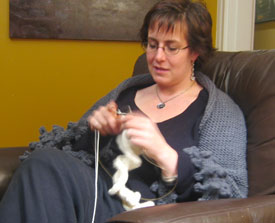 And doesn't she look fabulous in her Bobblicious shrug?! She's working on a beautiful ruffle scarf from Scarf Style. And was wearing her very purpley Vera socks.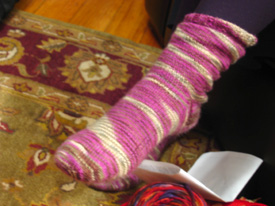 august 2005
Anna is also working on socks. There's the watermelon sock she had with her last week, a Trekking sock just like Lisa's (in fact, it was Anna's pretty Trekking sock that inspired Lisa to make a pair for herself), and now this cool sparkly sock.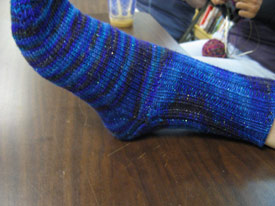 She's got more of the sparkly Super Glitz yarn from Cherry Tree Hill to make another pair.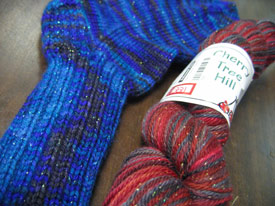 july 2005
More fabulous hand-dyed yarn from Dani.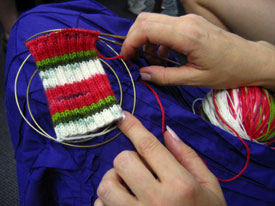 This is her "watermelon" colorway that Anna is knitting up. I so want some. Yum!

july 2005
Like Vicki, Dani was with us too in absentia. Anna was knitting up a pair of socks in Dani's own hand-dyed tiger stripe yarn.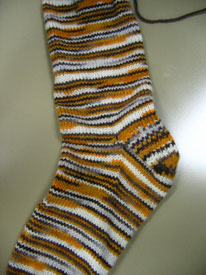 Awesome job, Dani. Way cool!

june 2005
Anna wows us again.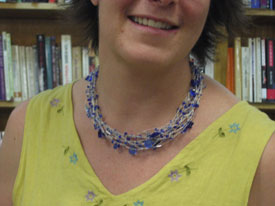 This week it was her incredible Addi Pearls necklace.

june 2005
Anna is so fun. Look at her new, stripey spring cardigan and just try not to smile.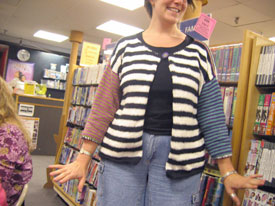 may 2005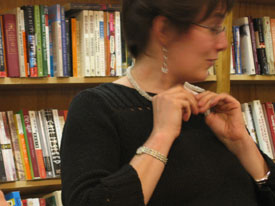 Anna wowed us all this week by bringing in a stunning necklace she'd knitted out of wire.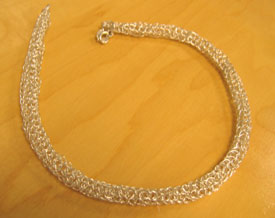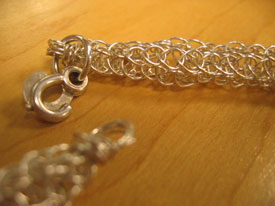 It's so beautiful! And she says it's easy to do. We're thinking about making this a Knitsmiths' group project and having Anna show us all how to make one ourselves. I can't wait!

april 2005
Spring is finally here!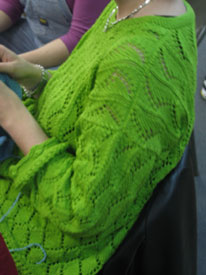 The proof: Anna's cheery spring green lace tunic.

april 2005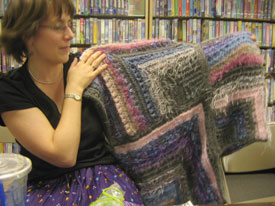 Look at Anna's amazing Dancing Crayons poncho!

march 2005
New Knitsmith, Anna, has shown us that Lopi can be beautiful. And purple.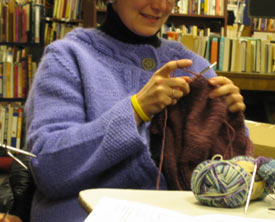 Seriously, it's Lopi!