the latest from the knitsmiths



november 2009
UPDATED Important Message!
Location change for December!
Knitsmiths cannot meet at the Booksmith during the month of December, due to special sales they want to set up downstairs. We have worked out a plan for alternate locations for the first three Sundays in December. Three knitters have offered to host Knitsmiths at their homes in Coolidge Corner and nearby - thanks, ladies!
Please email me at alison AT knitsmiths DOT us for exact info on where we'll be meeting.
See you then!

october 2009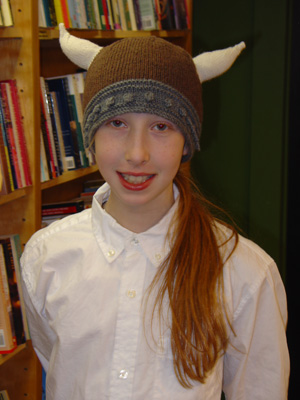 Happy Halloween!
Lisa knit this viking hat for her son's Halloween costume (her daughter modeled it for us). She based it on the Bella Knitting Viking Hat pattern. Lisa's daughter insisted Lisa put on the hat for a photo too!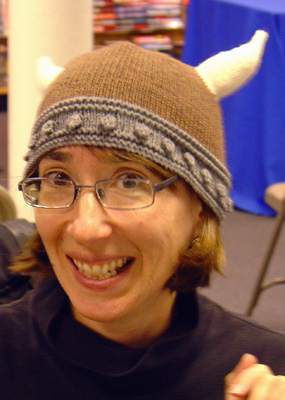 So fun!

october 2009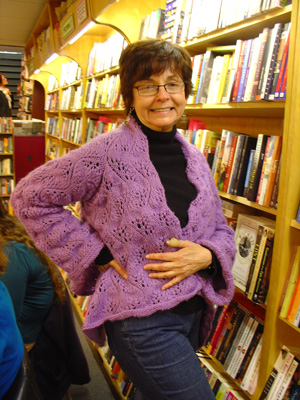 Betsey looks fabulous in her lace patterned wrap/cardigan, doesn't she?! She finished this with a little help and support from the Knitsmiths gals. Way to stick with it, Betsey!

october 2009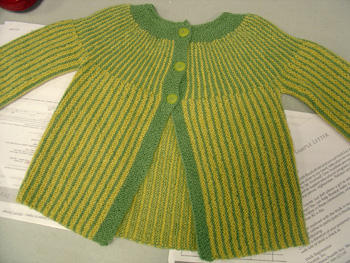 May's been working on this delightful baby sweater pattern from Drops. She's finished this one in pale greens and yellows and begun a second in brighter colors.

october 2009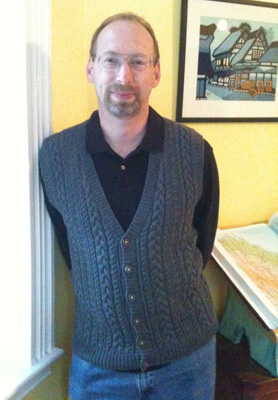 Lisa sent me a picture she took of her brother in the handsome cabled vest she knitted for him. She made up the pattern herself and the fit is perfect!

october 2009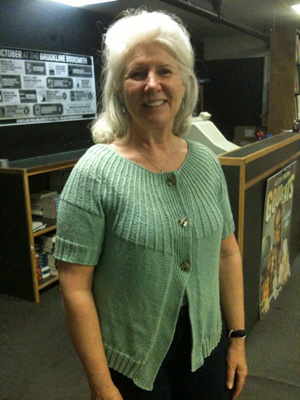 Jo visited this week in yet another lovely cardigan from a free Berroco pattern. She seems to show up in something new every week!

september 2009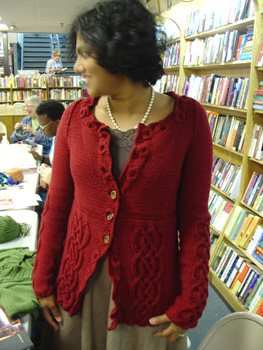 Just in time for Fall, Sabitha has finished this gorgeous cabled cardigan (from a Drops design). She made a few changes to the pattern - as she always does - and it came out perfectly - as it always does!

september 2009
While I was away, Alexis finished more fabulous Dr. Who-style dudes. You remember Alexis' Dr. Who dudes, right? Well now she's made some characters from Torchwood.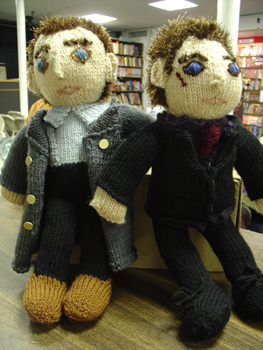 Details on just who these two handsome fellows (Jack and Ianto) are can be found on her blog along with them in some pretty compromising pictures!

september 2009
Catching up with the Knitsmiths:
Summer Knits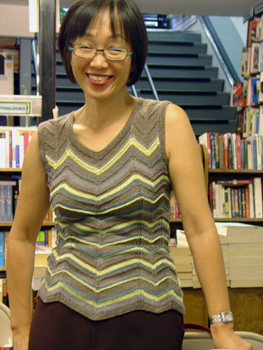 To wrap up the summer, May's stunning ZigZag tank (from Marianne Isager's Classic Knits
. I love how she did it in stripes. May, you're so cool!


july 2009
Catching up with the Knitsmiths:
Summer Knits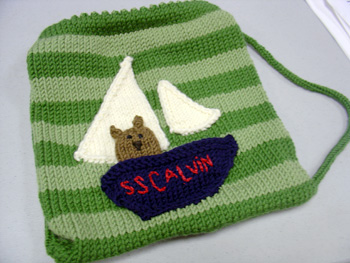 The lastest buddy bag by Dina. She's made a few of these and each one has been even cuter than the last!