May knits



october 2009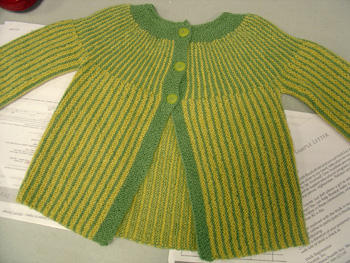 May's been working on this delightful baby sweater pattern from Drops. She's finished this one in pale greens and yellows and begun a second in brighter colors.

september 2009
Catching up with the Knitsmiths:
Summer Knits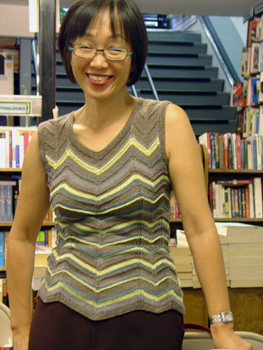 To wrap up the summer, May's stunning ZigZag tank (from Marianne Isager's Classic Knits
. I love how she did it in stripes. May, you're so cool!


june 2009
Catching up with the Knitsmiths:
Summer Knits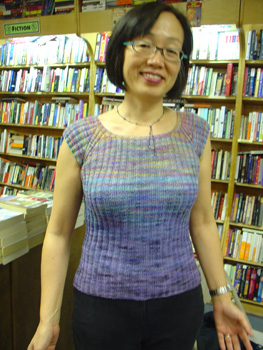 May's beautiful version of Kim Hagreaves' Frolic (from Rowan 29). She followed former fellow Knitsmith Kerstin's genius idea of using varying shades of Koigu to make this fabulous little tank. The result is awesome!

march 2009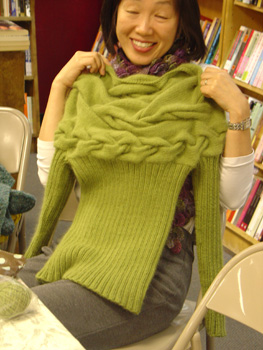 May's d-cable sweater (from a Japanese knitting magazine) is so amazing! She knit it in Classic Elite Lush so it's super soft. Those cables across the top look complicated, but she swears that the sweater is simple to knit: "it's just two rectangles."

february 2009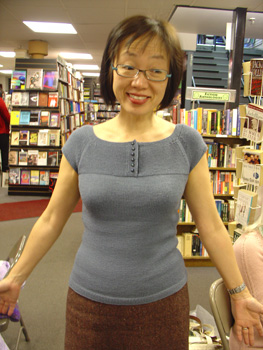 May's beautiful Jasmine top by Kim Hargreaves.

january 2009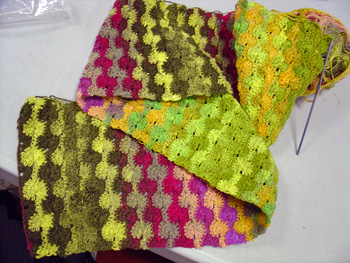 May is using Noro sock yarn to make this gorgeous crocheted scarf. The crochet pattern (which she found here) shows off the beautiful Noro colors so well!

january 2009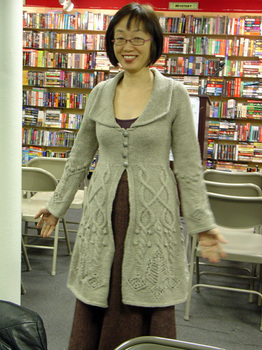 May's new Winter Wonderland coat (from the book Inspired to Knit: Creating Exquisite Handknits
). Click on the pic for a larger view. It's stunning! Who knew that Cascade Ecological wool could look so good! You're amazing, May.


october 2008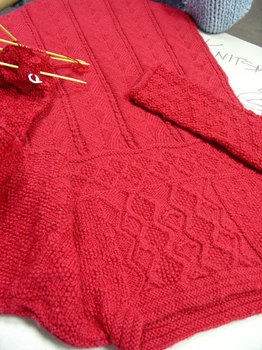 (click for a bigger view!)
This week, across the table, I spotted one of May's most fabulous knits, the Sand Dollar sweater dress from Alice Starmore's The Children's Collection
. She started making this for her daughter a couple of years ago and has lengthened the sleeves so she can finally wear it.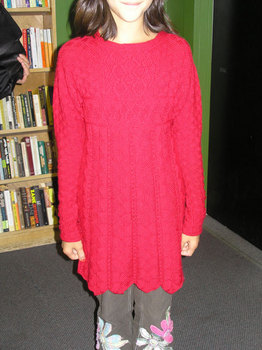 (click for a bigger view!)
It's simply gorgeous!

july 2008
Manon mania has hit the Knitsmiths!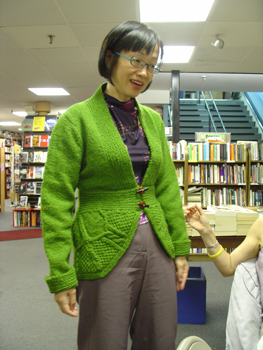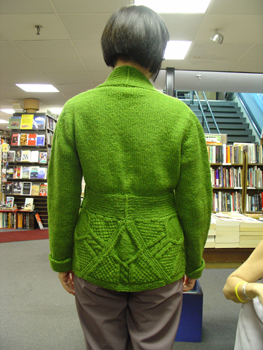 May knit two! This is her scond one, which she knit with Peace Fleece. She knit the first in Elann Peruvian wool for her sister (see some pics on her blog.)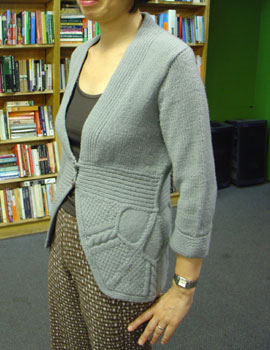 May started knitting Manon when she first saw Nancy making one. Here's Nancy's. It's gorgeous, but didn't fit Nancy quite right, so she gave it to May. And now Nancy's making another one for herself!

may 2008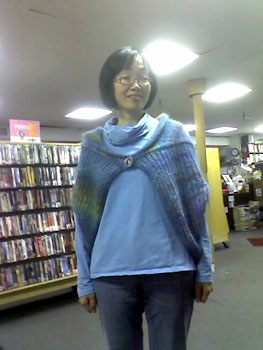 May just finished Nora Gaughan's Veil wrap from her second pattern book. She substituted Noro Silk Garden and Kidsilk Haze for the ribbon yarn the pattern calls for.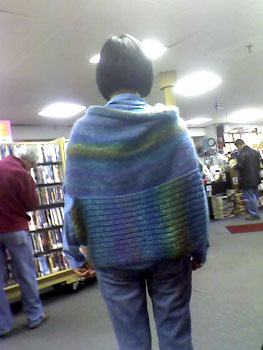 And look, you can wear it the other way 'round too!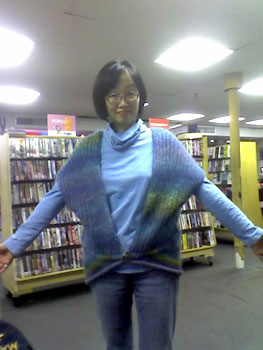 May makes the coolest things!


january 2007
Look, May wore her Gryffindor lion sweater!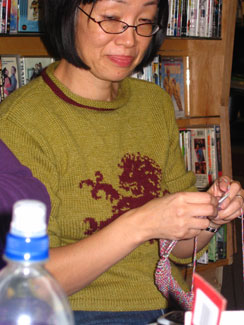 january 2007
May has done it again - she's brought in a finished project that we all just want to snatch up and run out the door with! This time it's her fake-a-gamo purse.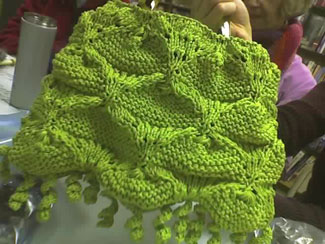 She found the pattern here, modified it a tiny bit, and added some awesome handles from M&J Trimming. And it's just as stunning on the inside...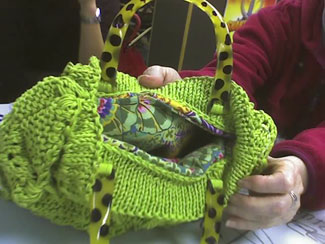 (Check out her new blog for a little purse lining tutorial!)

december 2006
May came back this week! And she was wearing one of her incredible Starmore sweaters.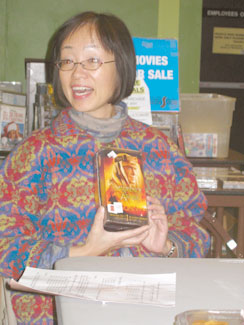 She's been working on her third Bergere de France lace camisole (check her archives for more info on her first two).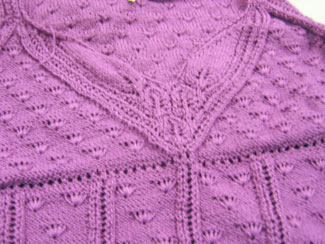 august 2006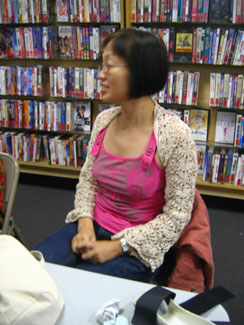 May's finished I do shrug. It's gorgeous!

may 2006
Do you like knitting lace, May?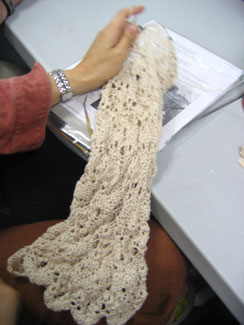 I do.

may 2006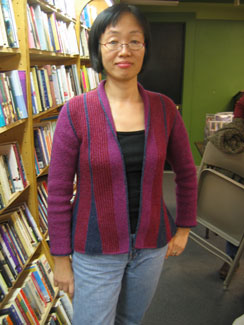 May's just-completed Hannah Falkenberg sweater. Absolutely stunning!

november 2005
More jaw-droppingly incredible knits by May: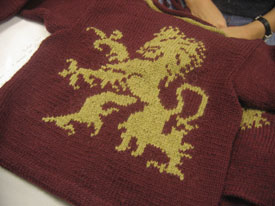 But wait, there's two of them!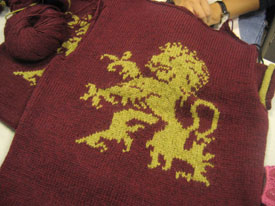 Heraldic lion sweaters for her girls. I'm speechless.

july 2005
May's at it again. She loves this lace camisole pattern.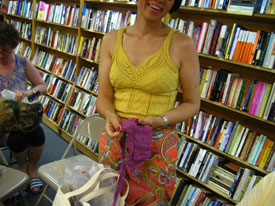 She made an orange one last year, recently finished this yellow one, and is holding the beginnings of a third.
(And don't you just LOVE her pants?!)

june 2005
May's making a stunning striped tank in some Fiorina cotton yarn that she got on sale at a good yarn.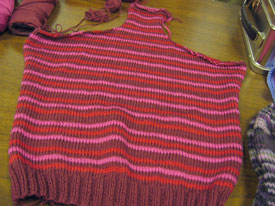 It's a racerback tank. Woooooo!

june 2005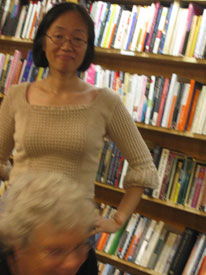 May stopped by this week in her just finished Corset Pullover from Interweave Knits Spring 2003 (free pattern can be found here). Not only is May an amazing knitter, she always looks amazing in her knits.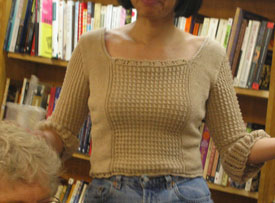 august 2004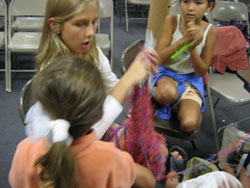 It looked like kids' day today at Knitsmiths. May's daughter and Nina's girls were all working on knitting projects.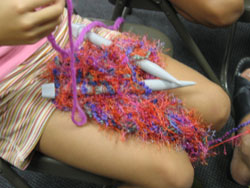 A lovely, fluffy boa scarf (it's on size 35 needles!).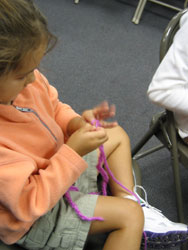 And the youngest girl was doing finger crochet. Neato!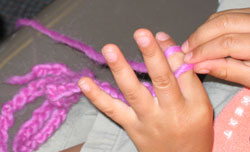 july 2004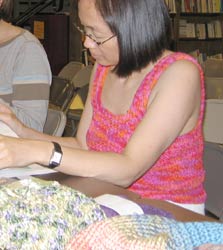 I spy with my little eye... May in yet another beautiful tank.

june 2004
More proof of May's incredible knitting talent.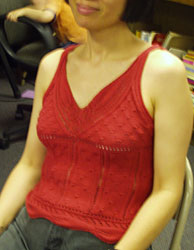 An amazing (and very complex, believe me!) lace camisole from Bergere de France. C'est fantastique!

april 2004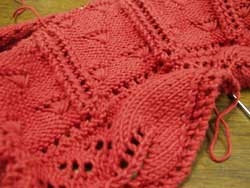 May's working on the most fabulous little lacy camisole from a recent Bergere de France catalog. May's is coming out so beautifully, I have a feeling a few of us may be knitting these Bergere de France patterns. Plus, I'm having too much fun translating them!

april 2004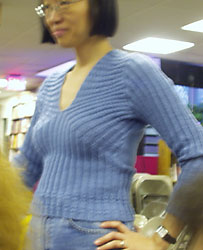 May's latest creation - the Pinup Pullover from Interweave Knits Spring 2003. May's knits are impeccable and she always looks so good in them. Yay, May!

july 2003
May's done it again.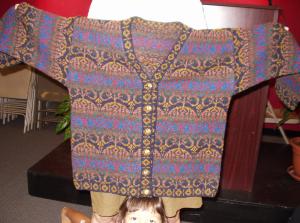 Alice Starmore's Glenesk. Stunning!

july 2003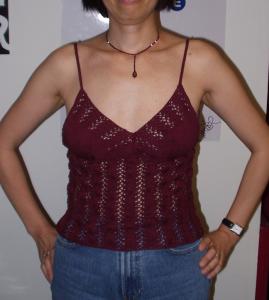 Just in time for the hot weather, the camisole from the cover of the latest Interweave Knits.

march 2003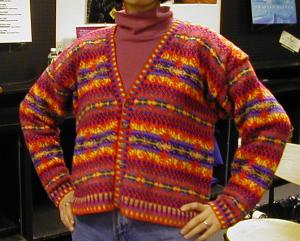 May's latest Starmore. Fabulous, as usual!

february 2003
A Knitting Beyond the Hebrides Bear-Isle! That's a chibi needle there for scale.

january 2003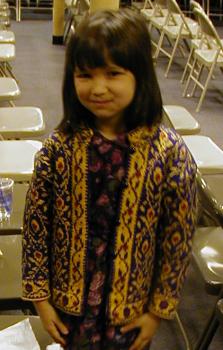 May's other daughter is modelling a jacket she made earlier. These have to be the best dressed girls ever!

january 2003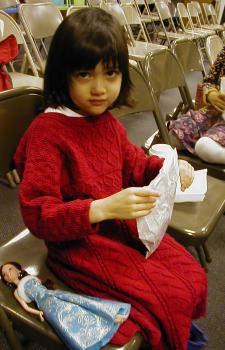 And here's the finished dress. Amazing!

december 2002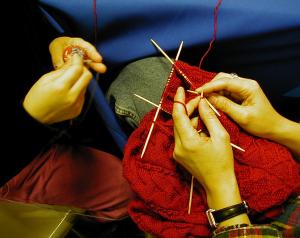 May often brings one of her daughters with her, who is using a neat knitting spool to make I-cords.

december 2002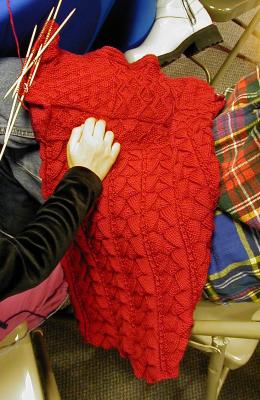 May is working on a Starmore design called Sanddollar for her daughter. Wow!!