Dava knits



october 2005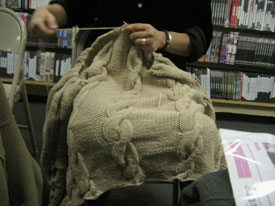 Dava's back! And she's working on an afghan in Rowan Cork.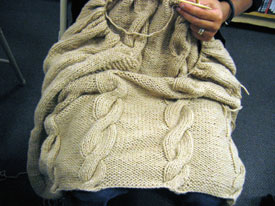 Talk about squooshy yarn! Cork is so fabulous.

september 2005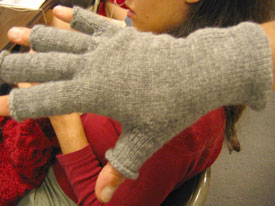 Vintage Bernat yarn + vintage glove pattern = Dava's fabulous fingerless gloves. I so want a pair of these!

august 2005
Dava's making mittens again! She's got a fabulous vintage pattern that she uses to make what seems like scores of mittens each year. Look at the cool vintage yarn that she's using for these!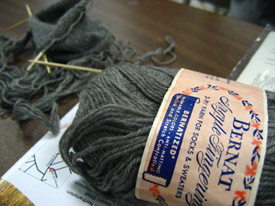 august 2005
Dava finished her funky green socks.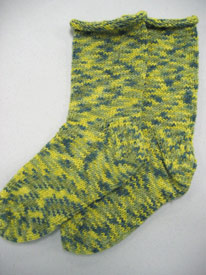 The yarn is from School Products in NYC and she finished them on her latest trip down to NYC. Way to go, Dava!

august 2005
Dava's back!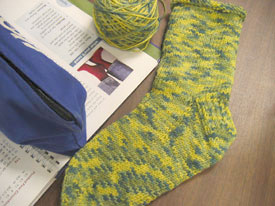 She's working on some fun socks with cool green yarn that she got at School Products in NYC.

june 2005
Dava's still making i-cord for her i-cord rug.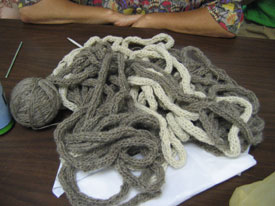 Look at how much she's done so far!!

may 2005
Dava doesn't just knit your typical ol' sweaters and scarves. Recently, she's been working on more unusual knits. First, she made a cool chair cover.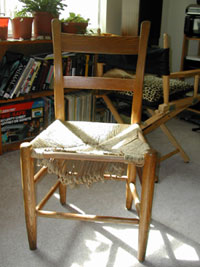 before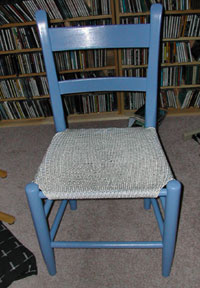 after
And now she's knitting yards and yards of i-cord to make a rug.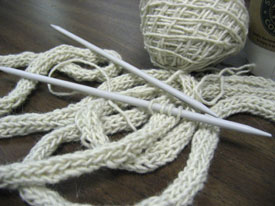 Next up the screen door from Interweave Knits, eh, Dava?

april 2005
It was nothing but t-shirts at Knitsmiths this week.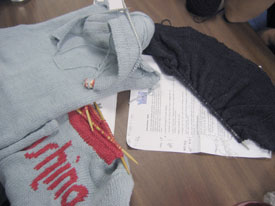 Shannon's, Shireen's, and Dava's nothing but a t-shirt underway.

april 2005
Dava, this is the coolest pooling I've ever seen!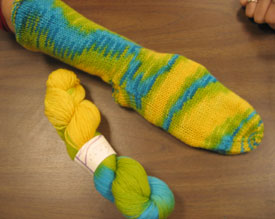 Lorna's Laces Shephard Sport rules.

march 2005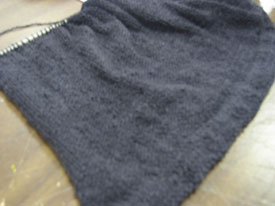 Dava's back and she's making a "nothing but a t-shirt" in a beautiful black silk.

january 2005
Dava got the neatest hat for Christmas! It's crocheted with little ears. So funny!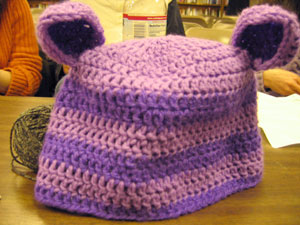 december 2004
This week the Knitsmiths focused on holiday gift knitting. While I was working on mini-Weasley ornaments, Dava was working on mini-hat ornaments.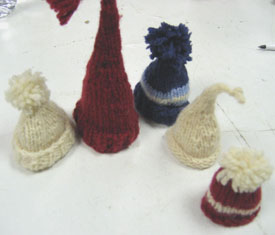 Soooo cute!


july 2004
Dava's blog may be on summer break, but she's still knitting!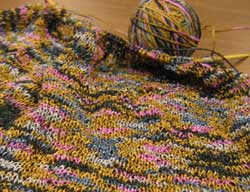 Here's a cardigan she's starting with some really neat yarn made out of bark and paper. Love those colors!

april 2004
We look this good everyday!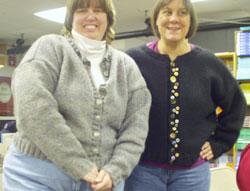 Sandy and Dava show off their incredible Everyday Cardigans.

january 2004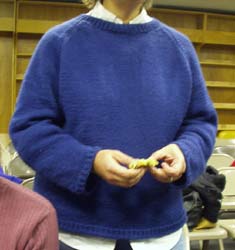 Dava knit this sweater last year. Isn't it just perfect on her?

july 2003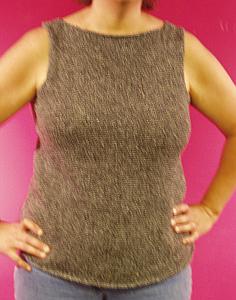 Dava liked the pattern for the Pagan tank so much, she made another, in silk!

june 2003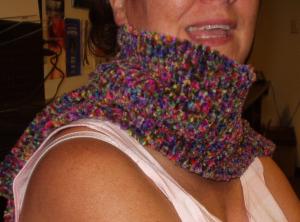 Dava's new scarf, made with a really fun chenille yarn she got on the last Knitsmiths field trip (to Sakonnet Purls in Rhode Island).

june 2003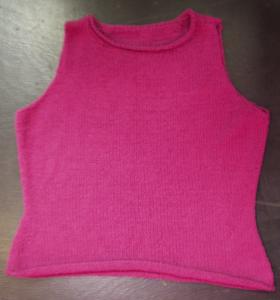 And here is Dava's Pagan tank from our tank girls knitalong. I couldn't get the color to come out at all correctly. It's really a beautiful rich purple color called Kiss.

december 2002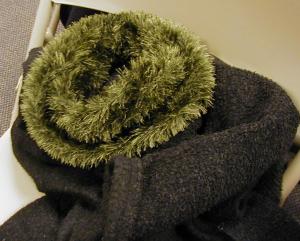 This is an awesome scarf that Dava recently made with Berrocco's Chinchilla yarn.

september 2002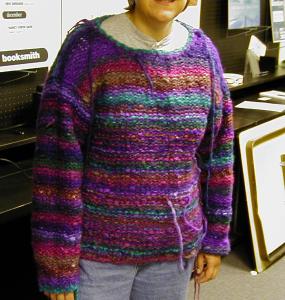 And here's a sweater she's finishing up just in time for the cold. Yeah!

september 2002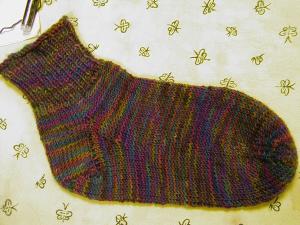 Dava, Knitsmiths' founder, is making socks with some fabulous yarn she got at the Granite State Knit-In in June. Cute!