Claire knits



july 2008
Look, Claire's kidsilk haze scarf matches her umbrella!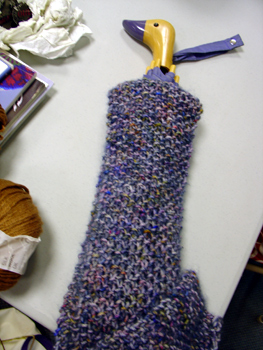 april 2008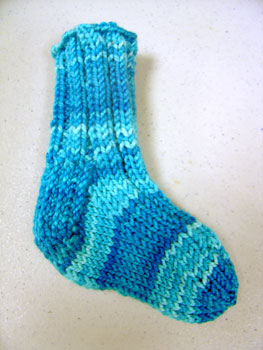 Claire keeps making cutie patootie baby socks. These are in a bright blue from Claudia's Handpainted Yarns.

august 2007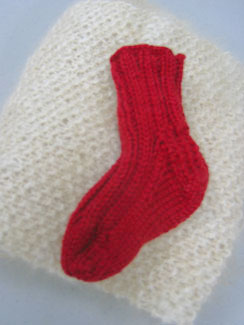 Claire's supercute baby sock in baby cashmerino. There were enough babies around this week for her to check the size too - and it's perfect!

june 2007
Knitsmiths get their sock on!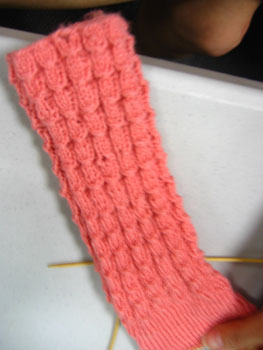 Gayle's pretty peachy mock croc socks underway.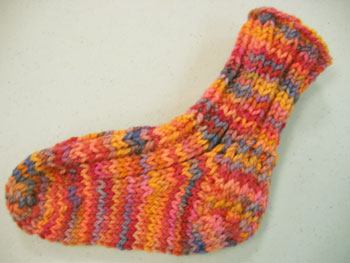 A cutie patootie baby sock by Claire.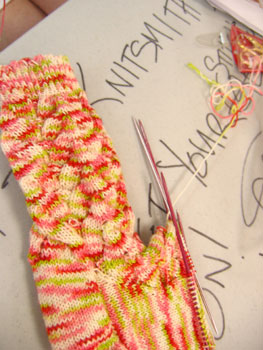 And Sara's working on fabulous monkey socks in Dani's cherry blossom sock yarn.

october 2006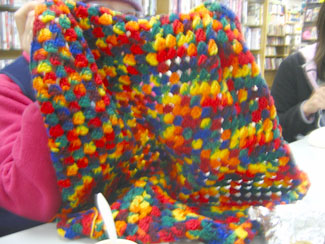 Claire just finished this amazing crochet blankie! So cute. And she's started a chunky scarf in similar bright colors.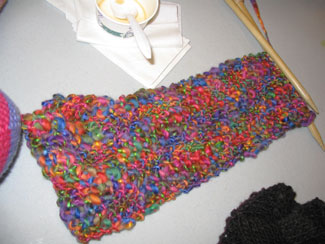 august 2006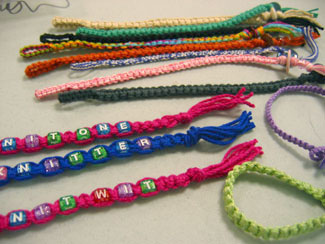 Claire's summer obsession was these knotted and beaded bracelets.

august 2006
Claire as Snuffleupagus!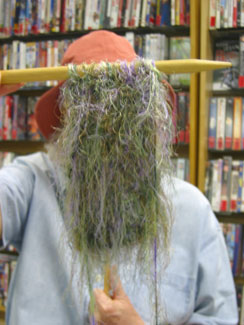 july 2006
Claire's learning macrame!
There's nothing she can't do with some yarn and some beads.

march 2006
Claire has been sewing some cool bags. (We all looooove the red one!)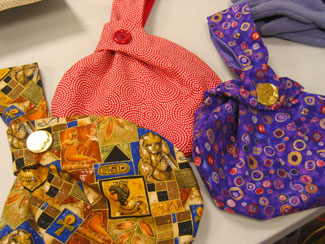 These were inspired by a felted bag that Dani knit.

november 2005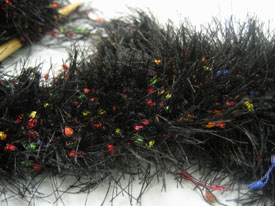 Fuzzy and sparkly? That MUST be Claire!
And check out this lovely glittery number she's working on now.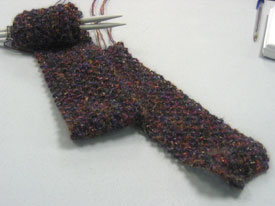 november 2005
Seen at the swap: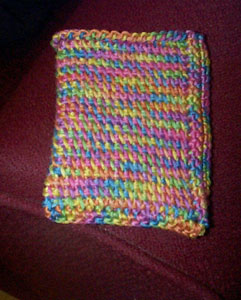 Another of Claire's crocheted pockets and the coolest scarf ever made with self-striping Regia sock yarn.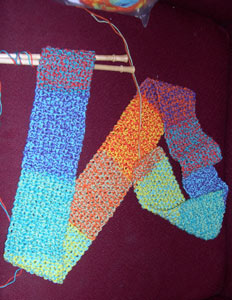 She used two strands of the sock yarn held together - just started at the beginning of each ball - and it totally just striped like that. Awesome!

october 2005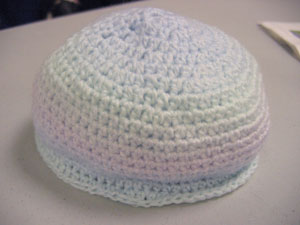 Claire's just finishing this super sweet Sirdar baby hat. Still to come: her trademark squiggles on top!

september 2005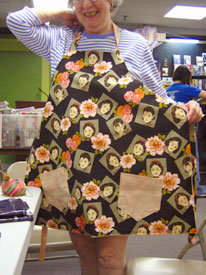 Last week, Claire got some fun vintage geisha fabric from Dava and this week she brought in an already finished apron she made with it!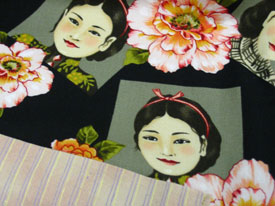 august 2005
Claire loves sparkles!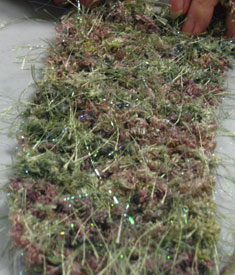 Here's her latest scarf made with new sparkly yarn she found on a recent trip to Webs. Lucky for Claire, it seems like all the new yarns this fall have some sort of glitter in them.

july 2005
Claire sure can crochet!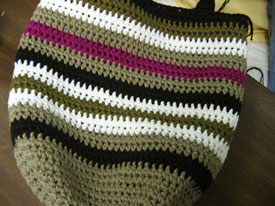 The last few weeks, she's been working on new, beautiful striped bags in Saucy cotton. Look at those great colors!

june 2005
Claire's working on another fun Squiggle scarf! And more pink too.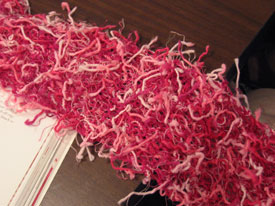 We can always count on Claire's bright knits to cheer up our Sundays.

may 2005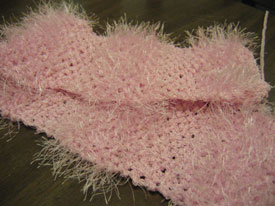 Claire's beautiful, pink, fluffy scarf. It's the perfect pink of the breast cancer awareness logo and oh so soft.

april 2005
Claire loves to crochet cute little pockets for holding eyeglasses and coins and whatnot. She brought these in this week.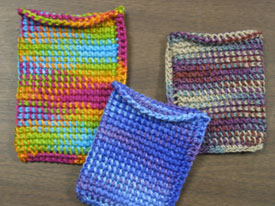 Can you say "iPod cozy"?

january 2005
Claire's fuzzy beast of a scarf:

october 2004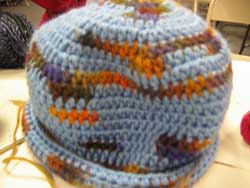 Claire always picks the neatest yarns for her crocheted hats and bags. This hat is being done in Print 127 which combines solid and variegated sections and looks great crocheted!

september 2004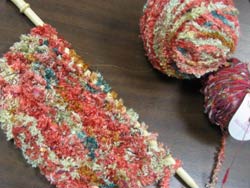 Scarf season approacheth! Claire knows it's time to get out the Isis, Eros, and Charm yarns and let the fun begin.

july 2004
Look at Claire's incredible crocheted shawl!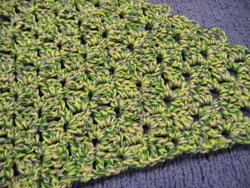 I love the stitch pattern. I've got to get Claire to write this one down for me!

april 2004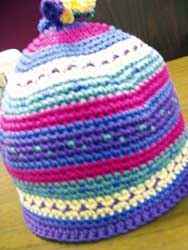 Momma's got a brand new hat! Claire's doing fair-isle crochet now. Too cool!

march 2004
Squiggles!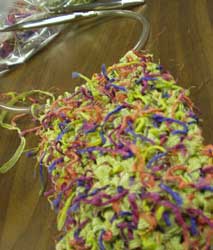 Claire's traded in her crochet hook for some US11 knitting needles in order to make this neat scarf in a new yarn called Squiggle.

march 2004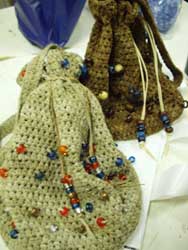 Claire, the queen of crochet, has made a few more of her beaded bags. These are made with Berroco's new Suede yarn.

january 2004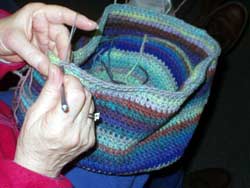 Claire's stuck on Kureyon these days! Now she's working on a crocheted bag alternating two different colorways of Kureyon. What beautiful colors.

january 2004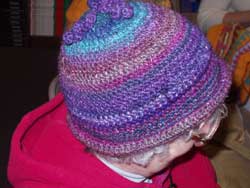 Claire's just finished crocheting this fun hat out of Noro Kureyon. She even added some fun squiggles on the top!

july 2003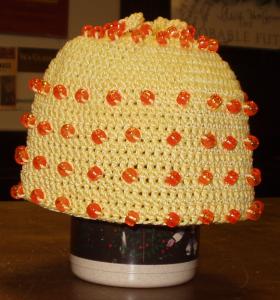 And now little beaded hats in the cutest colors.

march 2003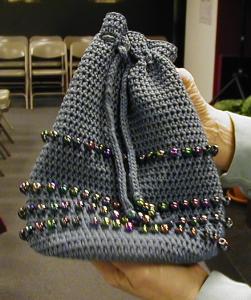 And here's one of her bags. Claire loves adding beads and fun tassles to her stuff.

december 2002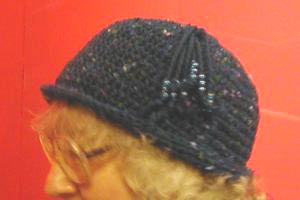 (Crochet) Claire is our crochet expert and has made some unbelievably wonderful purses, which we all want to buy. Here she is modeling a hat that she recently finished. Look at the cute tassel on top!