Nancy knits



march 2009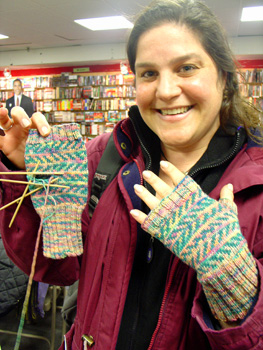 Nah, Dana didn't knit these. They're fingerless mitts Nancy is making with, what else, Koigu!

february 2009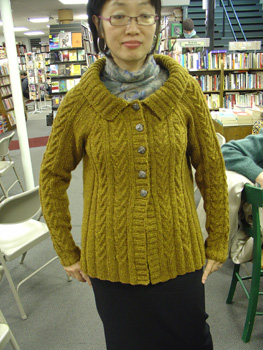 Nancy's lovely Grey Cables Jacket (by Debbie Bliss) modeled by May.

december 2008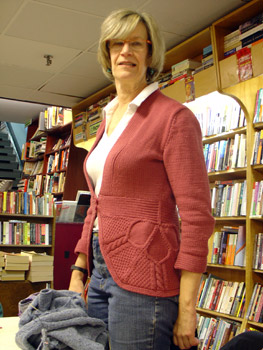 And Nancy came the same day with her amazing Manon (from Nora Gaughan vol. 1) in almost the same color!

october 2008
This week Nancy brought in a scarf she's making with Kaffe Fassett's new yarn, Colorscape Chunky.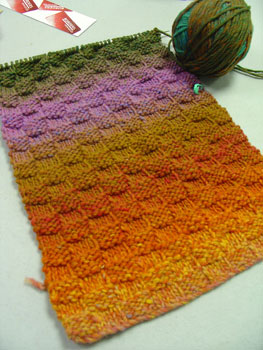 Aren't the colors amazing?!

august 2008
While I was gone, Nancy finished her beautiful Bonsai Tunic by Norah Gaughan from Interweave Knits Spring 2007.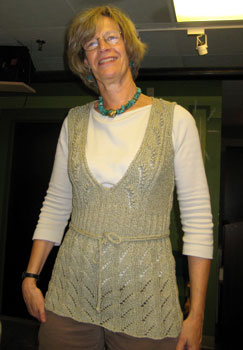 july 2008
Manon mania has hit the Knitsmiths!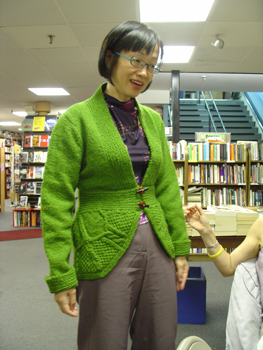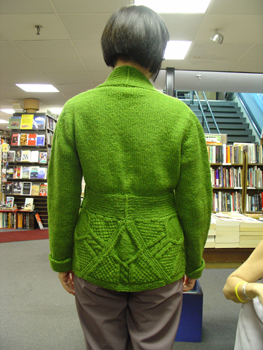 May knit two! This is her scond one, which she knit with Peace Fleece. She knit the first in Elann Peruvian wool for her sister (see some pics on her blog.)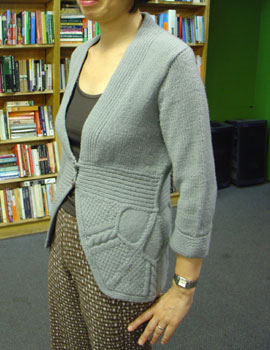 May started knitting Manon when she first saw Nancy making one. Here's Nancy's. It's gorgeous, but didn't fit Nancy quite right, so she gave it to May. And now Nancy's making another one for herself!

july 2008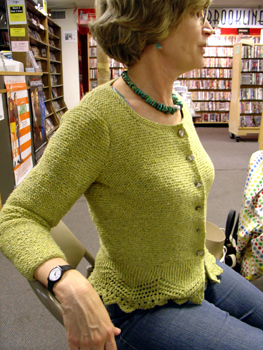 Nancy's beautiful Harmony cardigan. She knit it in a wonderful shade of Katmandu/Jo Sharp Tweed.

june 2007
Nancy knows color. She's always making the most stunning color projects.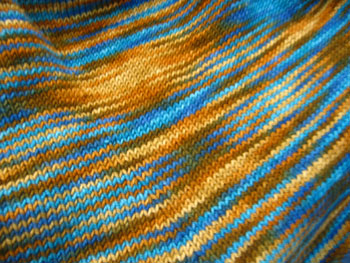 Here's a vest she's working on in Fiesta's Boomerang yarn (color name: Taos). Isn't it gorgeous?!
And up next is another stranded color project in these beautiful Harrisville yarns.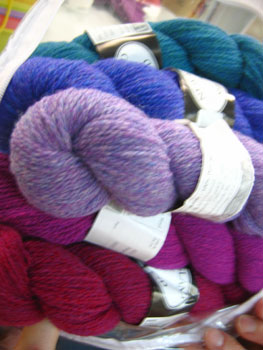 june 2007
Nancy's got another gorgeous sweater in the works!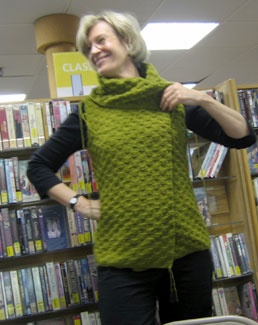 She knitting it in Rowanspun and has just finished the awesome cowl collar. This one is going to look terrific on her!

april 2007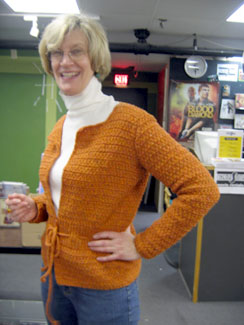 Nancy says practically every store seems to have this sweater as a sample in its window. But I say none of them looks as fabulous as hers! She cleverly added some ribbing and a tie to the waist, really improving the fit and drape of the sweater. And that orange is spectacular!

march 2007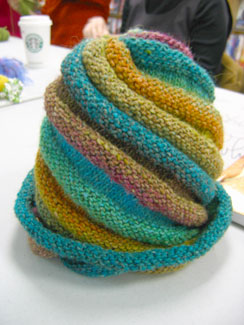 Check out this cool bias Noro hat that Nancy made! She and May and Claire went on a Yarn Safari up to Maine and found the pattern and yarn at a store up there. Coooool!

january 2007
Check out the cute little piggie Nancy's daughter made her for Christmas!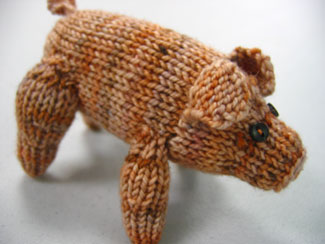 It's knitted in leftover Koigu (of course, what else would you use for a present for Nancy?!).
And here's Nancy's latest amazing design, a striped vest in two different Noro yarns.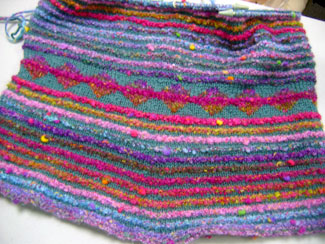 december 2006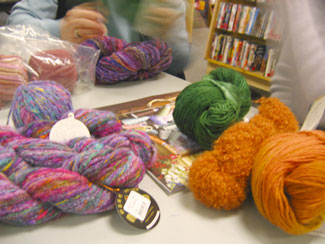 This week Nancy brought in a whole bag of gorgeous yarn she got at Halcyon! She ended up giving some Noro to Claire and that incredible green Malabrigo to Dani. (Check out what Dani's doing with it!)

november 2006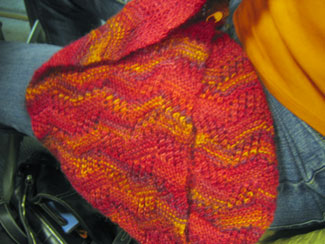 Nancy's still working on her Mountain Mohair Midwest Moonlight scarf.
And she just finished a lovely sweater in an almost solid blue shade of Mountain Mohair. She created the sweater on her own (Nancy doesn't need patterns!), but used the same lace stitch that she used in her Kidsilk Haze scarf as the inspiration.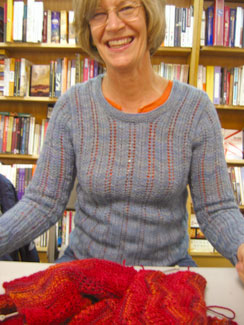 (We liked it so much, we made her wear it over her orange shirt, so don't blame her for the bad color combo!)

october 2006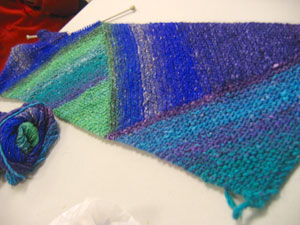 Nancy's gone multidirectional! She's working on a multidirectional scarf in Noro Silk Garden. Look at those great colors!

october 2006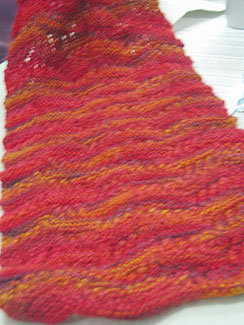 Nancy's third (or is it her fourth?) Midwest Moonlight scarf!

august 2006
Nancy's back!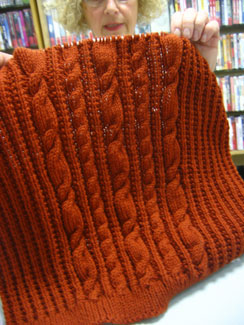 And she's working on a beautiful cabled sweater in Karabella's Aurora 8.

july 2006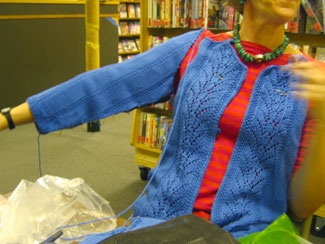 Nancy's finished the knitting on her Fountain Lace cardigan and just has to sew it up!

june 2006
Nancy's starting the fountain lace cardigan.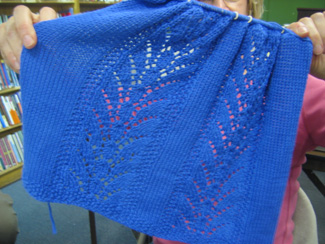 After seeing Johanna's finished cardi a couple of weeks ago, she decided to make one for herself. Look at that incredible blue of the Bam Boo yarn!

may 2006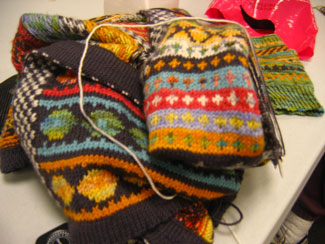 Nancy has done her steeks and is working on the bands of her second fair-isle Koigu vest. Incredible!! And she's using leftover Koigu to to make fingerless mitts. Check out the prototype!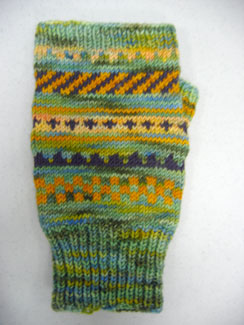 Gorgeous!

april 2006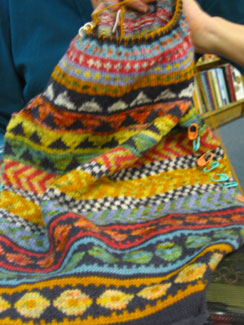 Nancy's second Koigu vest is stunning so far! Can you beleive that that's all Koigu? (Okay, the black is Rowan 4ply soft, I think). Wow!

april 2006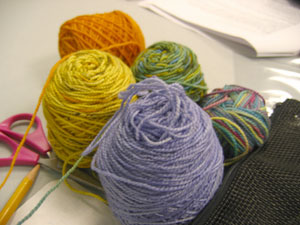 Nancy brought her Koigu again this week!

march 2006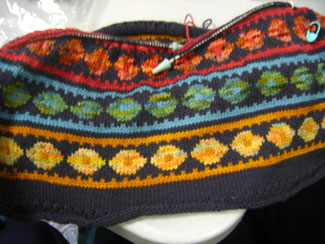 Nancy is starting another Koigu vest and it's even more gorgeous than the first one!

march 2006
And the piece de resistance, Nancy's finished Koigu vest!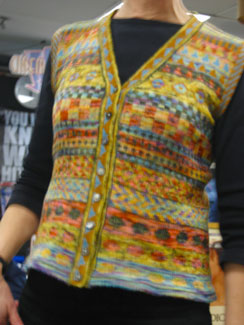 She just finished adding the beautiful fair-isle borders and edgings and wore it to knitting group for us all to wonder at.

january 2006
Nancy's finished another Midwest Moonlight scarf in Great Adirondack Co.'s Montana yarn.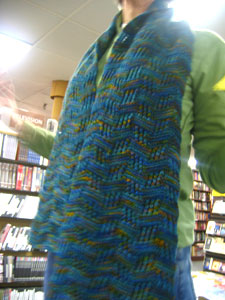 This one is for herself and has the most amazing greens and blues in it.

december 2005
Nancy finished the gorgeous Midwest Moonlight scarf she's been knitting for her daughter.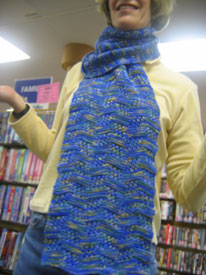 Call this one Montana moonlight, because the colors in that beautiful Montana yarn (by Great Adirondack) really steal the show!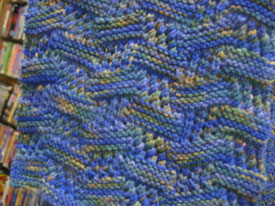 december 2005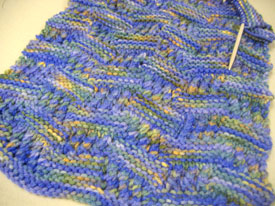 Nancy is just getting started on a scarf for her daughter in this amazing Montana yarn from Great Adirondack Co. The pattern is a Knitsmiths' favorite: Midwest Moonlight from Scarf Style.

october 2005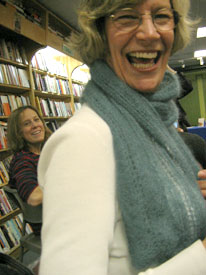 Nancy finally got to bind off her beautiful lacy Kid Silk Haze scarf this week! She says that the knitting has been torturous at times, but we all think the result is incredible. Well done, Nancy!

april 2005
Nancy knows color.
Nancy picked out many varied shades of Koigu and is putting them together in a stranded design of her own creation. Soooo pretty.

january 2004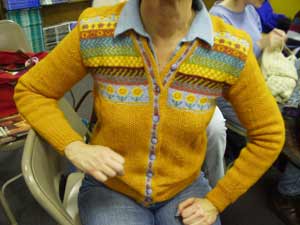 Nancy designed this incredible fair-isle cardigan herself. And a hat to go with it!