Terri knits



february 2008
Another beautiful lace sweater underway by Terri.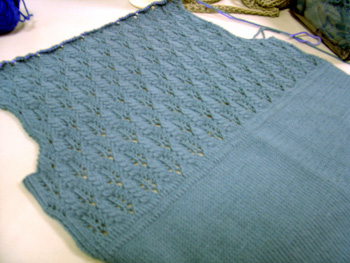 The pattern is Henley Perfected from Winter 2007 Interweave Knits and the yarn is the most delicious Debbie Bliss baby cashmerino.

september 2007
The beautiful baby booties that Terri made for my little girl.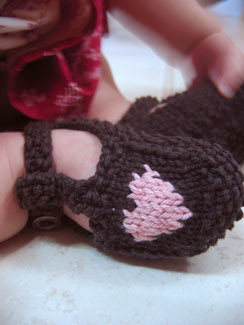 Thanks Terri!

july 2007
Spotted at Webs this weekend...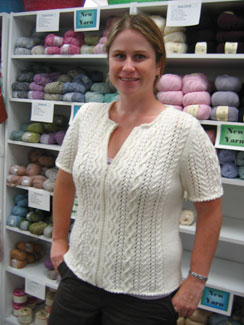 Terri finished the lovely lacy cable cardigan from Jo Sharp Knit - Issue 2. And she picked up some Calmer for another gorgeous sweater from the same book!

june 2007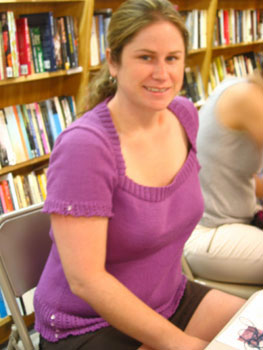 Terri in her pretty, pretty petal sweater. Aren't those little little glass buttons at the sides just precious?

june 2007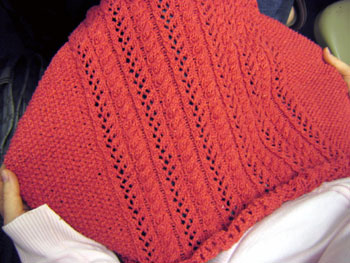 Terri's latest Rowan beauty on the needles: Sea Breeze from Rowan Classic Beach. She's knitting it in the wonderful Classic Silk from Classic Elite.

february 2007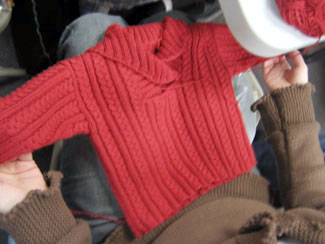 Terri's finished up another beautiful baby gift: a shawl neck pullover from Debbie Bliss' Baby Cashmerino 2 book. Awwwww.

june 2006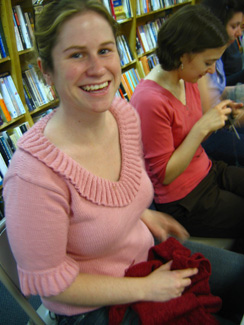 Finally, I manage to take a picture of Terri to do her and her knitting justice! This is her gorgeous new top in Rowan cotton glace.
And another beautiful project she's just finishing: Tea Time from Rowan Classic Summer. She knit it in the most amazing color of Elsebeth Lavold's Silky Wool.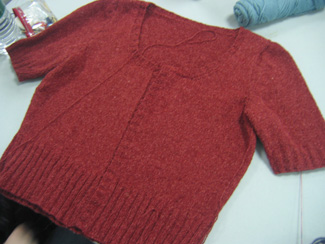 may 2006
Terri's also working in blue.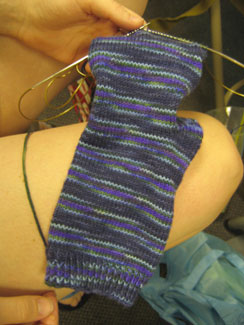 Her new Socks that Rock yarn is striping perfectly!

may 2006
At the swap Terri wore her lovely, lovely cashcotton lace sweater (it's Julia from Rowan Classic Summer).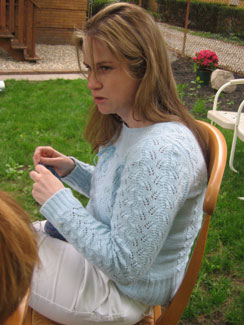 Sorry I didn't get a better picture of the sweater or Terri. You'll have to trust me that they both looked beautiful!

april 2006
Terri wore her awesome all seasons cotton cabled sweater this week. Love it!

march 2006
Terri hasn't been able to make it to Knitsmiths recently, but I have caught up with her and taken a couple of pics of her latest projects.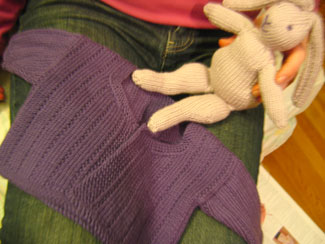 A baby set for a work colleage. (Love that bunny!) And she's also got a little bear underway.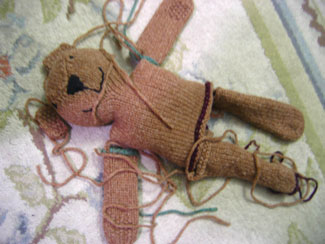 And for herself, a pretty pink top in Rowan cotton glace and a gorgeous lace sweater from one of the new Rowan Classic books in their Cashcotton yarn.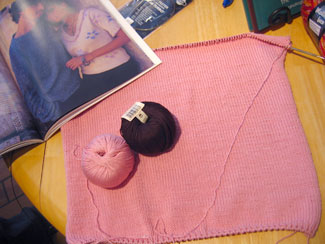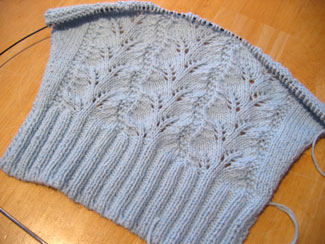 february 2006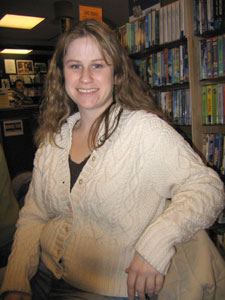 Terri in a beautiful Debbie Bliss shawl collared cable cardigan - she wore it for Shannon to see (since Shannon's working on a similar one). She was working on a beautiful red wrap sweater of her own creation.

november 2005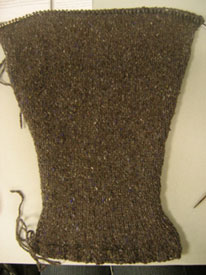 Terri's just finishing the first sleeve of Jo Sharp's Rebecca sweater, which she's making for her sister. Don't you just love the shaping at the cuff?!

june 2005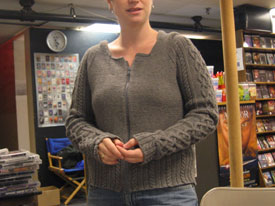 Terri's Mariah in Lana Grossa Big Merino. It's fabulous!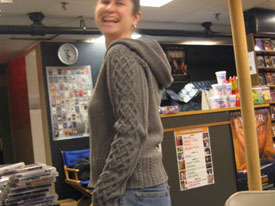 april 2005
Lovely ladies.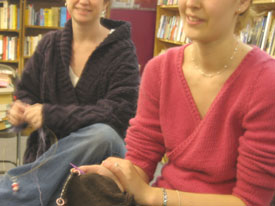 Terri just finished this stunning Jo Sharp shawl-collared, cabled cardigan. And Johanna's Debbie Bliss cotton angora ballerina wrap sweater is perfect for early spring.

november 2004
Terri has done it again - another incredible sweater!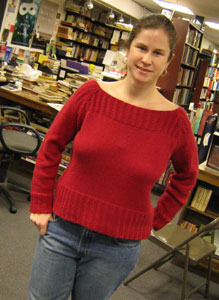 She got this cashmere yarn at School Products in NYC and came up with this fabulous design herself. It's stunning!

november 2004
Terri's baby Dale is just a zipper away from being done.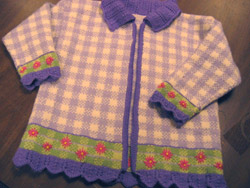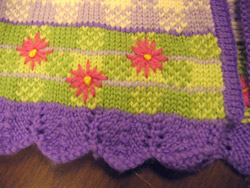 Such a special sweater and impressive accomplishment. Congrats, Terri!

october 2004
Terri is an amazing knitter! This week she brought in a finished poncho (her own design) and Klaralund sweater.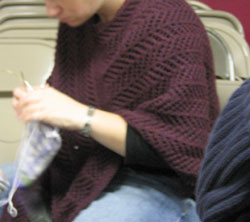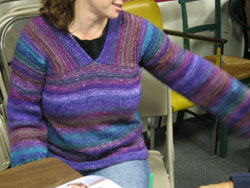 july 2004
Terri's purple projects in progress.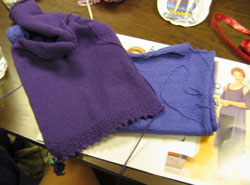 Rowan Calmer and Jaeger Sienna. Oh yeah.

may 2004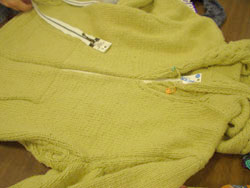 Terri's almost done with her Rogue cardigan. She just has to pick the right zipper and sew it in. The yarn is Blue Sky Organic Cotton and it is sooooo soft. This is going to be one amazing sweater.
And lookie what she's starting next.... Smooch!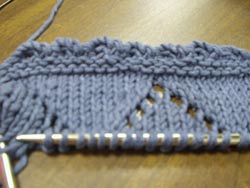 march 2004
Terri completed this amazing Dale sweater last month, so it's no surprise that she's got another beautiful Dale in the works.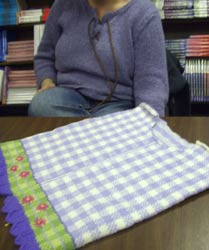 And yes, she knitted her own sweater too. It's in Rowan Summer Tweed and is so soft and lovely.