Knitsmiths knits



november 2009
UPDATED Important Message!
Location change for December!
Knitsmiths cannot meet at the Booksmith during the month of December, due to special sales they want to set up downstairs. We have worked out a plan for alternate locations for the first three Sundays in December. Three knitters have offered to host Knitsmiths at their homes in Coolidge Corner and nearby - thanks, ladies!
Please email me at alison AT knitsmiths DOT us for exact info on where we'll be meeting.
See you then!

march 2009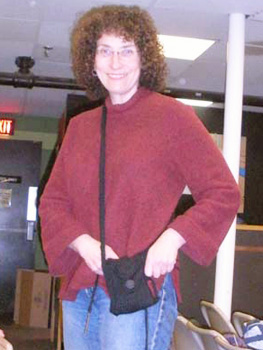 New Knitsmith, Irene, just finished this adorable little purse. Isn't it cute?!

march 2009
Look who came to knitting group!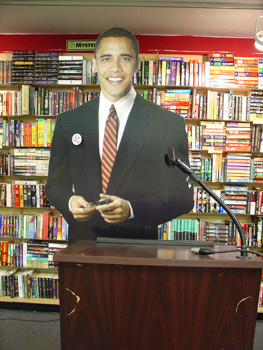 Instead of the usual flag lapel pin, he's wearing an "I love Brookline Booksmith" button. Too cool!

february 2009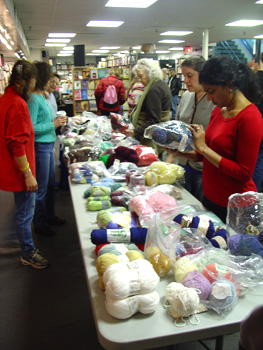 Yesterday was SWAP DAY! Hooray!

october 2008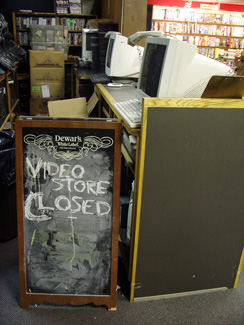 Goodbye, Cinemasmith. It'll just be us and the used books now. No more pictures in front of videos. No more funny signs. No more videos that always made us laugh.

october 2008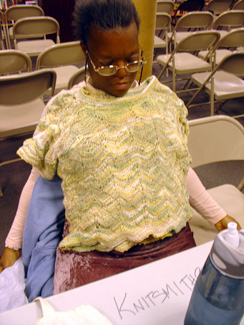 This week, Millicent showed off her finished tank top!

april 2008
Yarn sale!!
I got some info this week about a friend of the Knitsmiths selling a wide assortment of yarn, knitting needles, crochet hooks, knitting tools, and knitting books and patterns, including vintage books and patterns. She's inherited the whole lot from a relative who was an excellent knitter. The yarns and books are supposed to be of very high quality. Sale is this Saturday!!
Check the Knitsmiths' Google groups page for info on time and location. Hope some of you make it over there and find some wonderful stuff!

september 2007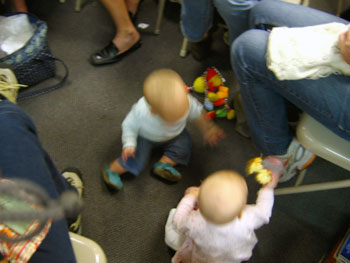 Playtime at Knitsmiths!

august 2007
Thrums!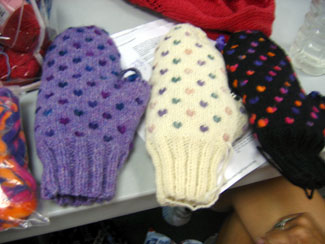 Sorry, I forgot who brought the thrums, but they are soooo cool! And check out the insides...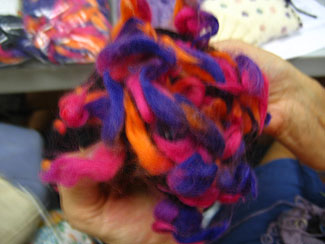 july 2007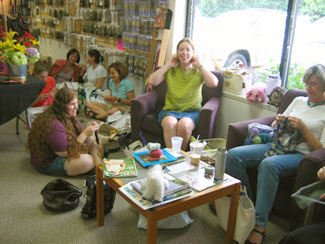 The knitsmiths go to Webs!! We all went, en mass, up to Nothampton for my book
signing...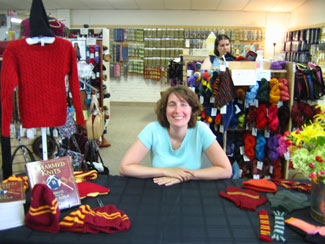 ... a Harry Potter party...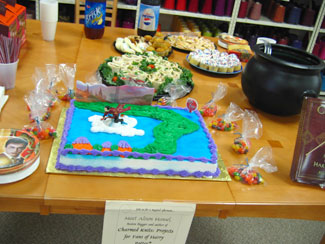 ... and lots of shopping, of course!

may 2007
New Knitsmith, Suzanne (hope I remembered the name correctly!), wore her beautiful lace sweater from the latest Rebecca mag.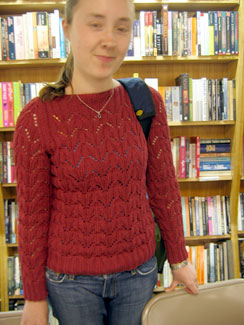 march 2007
SWAP!!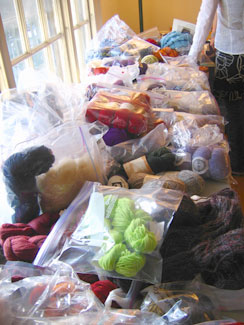 Lots of yarn, lots of Knitsmiths...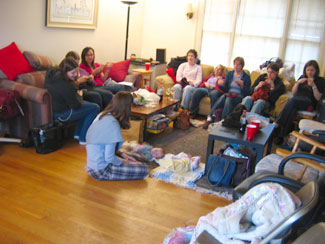 ...and even the babies had a good time.

march 2007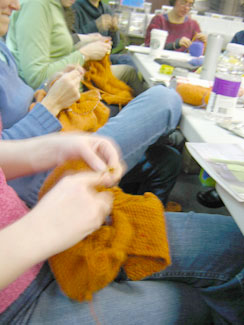 Orange you glad you came to knitsmiths today?

february 2007
Janet is working on two sweaters with some impressive colorwork!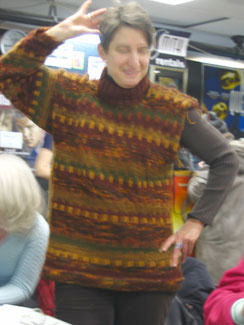 Wow!

january 2007
This video cracks us up every week:
"The Most Fertile Man in Ireland"!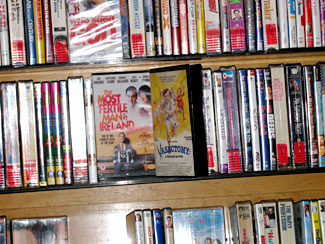 It sits right at eye level next to us and it's never checked out. Surprise, surprise.

january 2007
Last week, the Knitsmiths helped me make tiny little rosebuds for this hat for my wee one on the way.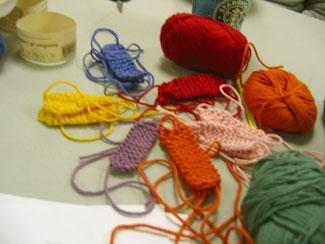 Everyone (especially Lisa) pitched in to make 24 flowers and 13 little leaves. It's going to be the sweetest itty bitty hat ever! (More details on my blog.)

november 2006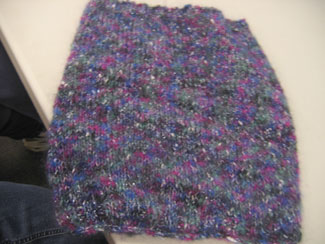 New Knitsmith, brought in a pretty, sparkly cowl that she made for her mother to replace her old, worn one she loved a "hole" lot!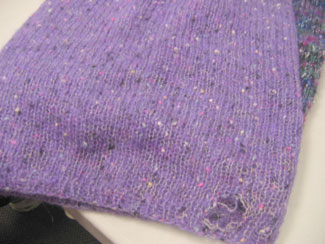 Isn't it great to have a knitter in the family?

november 2006
Knitsmiths like Artful Yarns Shakespeare yarn!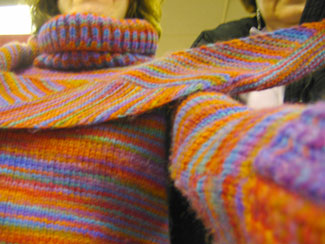 Betsy's multidirectional scarf and Alison's Brioche Rib Pullover. The colorway we used is called "All that Glistens is not Gold". Check out this color: "Eye of Newt and Toe of Frog"!

november 2006
Last week, we lured our friendly Videosmith counter guy over to join us for a few minutes. Isaac is a knitter too!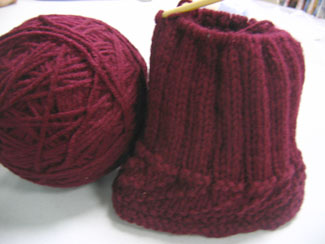 He's designing a lovely hat for his girlfriend. Isn't that sweet?

september 2006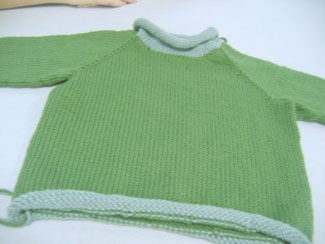 Kaya finished her first baby sweater ever. Hooray!!

september 2006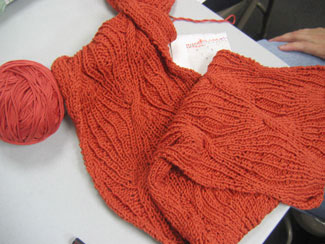 Betsy was also scarf-ing it in September, knitting the Balloon Scarf from Scarf Style in this beautiful orangey-red yarn.

august 2006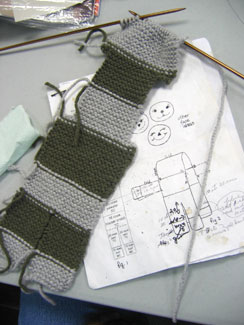 This week Rossi was working on a cute stripy doll. It reminds me of a pattern I saw on Knitty Gritty. Very sweet!

july 2006
Knitsmiths get their geek on!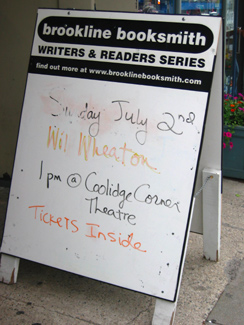 We missed the sign when we arrived. The first thing we noticed was that one of our tables was gone. Then someone said the Booksmith was using it upstairs for a book signing. Groan. Then someone said it was Wil Wheaton who was using our table. So a few of us closet geeks ran up to see.
It was Wil Wheaton! Using OUR table! That is so cool! (He was signing his book Just a Geek. You can read about his trip to Boston on his blog here.)
Then Alexis got the brilliant idea to ask him to sign the table. Dana went with, Shireen was our expert in social assertiveness, so she asked, and I took the pictures.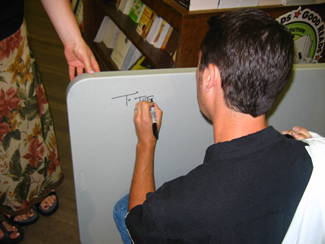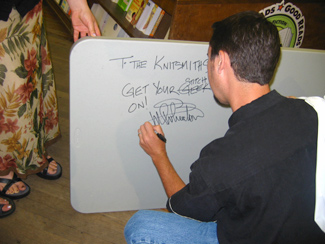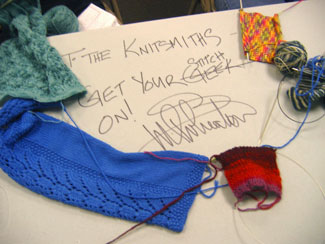 That is soooo awesome! Thanks to Wil for being such a good sport after a long event. We are really thrilled to have your signature on our table!
(Check out Alison's blog and Dana's blog for a bit more on our brush with geekness.)

july 2006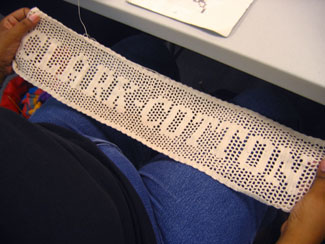 Rossi's almost finished with her crocheted wall hanging. It's amazing!

june 2006
Peta's "frosted grape" yarn totally lives up to it's name.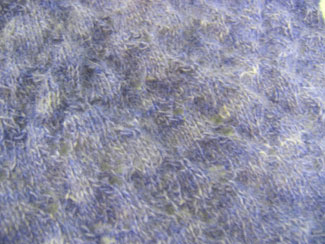 She working a lace pattern, which is hard to see now, but I bet it's going to be beautiful when it's all blocked.

may 2006
A sea of blue yarn this week at Knitsmiths.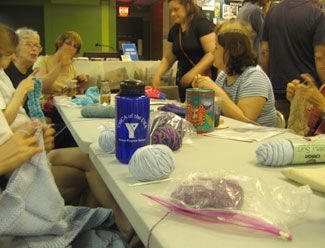 Including a beautiful blue baby blanket.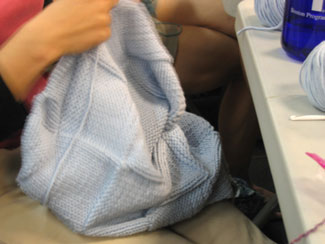 And gorgeous blue lacy knee high socks!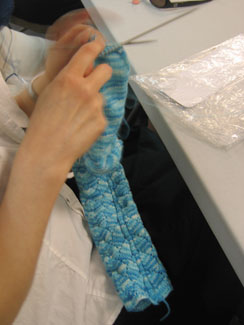 may 2006
Knitsmiths swap!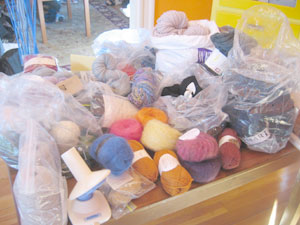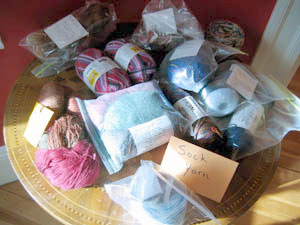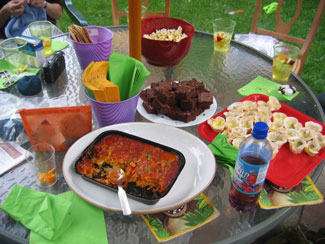 And eat.

may 2006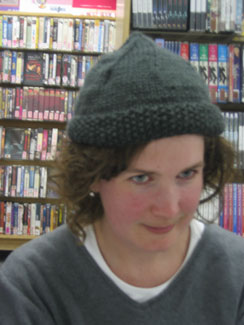 Lookie, Molly finished a hat for her hubby!

april 2006
Knitsmiths sock on!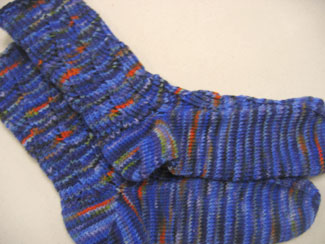 Reese finished her Pomatomi (love that yarn she dyed with the bright shots of color!).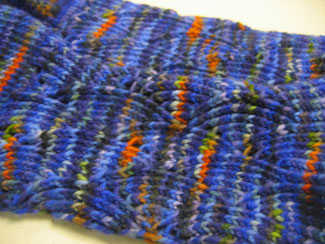 New Knitsmith, Jill's lovely Conwy socks in Lorna's Laces.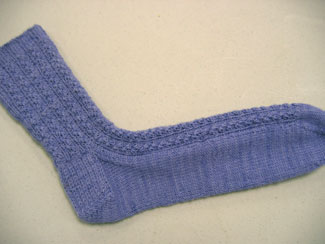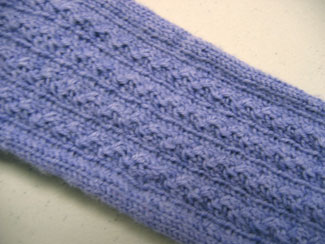 And old Knitsmith, Dana, (heh, heh), is still working on those Koigu Jaywalkers.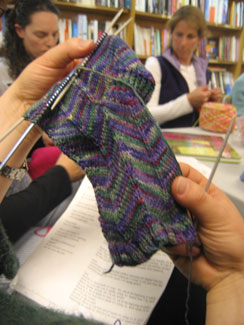 april 2006
Easter at the Knitsmiths!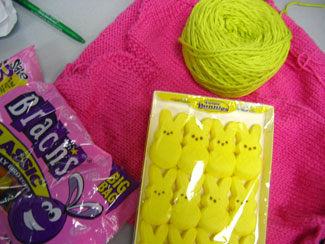 With peeps and matching yarn.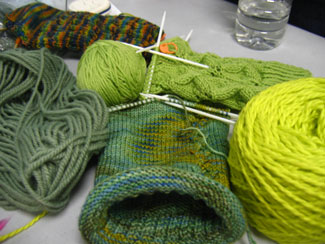 Spring green everywhere.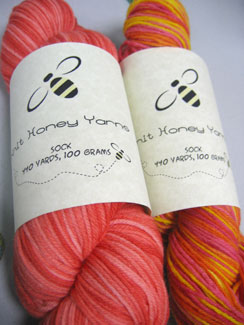 And beautiful bright yarns dyed by Reese!

april 2006
First-timer Luise is working on a beautiful Misty Garden scarf (from Scarf Styles).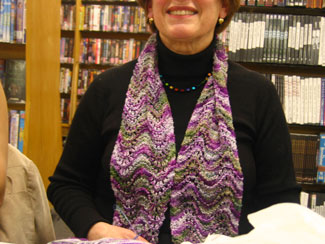 march 2006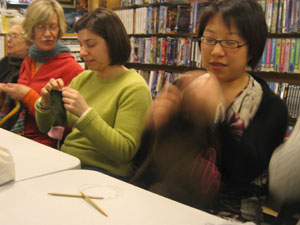 Lots of new-ish knitsmiths this week with all kinds of great projects! Christine's hands were moving too fast for me to get a good look at exactly what she was making, but Deena let me snap a pic of her sockapaloooza socks in progress.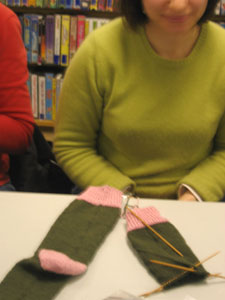 And Reese brought in her Pomatomi in progress.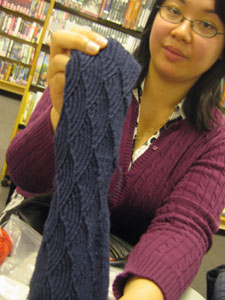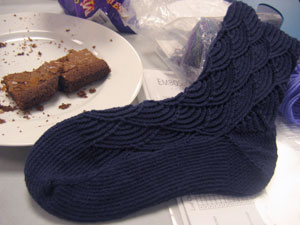 Yum!

march 2006
New knitsmith, Shannon, is working on a felted bag.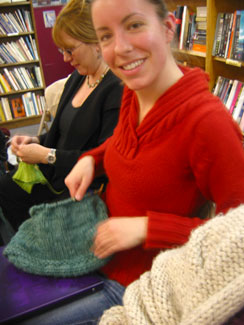 And we all want to make her sweater! Who's going to write up the pattern??

march 2006
Knitsmiths goes to the bears!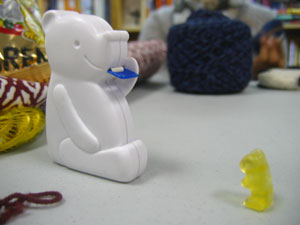 Johanna's buddy bear measuring tape and a Gummibear (from Germany!) make friends.

march 2006
WE ARE THE CHAMPIONS!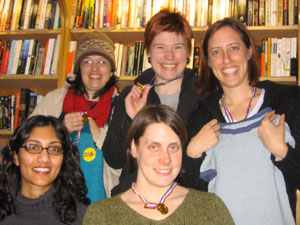 The Knitsmith Knitting Olympians flashing their gold: Julie, Amber, Shireen, Colleen, & Parikha. Check out the amazingly beautiful entrelac baby blanket on Parikha's website.

february 2006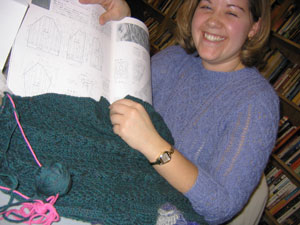 Teresa in her light blue cabled number from a recent Vogue - and if that's not impressive enough, check out what she's working on. Another intricate sweater design, but from a pattern entirely in Japanese! She claims to use only the charts since she doesn't actually read Japanese... impressive huh?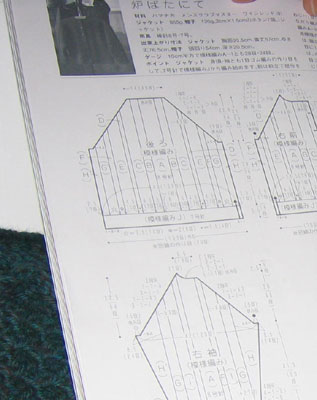 february 2006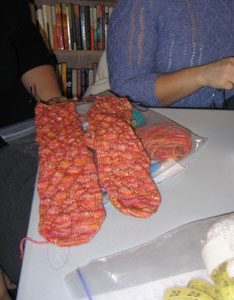 Reese, a new Knitsmith, was working on her Elfine socks in a beautiful kool-aid-dyed sock yarn in creams and peaches.

february 2006
Thanks to Thea and Shireen for sending in updates this week while I was out of the country! Looks like I missed some great projects and great fun. See you in a couple of weeks, gals.

february 2006
Neither snow, nor nor'easter... stays these knitters from their appointed knitting group.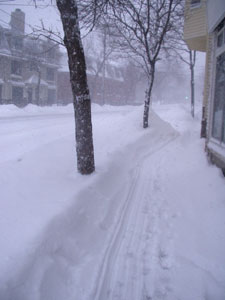 Despite a blizzard and the closing of our usual meeting place, a few of us Knitsmith die-hards (who live within walking distance of each other) trudged out through the snow to knit together.
Johanna brought fresh bread. In a doggie poop bag.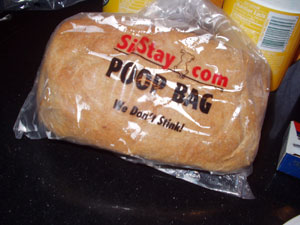 Yes, it was that fun!

february 2006
Knitsmiths go skating.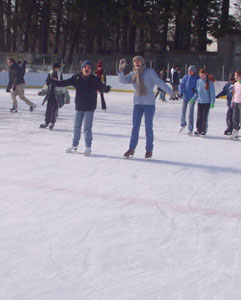 Hi gals!

february 2006
Knitsmiths love Dani's hand-painted sock yarn!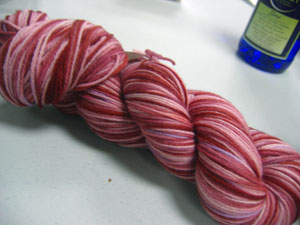 Norah's new skein of "Love".

january 2006
We are the Knitmitts!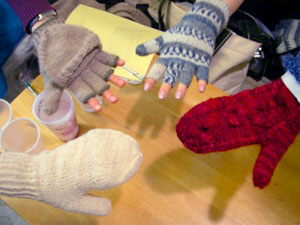 Knitsmiths love knitting mittens. First there were Colleen's convertible glove/mittens, then Dana's, then Johanna's. I made Hermione mittens (not convertible, sorry!) and now Lisa's finished a pair in Lorna's Laces' beautiful Bullfrogs and Butterflies yarn!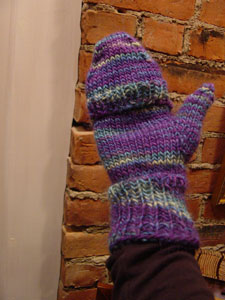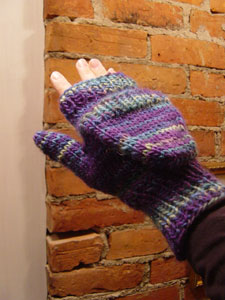 january 2006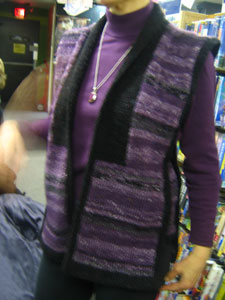 Janet just finished this amazing asian-inspired vest in purple. Look at the beautiful details!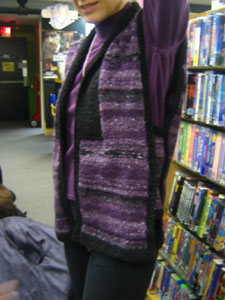 january 2006
The Knitsmiths ask you to find your inner knitter.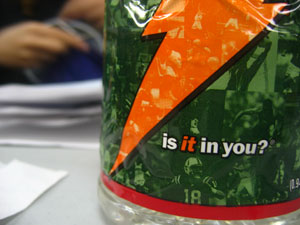 december 2005
Wishing you a Merry Knitsmiths
and a Happy New Year of Knitting!

december 2005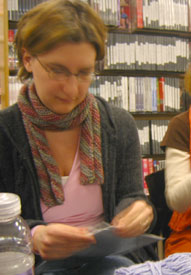 Bookish girl, Wendy, also stopped by this week. And she was wearing this lovely little scarf in Art Yarns Supermerino. The pattern is one of those modular knits from Iris Schreier.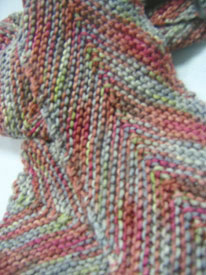 Her latest project is a Wonderful Wallaby pullover.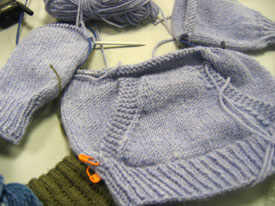 december 2005
The ever so fabulous Claudia stopped by Knitsmiths this week. Wearing an incredible hand-dyed scarf.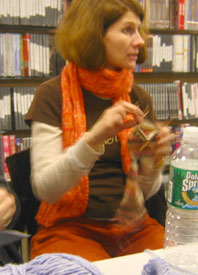 And knitting this beautiful pink and brown Trekking sock.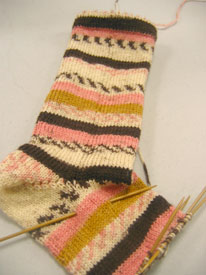 december 2005
Knitsmiths Dana and Claire wear their newest hats.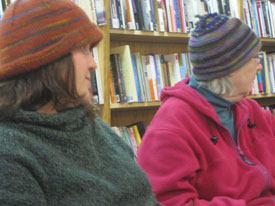 'Cause baby it's cold outside!

november 2005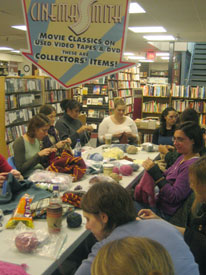 Knitsmiths knit collectors items!

november 2005
Knitsmiths love orange!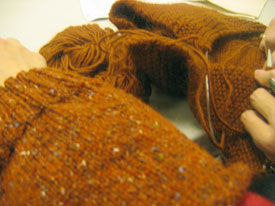 My orange weasley and Gail's orange garter stitch sweater.

november 2005
The semi-annual Knitsmiths yarn swap!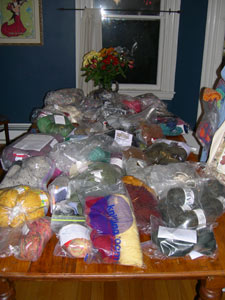 Look at all that loot!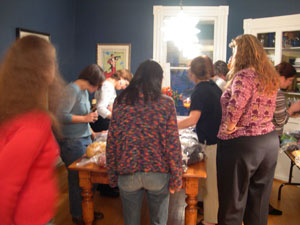 Pre-swap browsing. Post-swap knitting.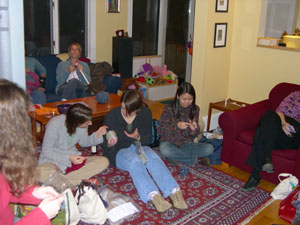 What a great way to spend an afternoon!

november 2005
Seen at the swap: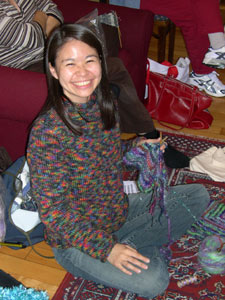 New Knitsmith, Monica, her beautiful socks, and a few of the gorgeous mitered squares she making for an afghan.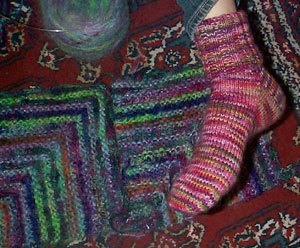 november 2005
Seen at the swap: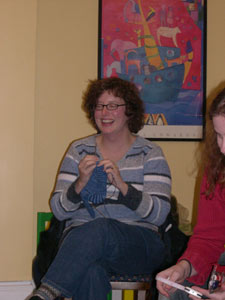 Katie and her stripy sock.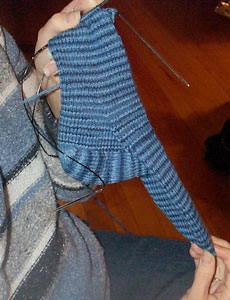 november 2005
Seen at the swap: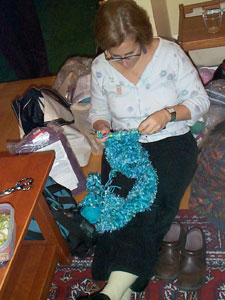 Nancy's glam glitter scarf.

october 2005
Hooray, it's almost swap day!
Attention all Knitsmiths: don't forget about the swap this Sunday. Remember, it's not at the Booksmith. Check the Google Group website for directions. And Thea is looking for a headcount of how many folks will be coming, so she can be sure to have enough chairs. Please send her a quick RSVP if you can to let her know if you're coming!

october 2005
Jess and Maya made it out to Knitsmiths - hooray!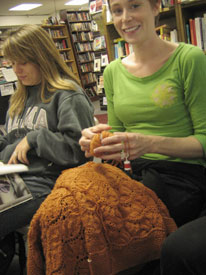 Jess is working on a gorgeous lace shawl project using Aurora 8. The yarn is so soft and squooshy.

october 2005
This week we had a wonderful presentation of readings from Knit Lit 3. We love this series!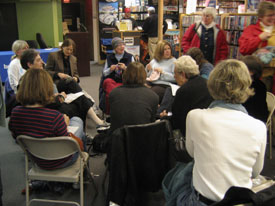 I snapped a pic just as editor, Linda Roghaar, was saying goodbye to the group, which was still knitting, of course!

october 2005
Look at new Knitsmith, Diana's first project!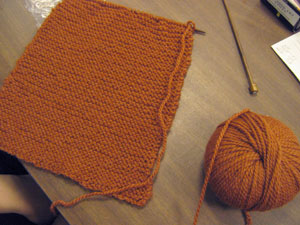 It's a garter stitch scarf in Jo Sharp's Silkroad Aran, a Knitsmiths' favorite yarn.

october 2005
Knitsmith News:
Please note, the Knitsmiths email address has changed. The new address is listed at the bottom of the right sidebar.
Sunday, October 23 will be readings from Knit Lit 3! Readers include our own Norah and knitting is encouraged. Hope to see you there.
Sunday, October 30 will be our next swap! Due to space issues, the swap will not be held at the Booksmith, so don't expect to see any of us there that week. Check the Knitsmiths's Google group site for info on the new location. Yeah, swap!

october 2005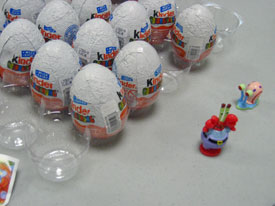 I brought back some chocolate Kinder eggs from Germany for all my fellow knitters. We got SpongeBob toys!

september 2005
Susan has been knitting up the most incredible things with Opal sock yarn. First she finished this tank top and skirt set. Now she's made a scarf, a belt, and this amazing shawl.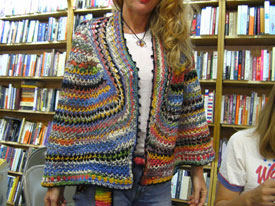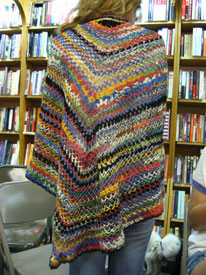 Wow - who knew that you could do all that with Opal! Check out her site to see more of her fabulous creations.

september 2005

The Knitsmiths would like to show their support and send their best wishes to those affected by the hurricane.

august 2005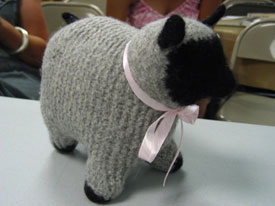 Norah felted her sheep and it is so adorable!

august 2005
New Knitsmith, Norah, brought in some fun pre-felted knits this week.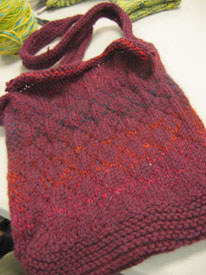 A beautiful fair-isle bag.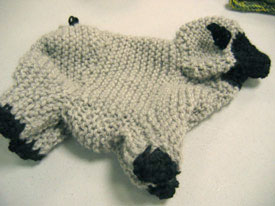 And a little sheep. Awwwwwwww!

august 2005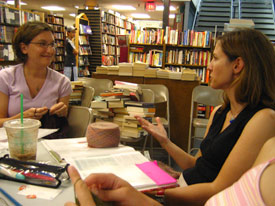 Blogstars, Wendy and Kerstin came to knit with us this week. They're so fun!

august 2005
Brand new Knitsmith, Olivia, is such a good knitter that she was able to work the cables on this gorgeous sweater effortlessly while entertaining us with all kinds of stories.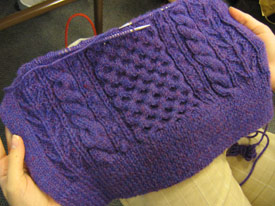 You don't have to be able to talk and knit at the same time to be a Knitsmith, but it sure does help!

august 2005
We love it when someone finishes a project during knitting group! This week Janet knitted the last few rows on her fabulous side-to-side ribbon scarf, trimmed the fringe, and got to wear it home.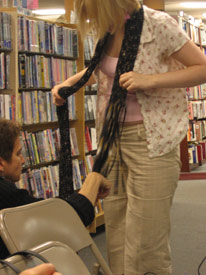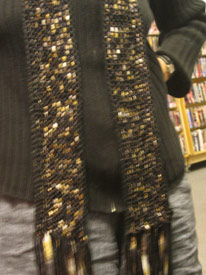 Congrats, Janet!

july 2005
Vicki may not be able to be with us (she's hoping to move back to Boston soon) but we got to see one of her knits this week: a child's raglan in Butterfly Super 10 cotton.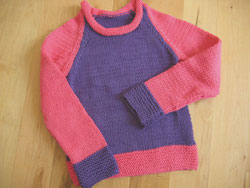 She used the basic Yankee Knitter pattern, but added the garter stitch at the edges and contrast colors. Too cute!

july 2005
Nancy's first sock! She's using the excellent instructions in Sally Melville's Purl book and Patons wool.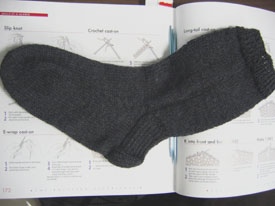 Well done, Nancy!

july 2005
New Knitsmith, Linda has just finished the front of her nothing but a t-shirt. She put her husband's name on it!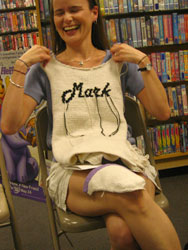 june 2005
Jo likes purple. I don't believe I've ever seen her knit a project in any other color.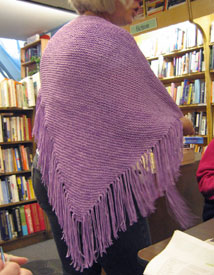 Here's her beautiful Berroco Suede poncho in a lovely light purple.

june 2005
Rossi has been working on this crocheted piece for weeks and she's almost done!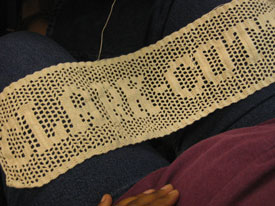 The stitches are so perfectly tiny. It's really been amazing to watch her make progress on this.

june 2005
Elizabeth and Nancy are new knitters and our newest Knitsmiths.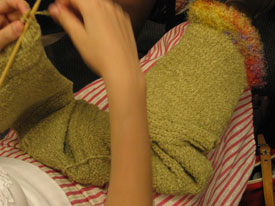 Elizabeth is working on a fuzzy green scarf and Nancy is knitting her first sock.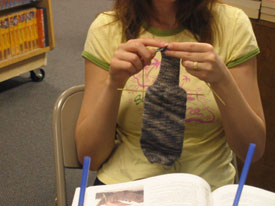 You go, girls!

may 2005
Sock knitters take over Knitsmiths!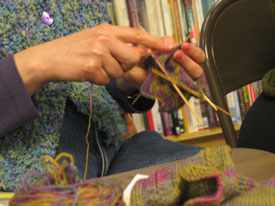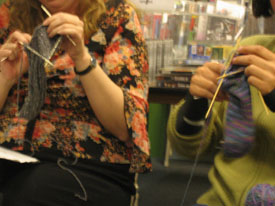 Cheri, Julia, Emily, Lisa and I all brought our socks to work on this week. Cheri's working on Broadripple socks from Knitty.com and has already finished the first one in a beautiful colorway of Lorna's Laces.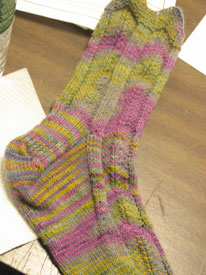 may 2005
Cookies!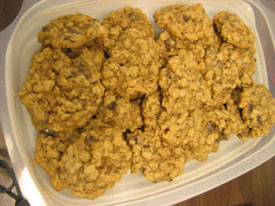 We can make more than just scarves and sweaters, you know.

may 2005
We had a new knitsmith this week:
Paula, from Black Olive Is: In the Loop.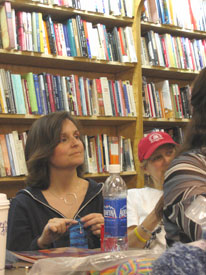 She was working on some fabby blue socks (check them out on her blog!). Welcome, Paula!

march 2005
The CinemaSmith has officially moved into the basement of the Booksmith where we knit.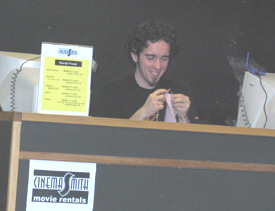 And lookie, Isaac's a knitter too!

march 2005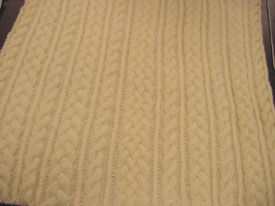 This week we got to see (and touch!) this incredible cabled baby blanket that Lauren designed herself. That's going to be one lucky baby!


march 2005
Swap Day
What an awesome swap! Everyone brought fantastic yarn, and lots of it!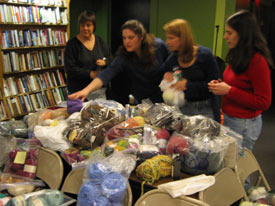 Dava, Dana, Thea, and Emily inspect the yarns
Of course, no yarn swap would be complete without fun fur.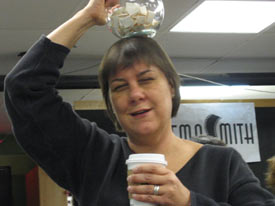 "you're not taking a picture of me, are you?"
First, our fearless leader, Dava, reminded of us of the rules while taunting us with the bowl of numbers. Next, we each pulled a number and as we were called we could select one bag of yarn. Decisions, decisions.... We all came up again in reverse order for a second pull and then the best part of all: the FREE FOR ALL!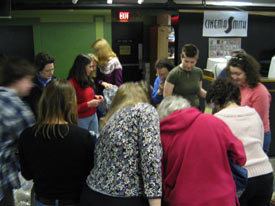 grab it while you can!
Finally, all the acrylics and the leftovers were packed up to be donated. There was just enough knitting time left for several Knitsmiths to swatch their new yarn.
A big thanks to the nearly 50 Knitsmiths who brought in such great yarns and made the swap such great fun. You're the best!


march 2005
Attention all Knitsmiths!
Dava has informed me that the Cinemasmith will be doing construction downstairs in the Booksmith Reading Room on Sunday, March 13. Since "sawdust, boxes, and carpenters usually don't mix well with yarn and lots of knitters," KNITTING GROUP AND THE SWAP WILL NOT BE HELD THIS WEEK, but instead will be postponed until the following Sunday.
If you have questions, you can email her at:
knitsmiths [AT] mac [DOT] com

february 2005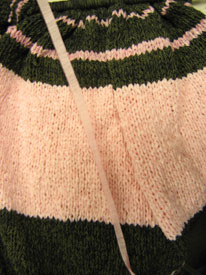 Diane's working on a lovely shawl/wrap/vest in pink and black ribbon yarn. She's just winging the pattern, so she's not sure exactly what it'll be, but it looks beautiful.

february 2005
What a crowd we had this week!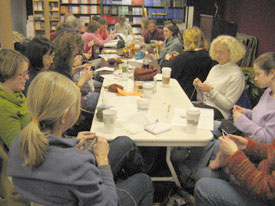 february 2005
Calling all Knitsmiths! Dava's had a computer glitch and needs to recompile the email llist for the knitting group. Please send your email address to her at knitsmiths AT mac DOT com, so she can add you to the new list and you can continue to get Knitsmiths news (like when the next swap is going to be!).
Thanks!!

january 2005
Knitsmiths cafe now serving: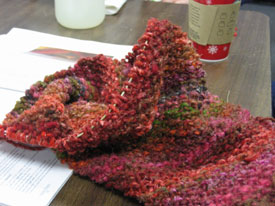 coffee and Noro coat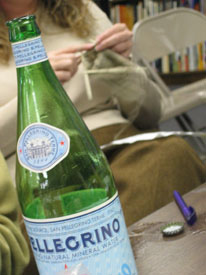 pelligrino and first sock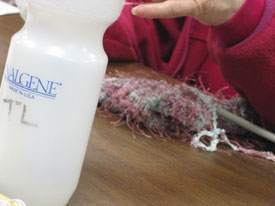 water bottle and fluffy scarf

november 2004
Brooke, our girl with a blue poncho, has started a new project.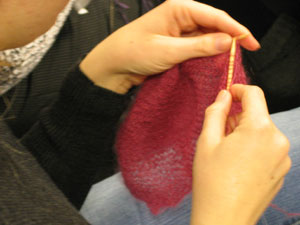 It's going to be a shawl in a beautiful shade of Rowan KidSilk Haze. It's so purty.

november 2004
New Knitsmith, Lisa, wowed us all with her pom-pom'ed scarf made in Classic Elite Lush yarn. The pattern is from Jil Eaton's Simple Chic.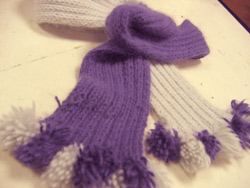 november 2004
Knitsmiths present: girl with a blue poncho.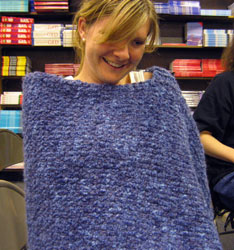 This new knitter and new Knitsmith has just finished her first "non-scarf" project, a beautiful asymmetrical poncho in Lamb's Pride Bulky and coordinating boucle yarn. She finished it during our knitting group to much applause from everyone. Congrats!

october 2004
Looks like grey is the color of choice for this season's boyfriend scarves.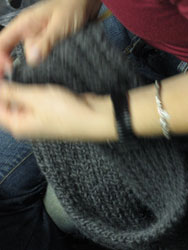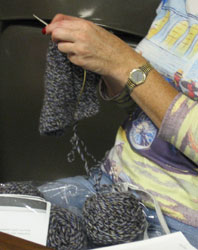 september 2004
The new Knitsmiths' mascot dog - Sprocket!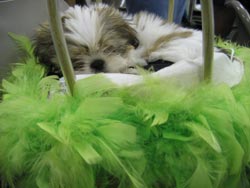 Don't you just love Kimberly's new fluffy puppy in her fabby fluffy bag?! Check out pics of the little guy's first hand-knitted sweater at Kimberly's blog here.

september 2004
Three generations of knitters? New Knitsmith, Carrie, brought her knitting, her mom and her new baby girl this week.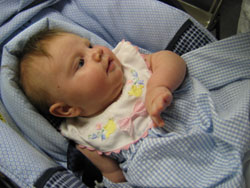 Her mom brought in an afghan she stopped working on a couple of decades ago and recently rediscovered in her basement. Looks like she was quite a good knitter back then.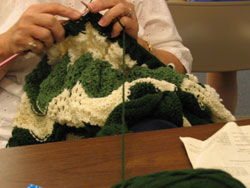 september 2004
Kerstin brought the yummy goodies this week: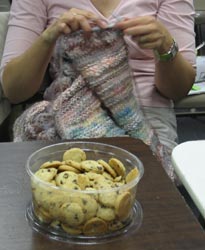 A Colinette afghan in progress and chocolate chip cookies!

august 2004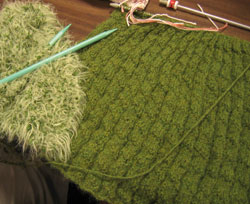 This week, first-time visitor, Natalie, brought in two projects in beautiful greens.

august 2004
Look, Diane's scarf (for her niece) matches her shirt!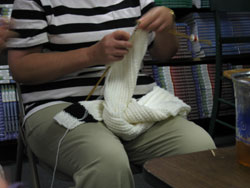 july 2004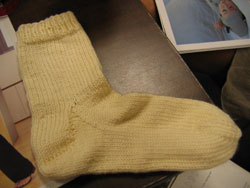 Olissa's making socks with Lion Brand Microspun. They're soooo soft!

july 2004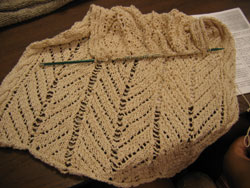 Rossie's amazing lace bedspread just getting underway. It's going to be gorgeous when it's all done.

july 2004
Maggie has been working on this fun sweater from the Yarn Girls Guide to Simple Knits for a while and she's almost done with the individual pieces.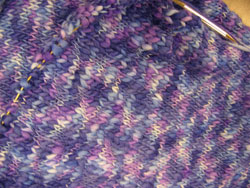 Isn't the thick/thin HipHop yarn cool?!

may 2004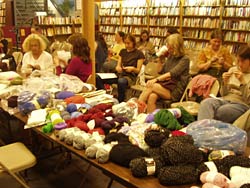 Swap day!
A few times a year we all bring in yarn from our stash that we don't know what to do with and swap. Look at all that loot!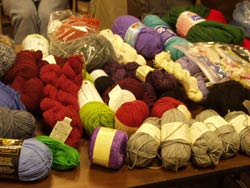 may 2004
The knitsmiths go leather!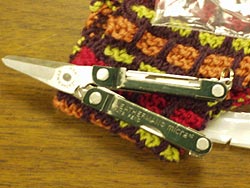 may 2004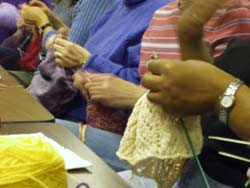 Knitting hands.

march 2004
What could be better than sunday knitting group? Knitting group with readings from Knitlit Too!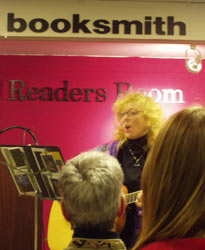 Here is writer/singer/knitter, Wren Ross, performing one of her hilarious knitting ditties.
And for another knitting laugh, someone brought in some old knitting mags. Who wants to make the pinata dress?


february 2004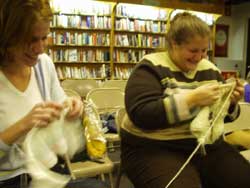 Learning to knit is fun!

november 2003
We're famous! Read about us and hear from some of our fellow knitters in the Boston Globe.

december 2002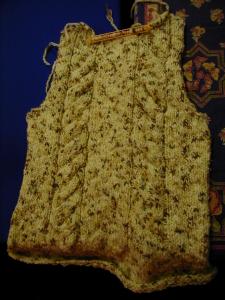 Marcie is new to our group and is making her first cabled sweater in a wonderfully soft yarn from Gedifria.