Dani knits



june 2008
Just call us the socksmiths: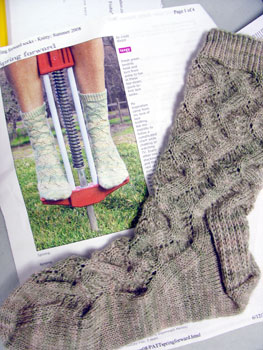 Dani's Spring Forward socks are so lovely in her own Sunshine Yarns "Tea Leaves" yarn that she sold several of us other Knitsmiths on both yarn and pattern! Check out her blog for waaay better pics! (But be ready to start knitting some for yourself!)

april 2008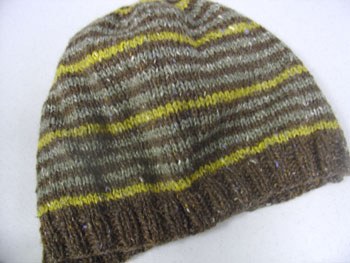 Dani has been cranking out these handsome felted tweed hats. The pattern is the striped beanie from Knitting for Him: 27 Classic Projects to Keep Him Warm
. Love that punch of color with the green!

february 2008
Dani's been working on another patchwork blanket (she made this same pattern from Baby Knits for Beginners
a couple of years ago). This is in gorgeous shades from greens to orange and red.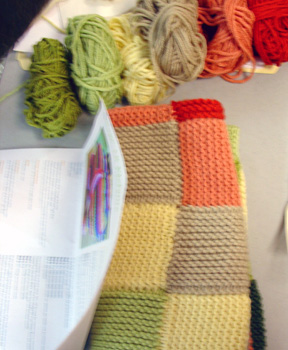 She's planning on making a matching striped elephante toy to go with it. Awwww.

february 2008
Dani just finished a beautiful baby pinwheel sweater in the loveliest fall colors of Knitpicks Swish. And baby Kaya was nice enough to model it for us!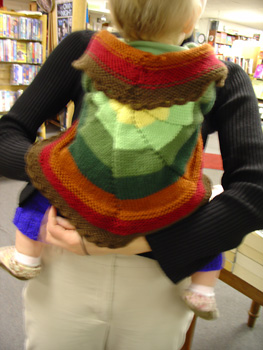 september 2007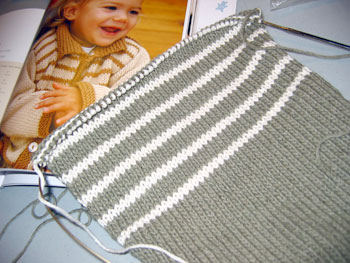 Last week, Dani was working on this adorable baby sweater, Geordie from Natural Knits for Babies and Moms. She's all done with it now - check it out on her blog.

august 2007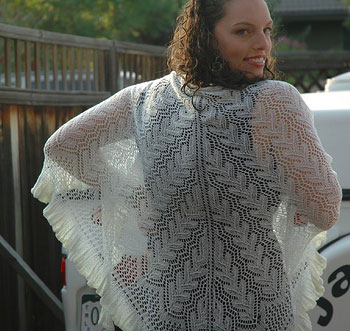 Dani is back from her wedding! She looked gorgeous in the stunning wedding shawl she knitted for the occassion. Congrats, Dani!

june 2007
Both Dani and Dana are working on monkey socks (and both in Dani's fabulous yarns!).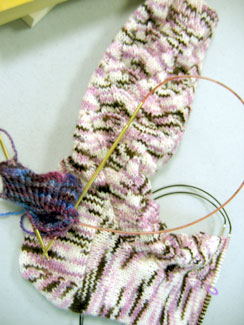 Dani's almost finished her first "neapolitan" monkey (yum!) and Dana is just getting started with her "not dana" monkeys.

april 2007
Another Knitsmith has succumbed to Itty-Bitty Hats
obsession! This week Dani brought in all the itty bitty hats she's been making and baby Kaya modelled them for us....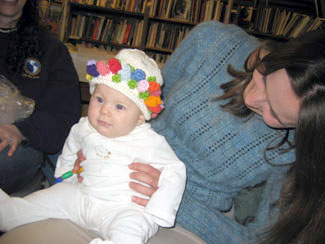 The rosebud hat. Pretty, pretty.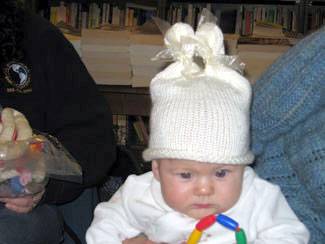 The bunny hat. Oooh, cute!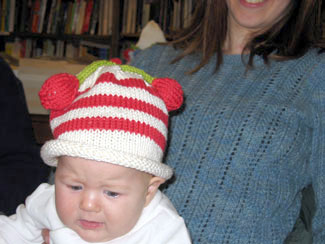 The cherry-o hat. Love those cherries!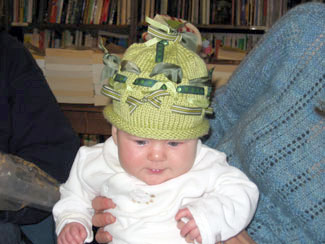 The ribbon hat. Awwwww.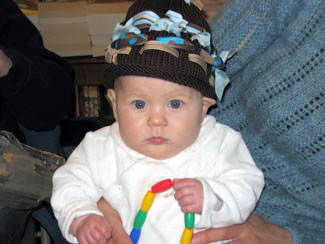 Another ribbon hat. Double awwwww.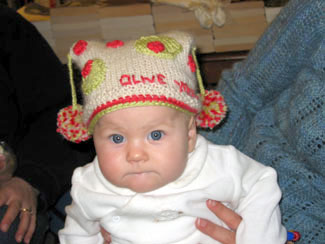 The olive-you hat. Olive that hat! (Ha ha!)
Thanks Dani for sharing all the hats! And thanks Johanna for the super model!

december 2006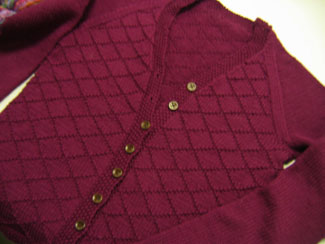 Dani finished her Lucy in the Sky cardigan. It came out awesome in that rich burgundy Cashmerino Aran! See more finished pics of it on her blog.

december 2006
Tadpole is here!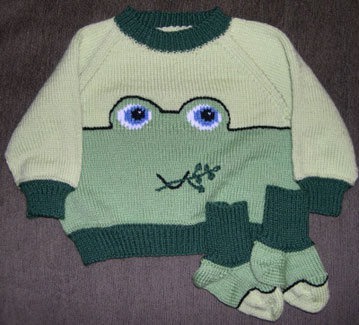 Looks like we had the shower just in time, because the very next day, Johanna had her baby! Baby is well and mommy is happy. Who could ask for more? I'm sure she'll be posting pics and details on her blog in a few days.
(The cutie patootie sweater above was knit for Johanna by fellow Knitsmith, Dani. It's from Dale book #164, knit in Dale Baby Ull.)

september 2006
Catching up with the Knitsmiths: September edition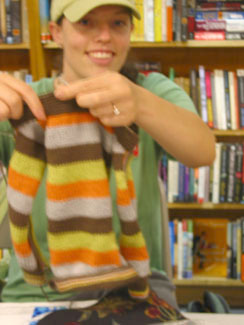 Back in September, Dani was working on the cutest Sirdar baby sweater in Rowan Cashsoft DK. (See her blog for pics of the finished sweater!) She's planning another in girly colors of Debbie Bliss Baby Cashmerino. So pretty!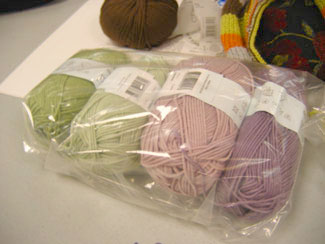 august 2006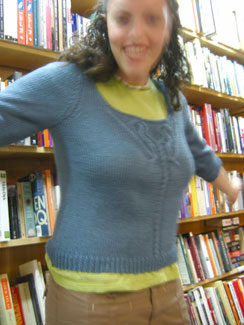 Dani finished a sweater from Knitting Nature. Can you tell how much she likes it? Here's a less blurry shot, so you can see the beautiful detail on the front.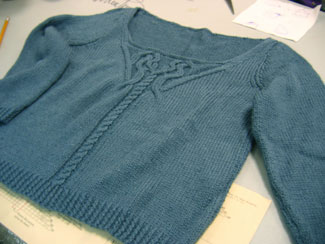 She used Berroco SoftTwist and it knit up so nice.

june 2006
K16tog?!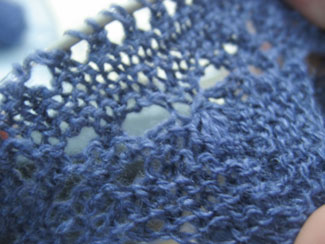 Oh yes, Dani's Fiddlesticks shawl project has her performing amazing knitting feats.

april 2006
Knitsmiths sockapaloooz-ing...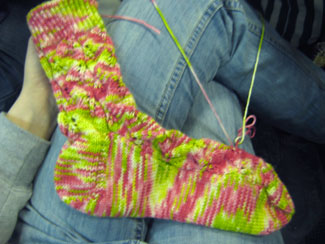 Dani's incredible falling leaves socks in her own hand-dyed Raspberry Limeade yarn. And Shireen's fabulous cabled socks for her pal.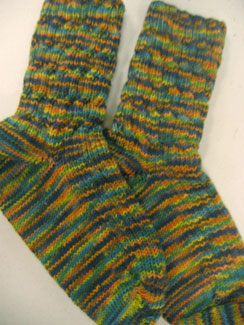 What great sock pals!

february 2006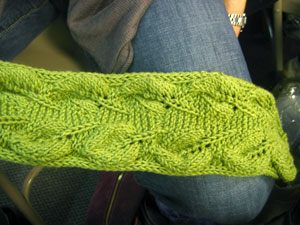 Dani is halfway done with the Backyard Leaves scarf from Scarf Style. Look at those beautiful leaves!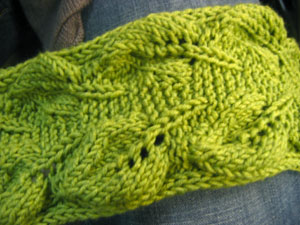 january 2006
Dani's almost finished socks in her own hand-dyed "Amazon" yarn.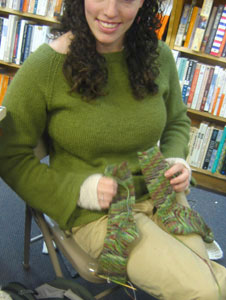 Don't the socks look great with her Hourglass sweater and wrist warmers?!

december 2005
This week Dani brought in a bag full of her incredible handpainted yarns.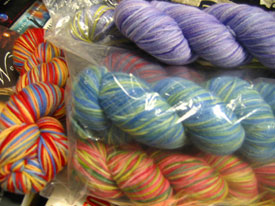 I want the blue one!

october 2005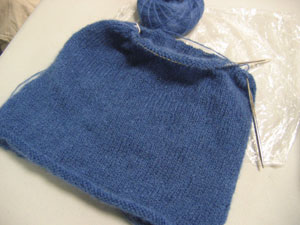 Dani is working on Jo Sharp's mohair singlet in a beautiful blue. And speaking of beautiful blues, here's some of Dani's own hand-painted yarn that fellow Knitsmith, Susan, just bought.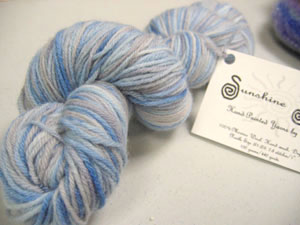 august 2005
More fabulous hand-dyed sock yarn from Dani.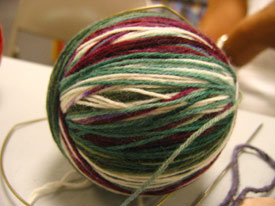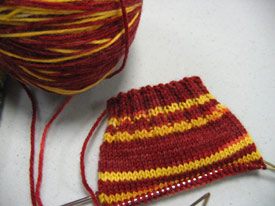 That's her new grapevine colorway and my favorite, the long-awaited and already very popular, Gryffindor colorway.
She also brought in this beautiful baby blanket that she's making.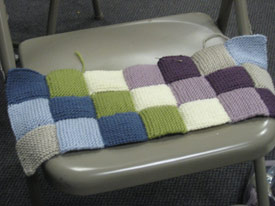 All those squares to sew together! Amazing.

august 2005
Dani (of the now famous hand-dyed tiger and watermelon sock yarns) brought in her current sock project.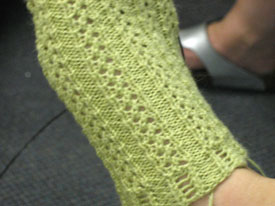 It's the gorgeous Go with the Flow socks from Interweave Knits Summer 2005.

july 2005
More fabulous hand-dyed yarn from Dani.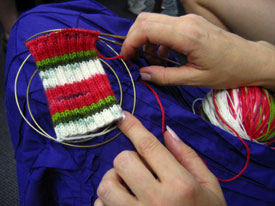 This is her "watermelon" colorway that Anna is knitting up. I so want some. Yum!

july 2005
Like Vicki, Dani was with us too in absentia. Anna was knitting up a pair of socks in Dani's own hand-dyed tiger stripe yarn.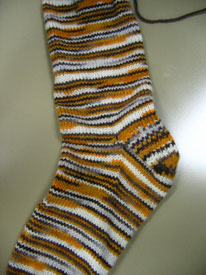 Awesome job, Dani. Way cool!