Shireen knits



february 2007
Shireen came back to visit!!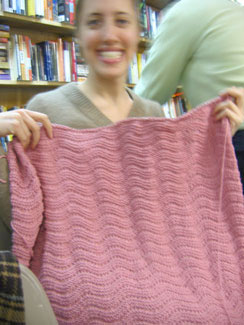 She brought her latest baby blanket project: a wave patterned blankie in pink Cashsoft. That's going to be one lucky baby!

august 2006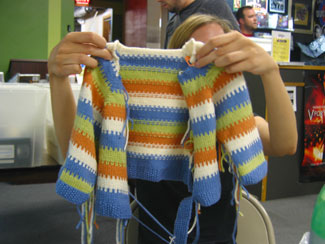 Shireen is trying to hide so she doesn't have to weave in all those ends on her Jaeger baby sweater.

july 2006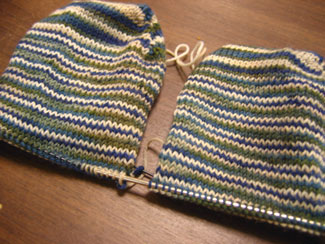 Shireen's toe up socks in Lornas Laces are striping so nicely. They even match!
Here she is measuring how far to knit before she starts the heel. A few more inches to go!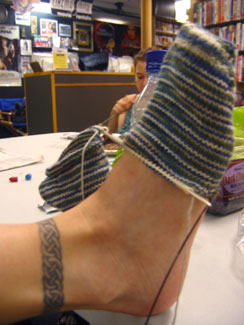 And here she is measuring how far to knit until she reaches the middle section of her Morehouse Merino shawl.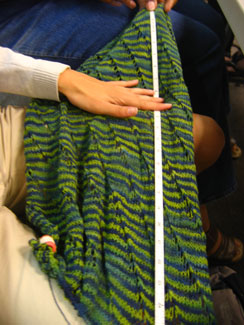 A few more inches to go!
(It looks awesome though, doesn't it?!)

june 2006
Shireen finished her butter yellow baby blanket. So pretty.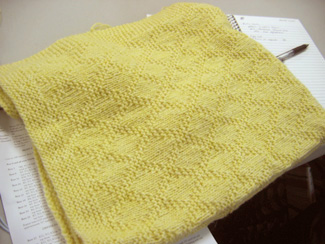 And her Morehouse Merino lace shawl is looking fabulous!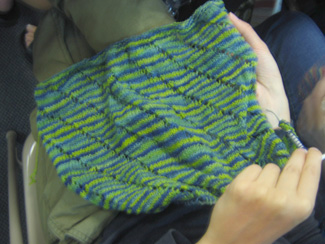 june 2006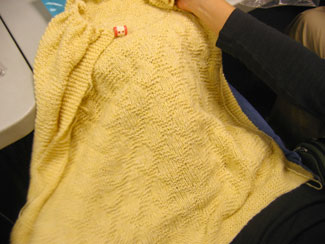 Shireen's almost done with her diamond-patterned baby blankie. It's knit in Rowan baby soft and is sooooo wonderful to touch!

may 2006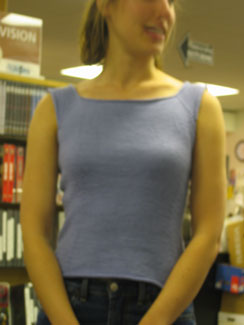 Shireen knit a Tivoli! And here's an action shot: Tivoli winding yarn.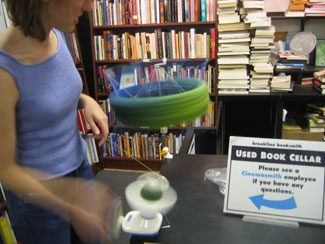 On the swift is Shireen's next big project: Morehouse Merino laceweight for a fabulous shawl! (Please see a Cinemasmith employee if you have any questions.)

april 2006
Knitsmiths sockapaloooz-ing...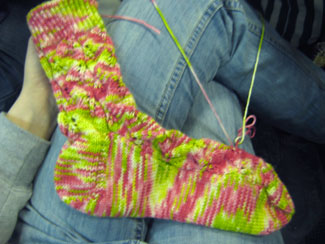 Dani's incredible falling leaves socks in her own hand-dyed Raspberry Limeade yarn. And Shireen's fabulous cabled socks for her pal.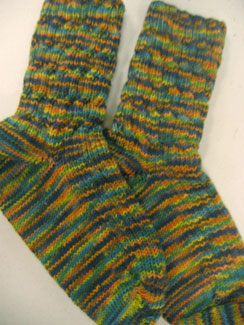 What great sock pals!

april 2006
Norah and Shireen are looozas!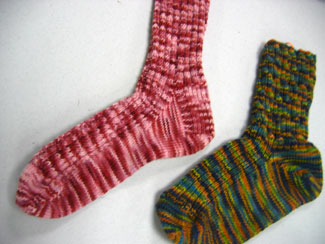 Sockapalooozas, that is. Here's their sock progress so far: Norah's mock cables in Dani's Love yarn and Shireen's broken cable rib in Socks that Rock. Great job, ladies!

april 2006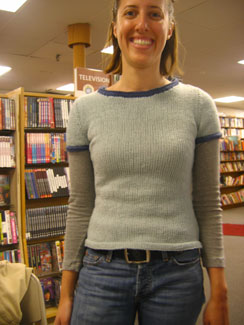 Look, Shireen wore her nothing but a t-shirt! And she's scored some fabulous new sock yarn from Dani.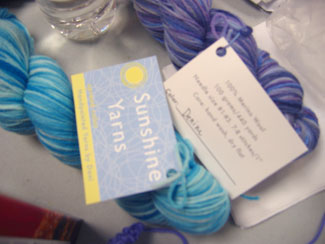 march 2006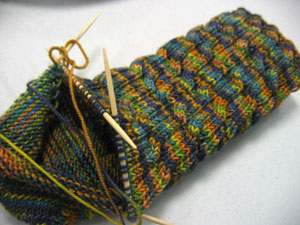 Shireen's sockapaloooza socks are looking awesome! The pattern is Broken Cable Rib from the subscriber section of the Interweave Knits website.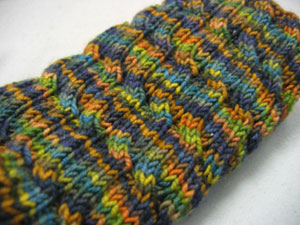 march 2006
Not to be outdone, Shireen brought in awesome striping Lorna's Laces socks...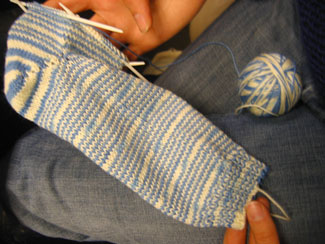 ...and a beautiful finished baby sweater!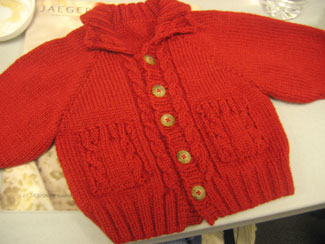 march 2006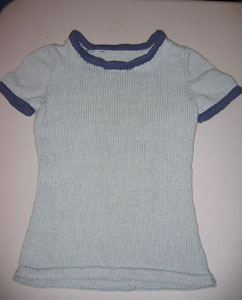 Shireen reknit her nothing but a t-shirt as her Knitting Olympics project. Way to go, Shireen!
(PS - Thanks to Shireen for sending in the Knitsmiths updates this week while I was still away. You rock!)

february 2006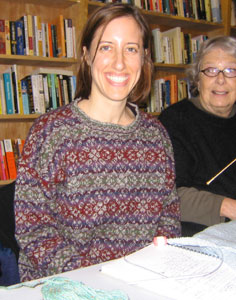 Shireen wearing an amazing fair isle sweater she knit a while back - on #2s! She said it had about 500 stitches around. Wow!

january 2006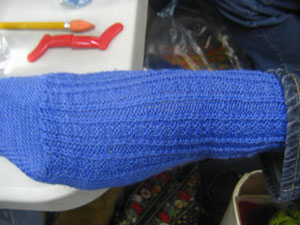 Shireen sporting her new awesome Retro Rib socks! (And don't you just love Gina's red sox sock needle holders?)

january 2006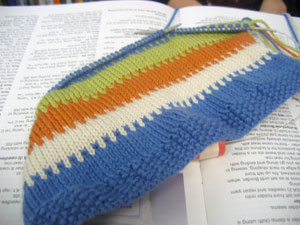 Shireen's latest baby knit is a beautiful cardigan from Jaeger book #JB29.

january 2006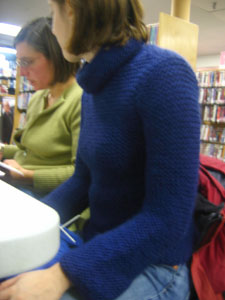 This has got to be my favorite of all Shireen's knits: the garter stitch cowl from Stitch 'n' Bitch.

january 2006
Shireen wasn't with us this week, but she sent pictures of her niece and nephew in their new Christmas sweaters.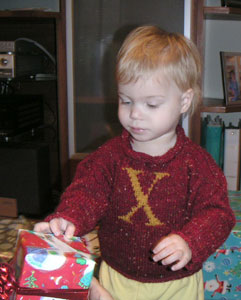 An "X" weasley and the raglan placket sweater from Last Minute Knitted Gifts.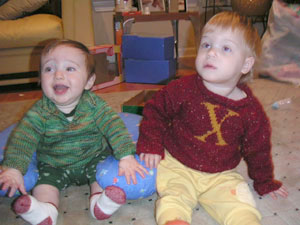 What cuties!

december 2005
Shireen finished the cutie patootie baby raglan from Last Minute Knitted Gifts for her nephew. This Koigu Kersti yarn is so lovely!

november 2005
This week we got to see the weasley sweater Shireen's making for her niece (look at that awesome "X" on the front),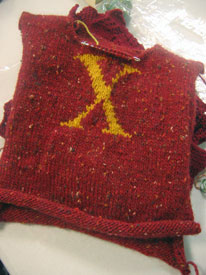 the baby raglan she's knitting for her nephew (from Last Minute Knitted Gifts in Koigu Kersti),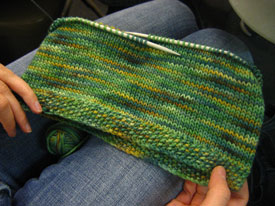 and her finished Midwest Moonlight scarf (which looks fabulous with her new coat, by the way).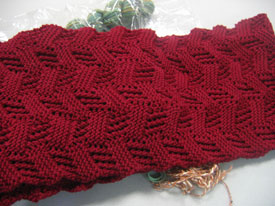 Wow, Shireen!


november 2005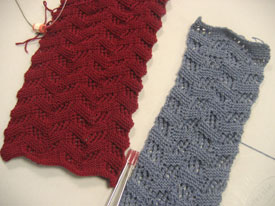 Two Midwest Moonlight scarves (from Scarf Styles) underway.

november 2005
"Would you believe that this is from the same dye lot?!"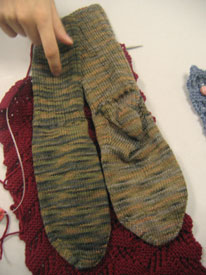 Shireen's Lorna's Laces socks came out great! But they still don't match. What'dya gonna do?

october 2005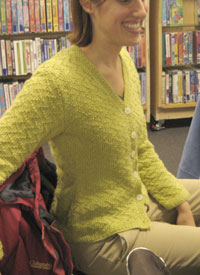 Shireen finished her cotton angora cardigan and it fits perfectly!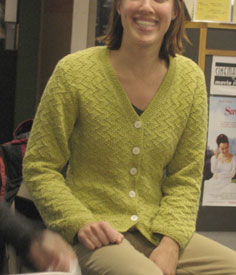 She also brought in her finished Bamboo ruffles scarf....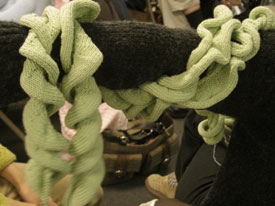 ...and her weasley sweater in progress.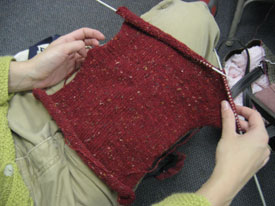 Wow, Shireen, way to make the rest of us look bad! (Wink, wink.)

october 2005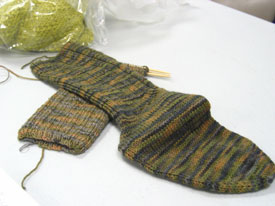 Shireen is doing great on her first pair of socks. But check out the difference in the two skeins of Lorna's Laces! Same colorway, same dye lot, but not quite the same color. Hmmmm.....

september 2005
Look, Shireen's making a Ruffles scarf from Scarf Styles.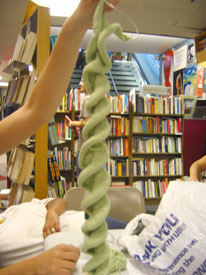 And she's started her first socks in Lorna's Laces camouflage colorway.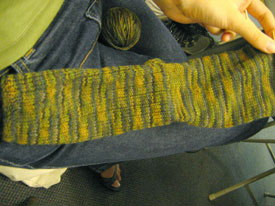 She sure does like green! Check out the shirt. And remember this? And these?

august 2005
Shireen came in this week wearing this cutie patootie little vest that she says she made "ages" ago.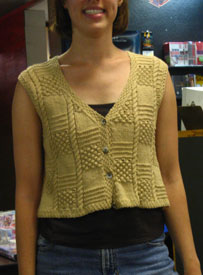 And then she ripped out her nothing but a t-shirt that she made just a few months ago.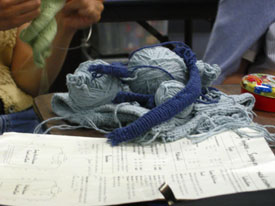 There were a few mistakes that she found she couldn't live with, so she'll be reknitting it. Don't worry, Shireen, I've still got my nbat to finish too!

august 2005
Shireen's first sock is underway!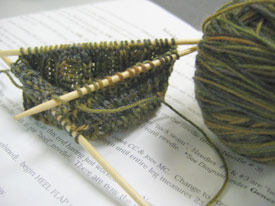 Lorna's Laces Camouflage colorway. So cool.

july 2005
Hey, Shireen, love your new knit skirt!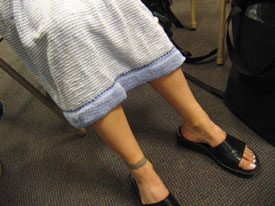 Wait, it's not a skirt, it's the little pinafore in Dale Svale she's been working on for months. It's all done!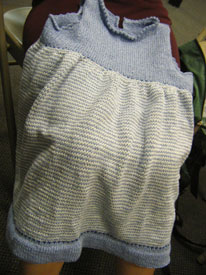 Shireen's been busy in the last few weeks, also starting a new cardigan in Debbie Bliss' cotton angora yarn.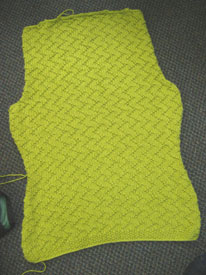 Love that stitch pattern and that apple green. Yum!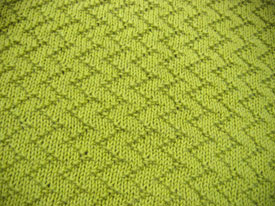 june 2005
Ta-da! Shireen's nothing but a t-shirt makes its Knitsmiths debut.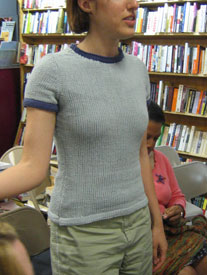 Thanks for making the pattern look so good, Shireen!

may 2005
Shireen's nothing but a t-shirt pieces.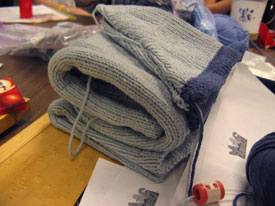 Almost done!

april 2005
It was nothing but t-shirts at Knitsmiths this week.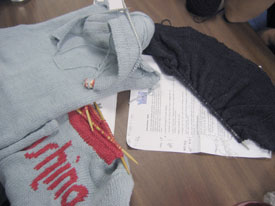 Shannon's, Shireen's, and Dava's nothing but a t-shirt underway.

march 2005
Shireen makes the absolute sweetest baby things. Here she's working on her latest, a Dale pattern for a little girl's dress in their Svale yarn.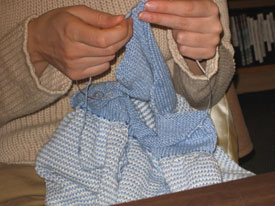 So cute!

march 2005
When I start making all my projects out of denim yarn, Shireen will be the one to blame! Just look at this adorable set of denim baby overalls she's working on!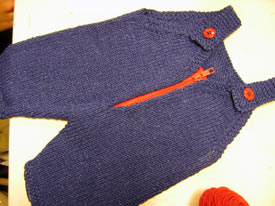 Awwwww.

february 2005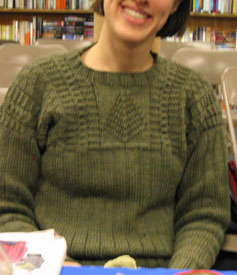 Shireen in her awesome green pullover. And hard at work seaming up her Diamond Seed Baby Jacket from Interweave Knits Winter 2004.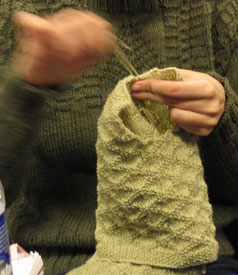 And here's the finished sweater!