Lisa B. knits



november 2007
Lisa's been admirably working away on holiday gifts. Here's an alligator scarf from Morehouse Merino.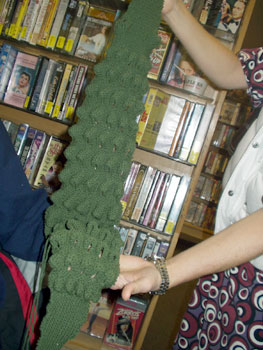 So fun!

september 2007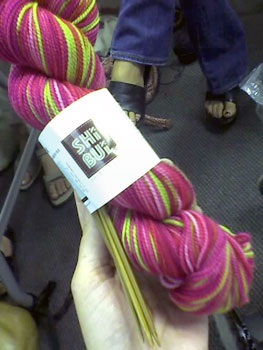 Lisa has found the newest, coolest, prettiest sock yarn, Shi Bui.

september 2007
Lisa loves it!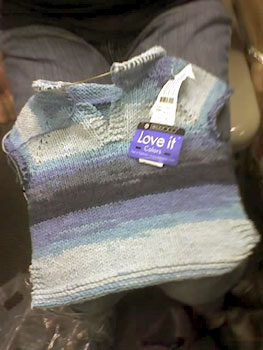 november 2006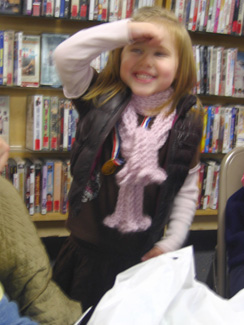 Lisa just finished this ruffly scarf in Misti Alpaca for her daughter. Isn't she adorable?!

october 2006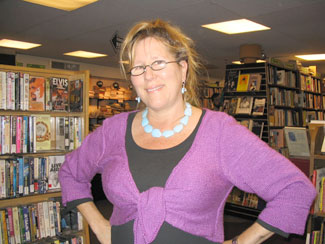 Lisa finished her Debbie Bliss Pure Silk tie-front shrug. She didn't love working with the yarn, but we all love the result!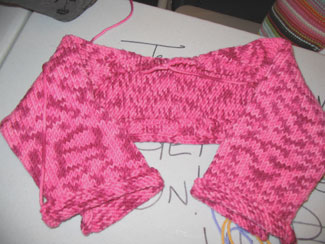 She's just finishing up a shrug for her little girl too. This one is in one of the Aurora 8 Melange colorways.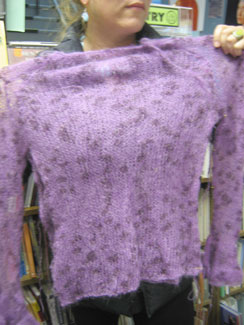 And she's almost done with a sweater for herself knit in Karabella's Gossamer yarn. Ooooooohhhhh!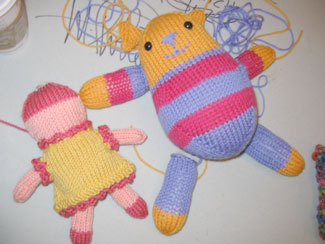 While we were knitting, her almost-done Kate got to hang out with my almost-done Dolly (from Jess Hutch's Unusual Knitted Toys booklet).

september 2006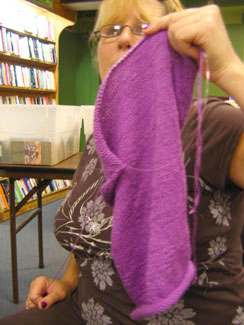 And Lisa was also working with silk. She was making the tie-front shrug from Debbie Bliss' Pure Silk book in Pure Silk in the most gorgeous shade of purple.

june 2006
Lisa finally put the finishing touches on the ruffles cardigan (from Miss Bea's Rainy Day) for her daughter.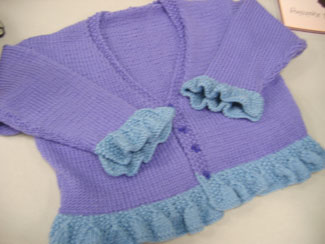 Isn't it the cutest? Those Cascade Superwash colors are amazing!

may 2006
Crotch shot!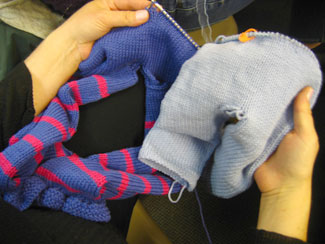 Both Lisa and Johanna are knitting pants! Lisa's making the fabulously funky ruffled pants from Bearfoot Knits for her daughter and Johanna knitted the baby cargo pants from Knitty.com.

may 2006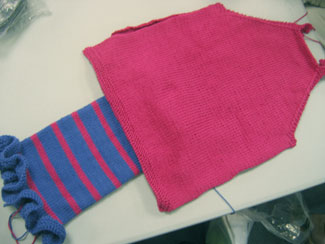 Lisa's Barefoot Knits outfit is coming right along. Tank and one pant leg all done! And she finished those Embossed Leaves socks for her sock pal!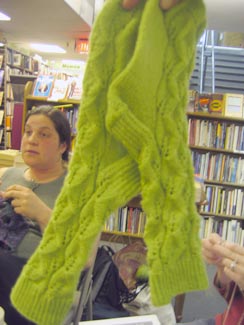 april 2006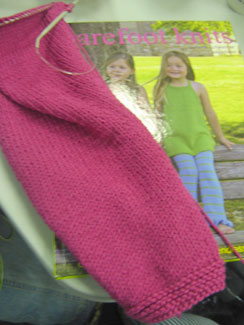 After knitting her way through the Miss Bea books, Lisa's now going to knit her way through Barefoot Knits. She's starting with an adorable little tank top!

april 2006
Lisa's latest Miss Bea sweater just needs sleeves.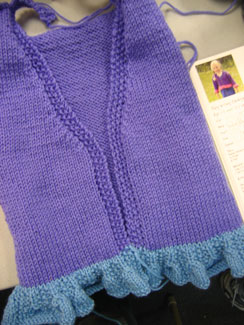 Man, she knits fast!

march 2006
Lisa B.'s latest Miss Bea sweater!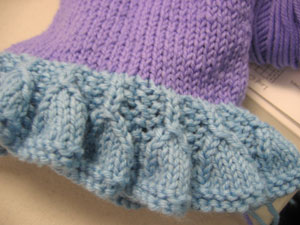 Look at those awesome ruffles! This one is the cover sweater from Miss Bea's Band and she's knitting it in Cascade 220 Superwash like the orange sweater she finished last week.

march 2006
Lisa's been knitting Miss Bea sweaters for her daughter. She's finished the knitting on two sweaters already and a third Miss Bea sweater is underway!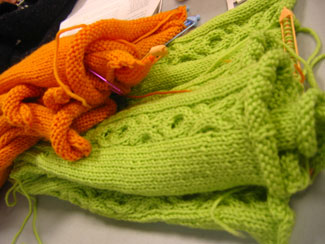 I guess we can just start calling her Lisa "Bea"!

march 2006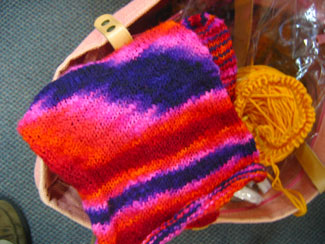 Look at the awesome colors Lisa's got in her bag this week. There's some beautiful orange Cascade 220 for a new sweater for her daughter (she's making the Smile cardigan from one of the Miss Bea books).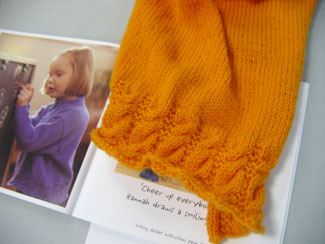 And an incredible variegated sweater she just finished for her. Isn't that shazaam pooling on the front amazing!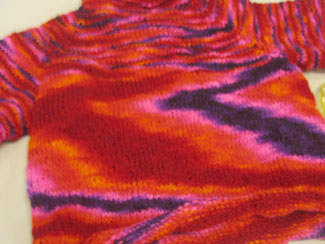 Her daughter loves it!

february 2006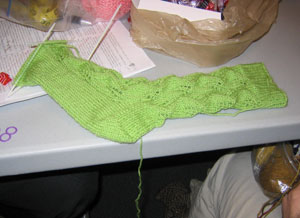 Lisa's first leaf-patterned sock is looking beautiful. (Although I hear it might be a little big. I think her exact words were: "letís just say that my pair will be perfect for those days when youíre retaining water.")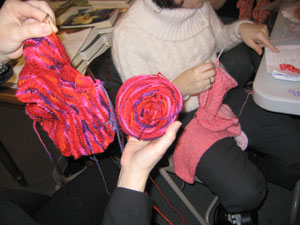 And she also had some amazing Schafer Yarn in great pinks and reds. Her daughter's the lucky recipient of a soon to be sweater.

february 2006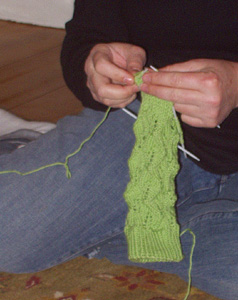 Lisa's working on some gorgeous socks. And check out the yarn for her next big project.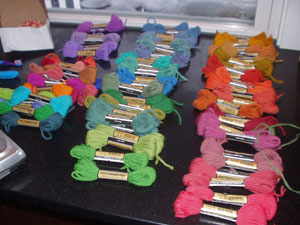 It's that crazy scarf from Scarf Style that has like 30 different colors and is knit in all different directions. You know the one.
Wow, go Lisa!

february 2006
Lisa brought in lots of finished projects this week!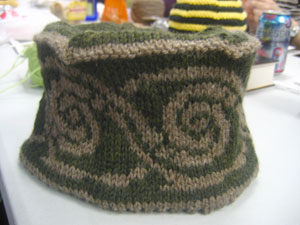 Another Celtic Harbor hat, this one for a friend.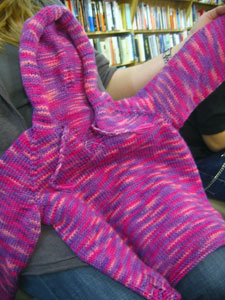 Her daughter's Lorna's Laces Shepherd Worsted sweater, all done with hood and ties.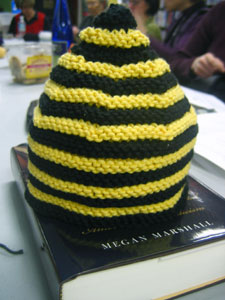 A quick, cute little bee hat knit from swap yarn. So sweet!

february 2006
Lisa's already started working on her sockapalOOOza socks.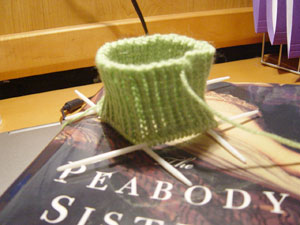 What will they be??

january 2006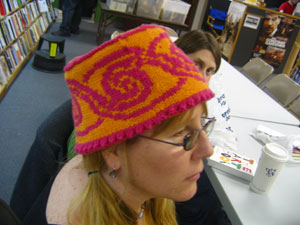 Lisa has not stopped wearing her Celtic Harbor hat since she finished it. And can you blame her? It's fabulous!
Check out the close-ups!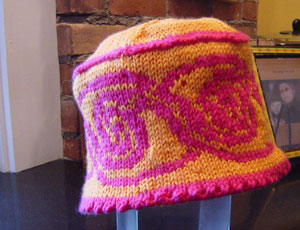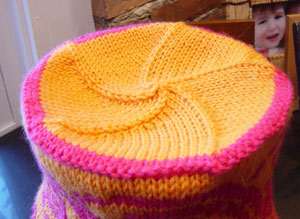 She followed all the pattern changes made by Claudia and Colleen and has another one in the works for her daughter.

january 2006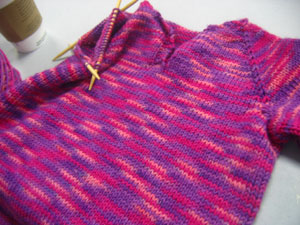 Lisa's almost done with her daughter's sweater in that fabulous Lorna's Laces Shepherd Worsted. Love those colors!

january 2006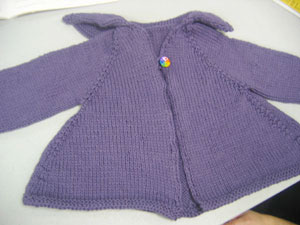 Lisa just finished this adorable swing sweater (pattern from Knit and Tonic) for her daughter. And she's started another sweater for her in the softest yarn ever, Lorna's Laces Shepherd Worsted.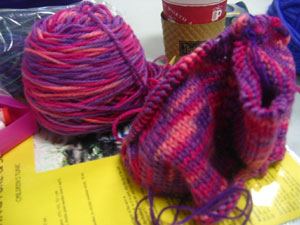 january 2006
We are the Knitmitts!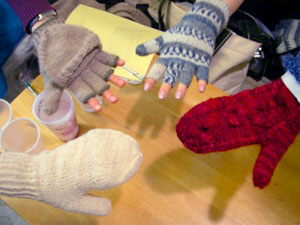 Knitsmiths love knitting mittens. First there were Colleen's convertible glove/mittens, then Dana's, then Johanna's. I made Hermione mittens (not convertible, sorry!) and now Lisa's finished a pair in Lorna's Laces' beautiful Bullfrogs and Butterflies yarn!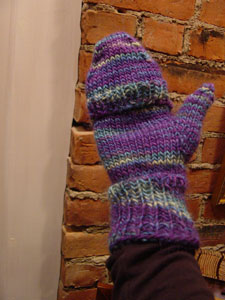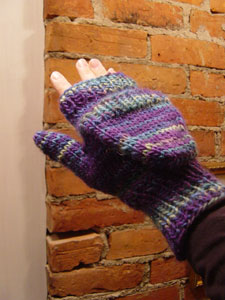 january 2006
Lisa's working on rainbow socks in Lorna's Laces. Check out how it pooled on the leg and then striped over the heel. Funky!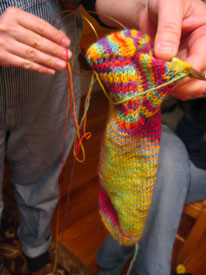 And she just finished this awesome tassel hat for her daughter.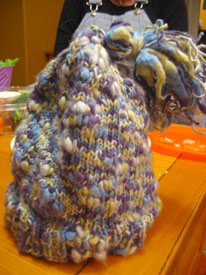 Fellow Knitsmith, Thea, recycled the yarn from an old sweater. Lisa picked it up at a recent swap and turned it into this fabulous hat! Don't you just love that?

december 2005
Lisa's mom may live far away, but she visits often enough and knits such fun things that we've adopted her as a Knitsmith. While on this visit she's been working on the super hip loop scarf from Loop-d-Loop.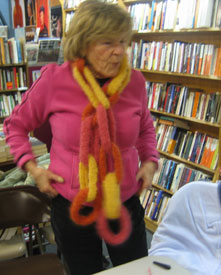 She used mohair in the most fabulous girly colors and the result is just divine.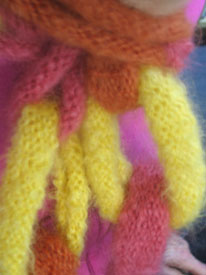 december 2005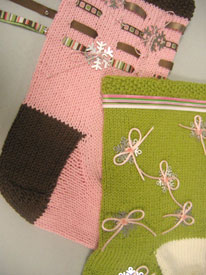 Lisa finished the beautiful Christmas stockings for her daughter and niece. Look at those lovely snowflakes and ribbons. (Lisa's so crafty!)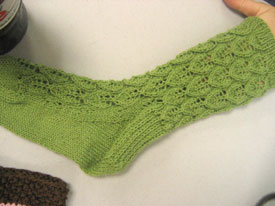 And she's started a gorgeous pair of leaf lace socks for her mom.

november 2005
Lisa's getting a good start on her Christmas knitting, making stockings for her daughter and niece.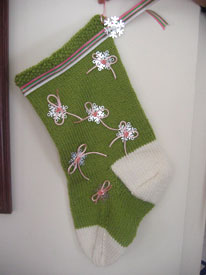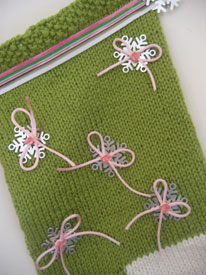 She's using ribbon and scrapbooking decorations to embellish the stockings.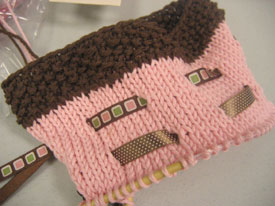 november 2005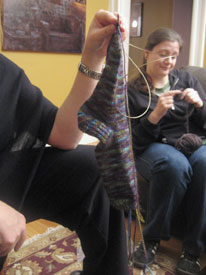 Lisa's just finishing up the last sock for her dad. She's using a fabulous yarn from Dancing Leaf farms.

november 2005
We haven't seen Lisa at knitting for a few weeks, so of course she had lots to show us!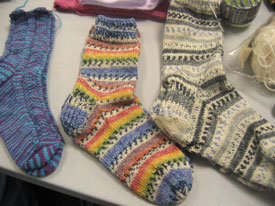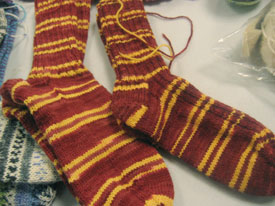 Lorna's Laces Broadripple socks, two pairs of the new Opal sportweight socks, and two pairs of Harry Potter socks (knit in Dani's hand-painted yarn). And they're all gifts! Her latest pair will be for her dad.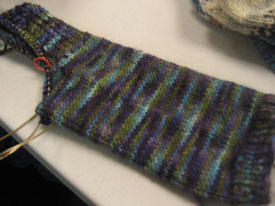 And just look at the fun little Morehouse Merino jester hat that she recently finished.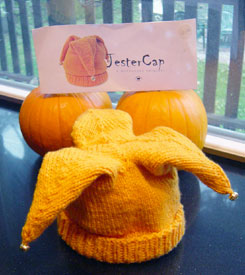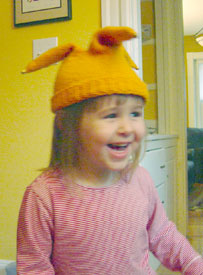 That'll put a smile on your face for sure!

october 2005
Lisa and I made it back from Rhineback just in time to catch the last hour of Knitsmiths this week. And look at all the knitting that she got done while we were gone.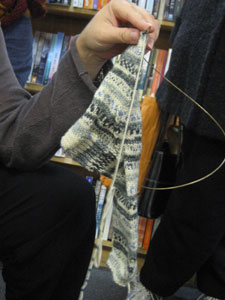 She cast on for this Opal sock right before we left and now she's almost up to the toe!

september 2005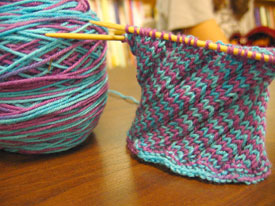 Lisa's mermaid socks (pattern by Lucy Neatby in Cool Socks Warm Feet) are so freaking cool! It's amazing how the Lorna's Laces yarn, with its thin stripes, looks so much better in this slanty ribbing. I can't wait to see how these come out.

september 2005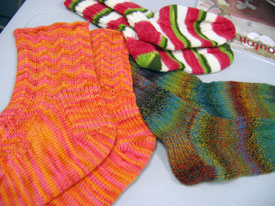 Lisa's finished three more pairs of socks. The Peak Experience socks in Koigu, beautiful Trekking socks, and Dani's watermelon socks. You gotta see those last ones up close. Look at those perfect watermelon colors!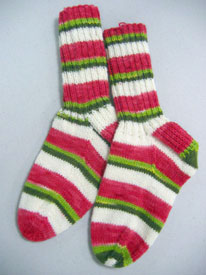 august 2005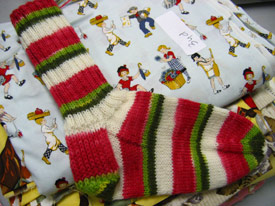 Lisa's finishing up an awesome looking pair of watermelon socks, using Dani's hand-dyed sock yarn. I gotta get some of that yarn!

august 2005
Lisa's gone sock mad!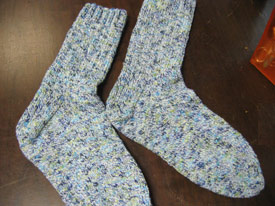 Her fun finished sockapal-2-za socks in ArtYans Candy.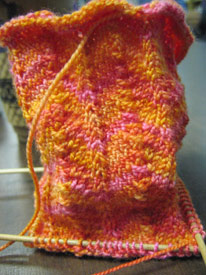 Gorgeous Fiber Trends Peak Experience socks in orange and pink Koigu for her mom.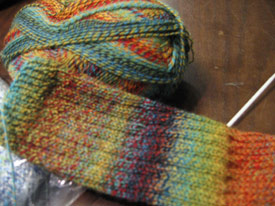 And beautiful Trekking socks for herself. Lisa is such a generous person and knitter that these are the very first pair of socks she's made that she'll actually be keeping for herself!

july 2005
Lisa's been making mini-one skein wonders for her two-year old daughter and her playmates.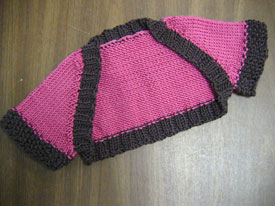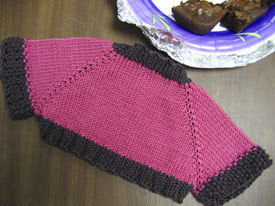 It's as sweet as the brownies that new Knitsmith, Parikha, brought in!

july 2005
Sockapal-2-za, alive and well at Knitsmiths.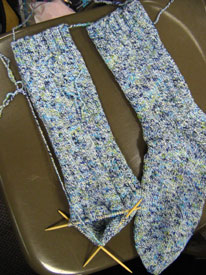 Lisa's hard at work on her second Candy sock. That yarn is so cool!

july 2005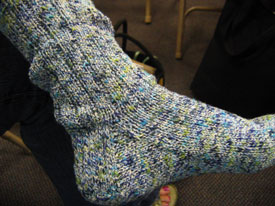 Lisa's first sockapal2za sock is done. Didn't it come out great?! That Candy yarn sure is nice.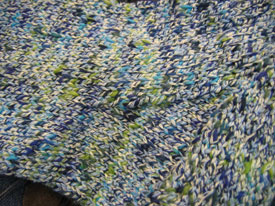 june 2005
Lisa's socks: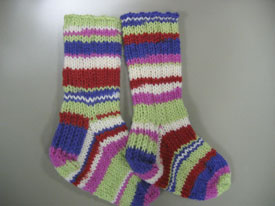 A couple of weeks ago Lisa offered us a few oddball skeins of sock yarn she had lying around. After a few balls were quickly snatched up, she decided to keep the skein of Regia Crazy Sock yarn and whipped up these cutie patootie kids socks with it!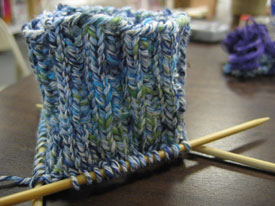 And she's come up with a cool idea for her Sockapal-2-za socks. She's using Artful Yarns Candy (cotton/elastic) yarn for ther sock pal's socks. Neat, huh?

june 2005
Lisa's almost finished with a baby kimono in Rowan's new Cashsoft yarn.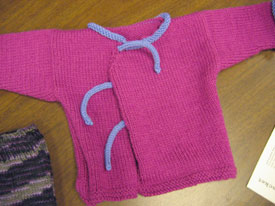 Love those little ties in the different color. So sweet.

june 2005
More socks and more purple!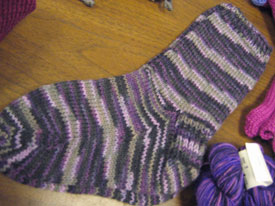 Lisa's latest socks: purple variegated socks in Lorna's Laces Shepherd Sport.

may 2005
Lisa's had a busy week! She seamed and finished up all of her unfinished projects.
First up, her daughter's wrappy dress from Debbie Bliss book 6.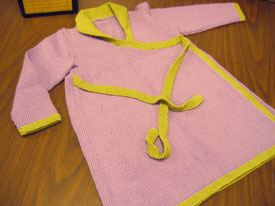 Next, a sweet, sporty sweater for her daughter in Jaeger Matchmaker.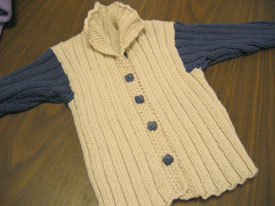 Some cute little baby socks out of Cascade Fixation. And with a wee i-cord, they'll even stay on.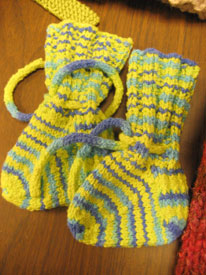 A lovely lace scarf from Scarf Style done for her friend in Jo Sharps' Mohair Infusion yarn (which does not look at all like dryer lint!).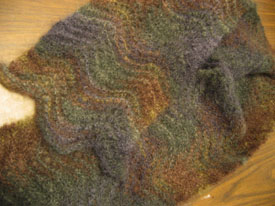 Two beautiful tams using Ann Budd's basic pattern. Look at those perfect decreases!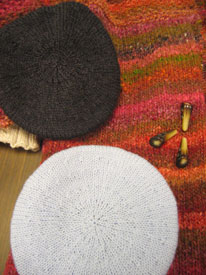 And behind those tams, the pièce de résistance, her stunning Noro coat. Just wait until those buttons are on and we get a modeled pic!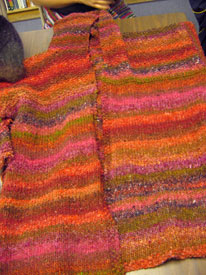 april 2005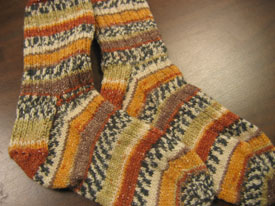 Lisa made these fun socks for her mom for mother's day. Check out the sparkles in the yarn!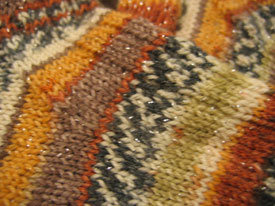 march 2005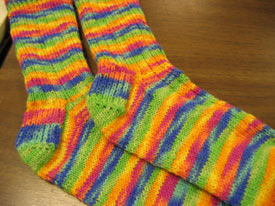 Lisa finished her first socks! They are so fun. Just like Lisa.

february 2005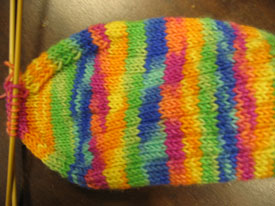 Lisa's first socks! You never forget your first kitchener stitch. (Wink, wink.)

january 2005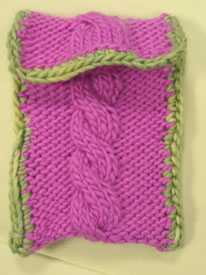 This week Lisa brought a preppy blackberry cosy and the start of fabulous Kersti wristlets.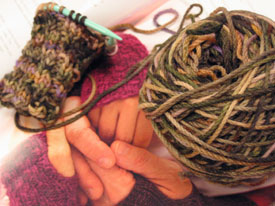 january 2005
Lisa's been making preemie hats for a friend's baby. They're so small, she's using little 10" circulars.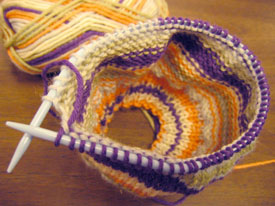 Look at this sweet one in brown.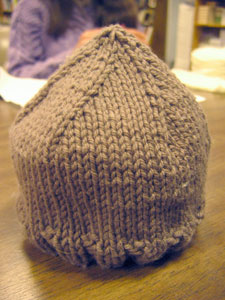 But wait! She added a fish bone in duplicate stitch. Too cool!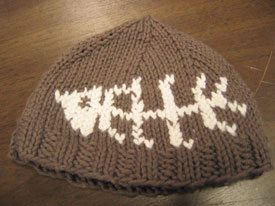 december 2004
Lisa's been making little ornaments too!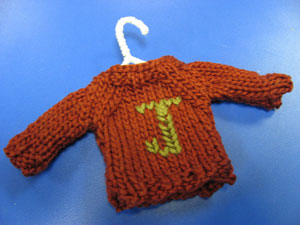 Here's a mini-weasley sweater with its own pipe cleaner hanger. So cute!

november 2004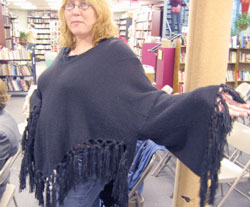 Lisa looks like a goddess in her newly-finished Goddess yarns poncho! She hated knitting this project, but the result is to die for. She also did not enjoy crocheting this incredible granny square baby blanket.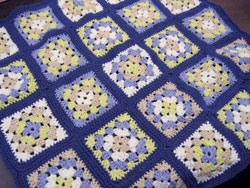 If this is what she can do when she's not enjoying herself, imagine how her happier projects are going to end up. Can't wait to see that Noro jacket!

october 2004
The beginnings of Lisa's gorgeous Noro jacket. Faaaabulous!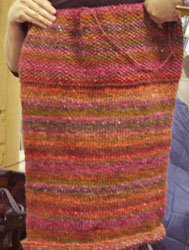 august 2004
Lisa's mom is making a poncho in this incredible Noro Kochoran yarn.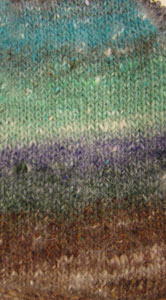 Look at the great colors!

june 2004
The tea party comes to Knitsmiths.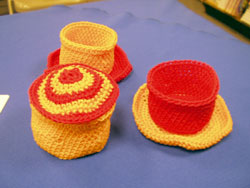 Lisa B.'s self-proclaimed "white trash" (read, crocheted) tea set so far. So cool!

june 2004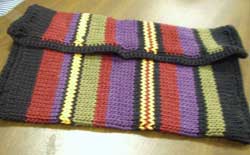 Lisa's made a fun little bag. She's going to add some loops so it can hang off a belt at the hip. Oh so hip!

may 2004
Mmmmm, blanket stitch.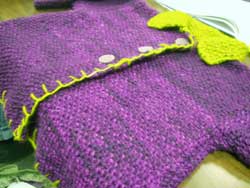 Lisa just finished the adorable Tweedy Pie coat from Monkeysuits. And in such yummy colors! That daughter of hers is going to be cute enough to eat.

april 2004
Lisa's still crocheting - she's moved on to granny squares. These will be part of larger blanket.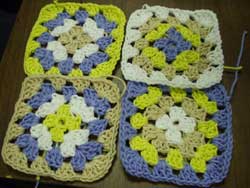 (I am so catching the crochet bug! Oh granny squares, if loving you is wrong, I don't want to be right.)

march 2004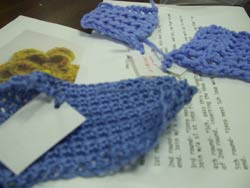 Lisa's taking a crochet class at Circles and brought in some of her practice swatches for Claire to take a look at. And she's not the only Knitsmith to be bitten by the crochet bug. Claire was helping me give Georgia's crocheted flowers a try.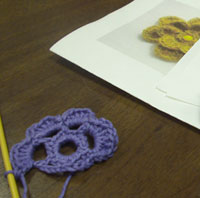 Crochet - it's the new knitting.

march 2004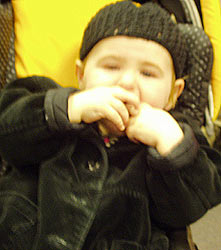 Lisa B.'s beautiful little girl in her lovely Rowan Calmer aura cap knit by mommy. Peek-a-boo!

march 2004
Wicked cool!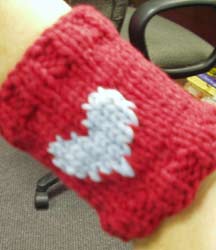 Lisa's heart wristband from Stitch 'n Bitch.