Johanna knits



june 2009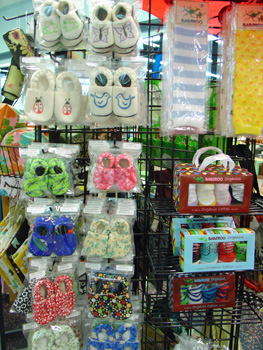 Lookie, Kaya's Kloset shoes are now available in the Booksmith card & gift room! Way to go Johanna!

march 2009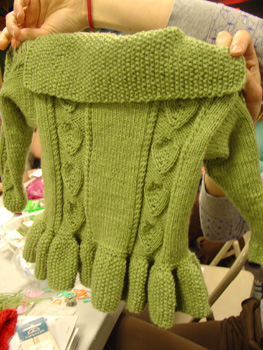 Johanna's pretty pretty ruffly heart cardigan for her daughter. Pattern and yarn are both Sirdar. Can't beat that for kids' knits.

january 2009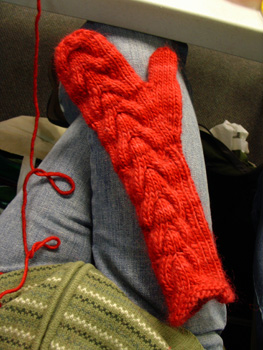 Johanna's working on a beautiful pair of mittens. The pattern is a free online pattern called Bella's Mittens and the yarn is an almost variegated shade of Lamb's Pride.

october 2008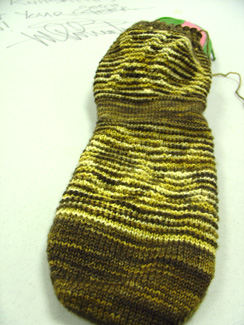 Johanna is making the most amazing socks! They're the "Hidden Passion" socks from Favorite Socks: 25 Timeless Designs from Interweave
. The shadow knitting technique reveals hugs and kisses (x's and o's) at the right angle.

september 2008
Knitsmiths go to Melrose!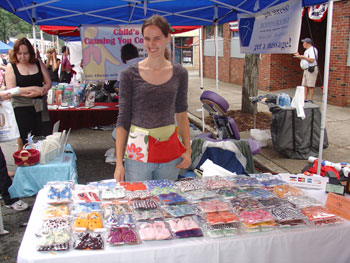 Two weeks ago some of us Knitsmiths went to visit Johanna's booth at the Victorian Fair there. She was selling her cutie patootie baby shoes.
Now maybe that her craft fairs are over, she can come back and knit with us! (Wink, wink.)

october 2007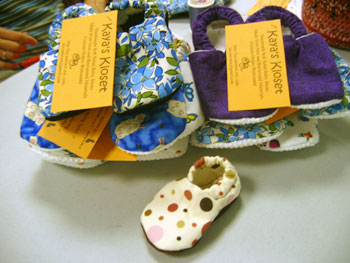 No knitting for Johanna this week - she was working on her adorable baby shoes for her etsy store. Check out the fun Halloween ones!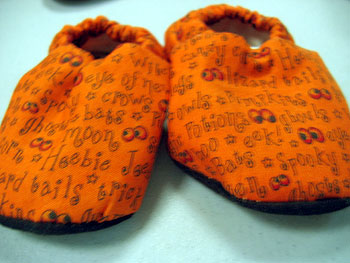 september 2007
Johanna finished her baby pinwheel sweater for her daughter.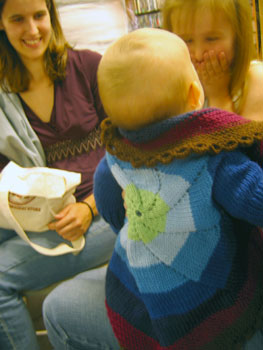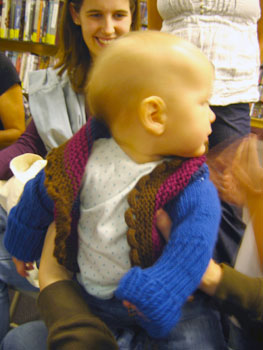 It's knitpicks swish - don't'cha just love all those blues?! More pics of the beautiful sweater and baby on her blog.

september 2007
Johanna's mom visited us and brought this AMAZING project she's working on for her granddaughter.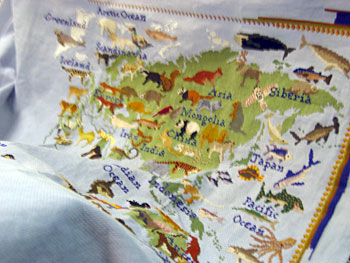 It's a map of the world with images of native animals in every region all in cross-stitch. Wow!

april 2007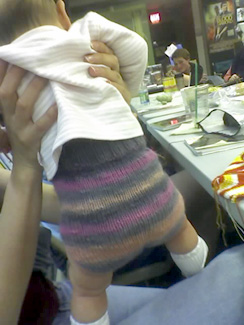 Who would have thought that wool soakers would look so cute on a baby's bottom? Johanna, of course!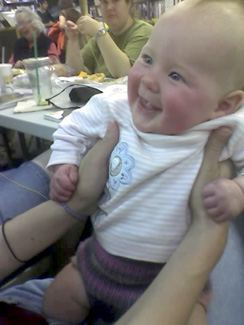 march 2007

Johanna finished her IK cardigan!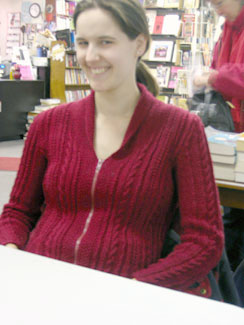 And now, here she is with baby Kaya in the sweater that Johanna's grossmutter knit and she used to wear as a baby.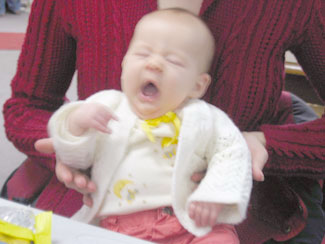 Awwww, Kaya is bored with us.

february 2007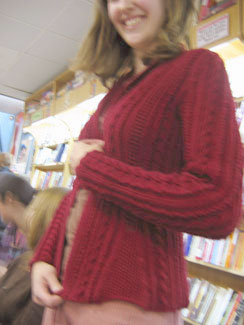 Johanna's finishing up the cover sweater from Winter's Interweave Knits. Just a zipper and it'll be all done!

february 2007
Kaya's showing off more of the cute handknits Johanna has made for her. This week she wore her sheep sweater.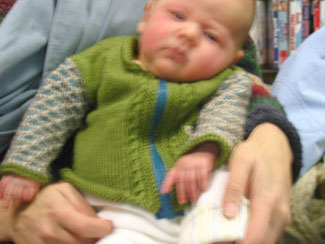 Look at the little fence pattern on the sleeves. And here come the sheep...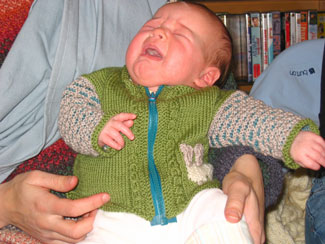 Awwww, sorry Kaya!

january 2007
Johanna's little girl was modeling her Knitwhits Flore cap this week.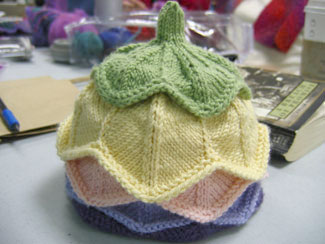 It is soooo beautiful and in Rowan Cashsoft, it couldn't be softer!

december 2006
"Look what I made!"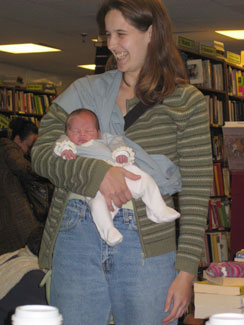 Johanna brought in two week old baby Kaya for a visit. Awwww.

december 2006
Tadpole is here!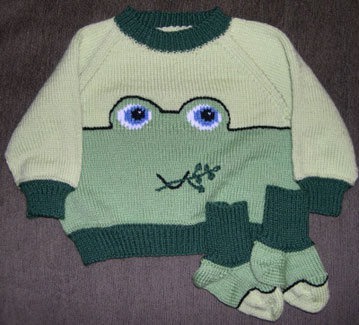 Looks like we had the shower just in time, because the very next day, Johanna had her baby! Baby is well and mommy is happy. Who could ask for more? I'm sure she'll be posting pics and details on her blog in a few days.
(The cutie patootie sweater above was knit for Johanna by fellow Knitsmith, Dani. It's from Dale book #164, knit in Dale Baby Ull.)

december 2006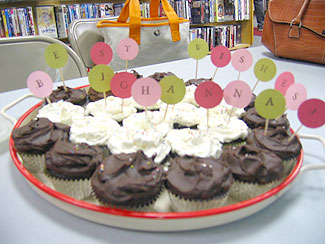 And this is why all the Knitsmiths showed up this week: Johanna's baby shower! Dina made the most fabulous cupcakes ever. Kerstin brought pretty flower cookies.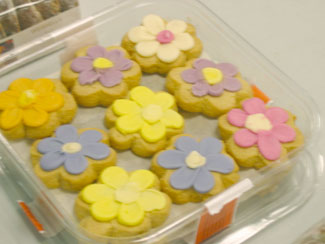 Johanna brought tadpole.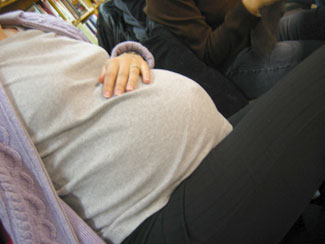 And she even finished some teensy tiny little socks for baby on the way. Awwwww!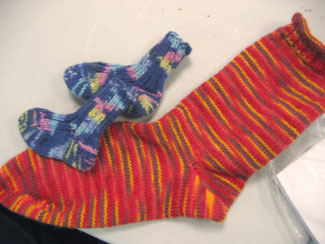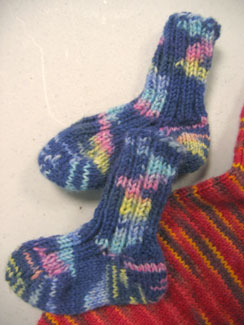 While Julia and I made funny sayings with the cupcake signs.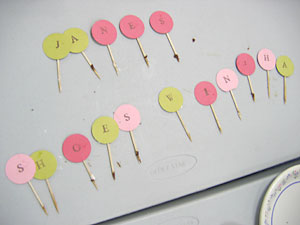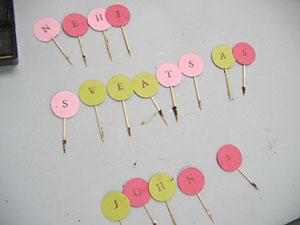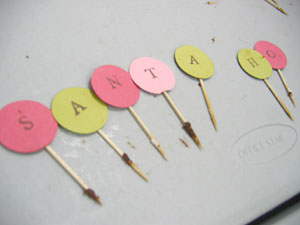 november 2006
Johanna's working on a lace picture frame from Handknit Holidays.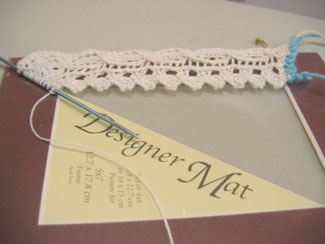 Pretty, isn't it?!

october 2006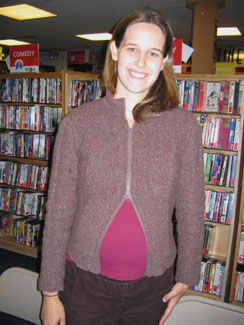 The Knitsmiths' first look at Johanna's finished Moonlight cardi - with two-way zip to make room for the baby belly! See ya at Rhinebeck!

september 2006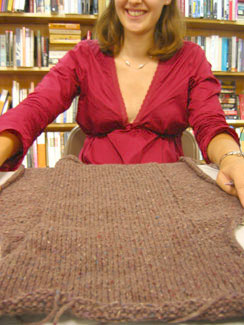 As you can see, Johanna continues to work on her little one on the way. And in September, she was knitting a cozy sweater for herself to cover that growing belly! (See her blog for the finished pics!)

july 2006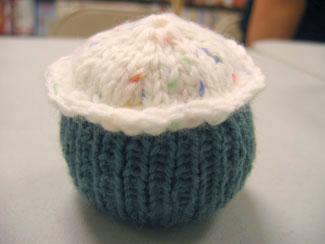 Johanna knitted a cupcake!!

june 2006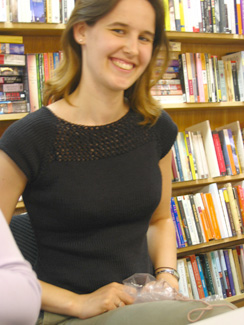 Johanna's finished Green Gable!

may 2006
During Knitsmiths Johanna turned this...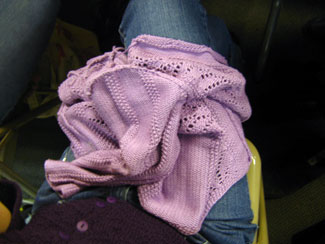 into this...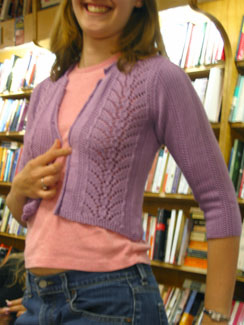 It's so adorable on her!
(Details to come on her blog.)

may 2006
Crotch shot!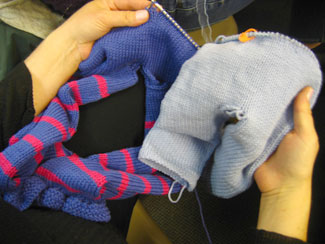 Both Lisa and Johanna are knitting pants! Lisa's making the fabulously funky ruffled pants from Bearfoot Knits for her daughter and Johanna knitted the baby cargo pants from Knitty.com.

may 2006
Johanna's been knitting little socks for one of her little friends. Soooo cute!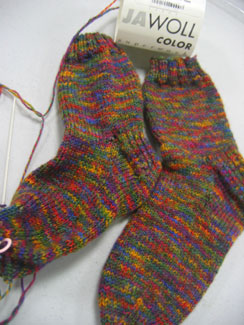 april 2006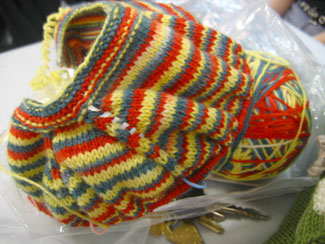 Johanna is loving this little top down raglan baby sweater knitted in Dani's first ever hand-dyed yarn!

april 2006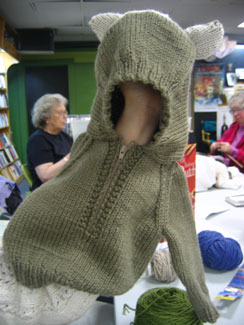 We can always count on Johanna to find the cutest baby knits! She's just finished this adorable Bouton D'Or pattern that has a hood with ears. Awwwww! And it's knit in Cashsoft, so it's super snuggly too.

march 2006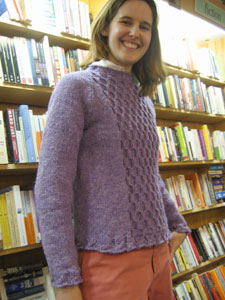 Just a purple sweater, indeed! You've outdone yourself Johanna!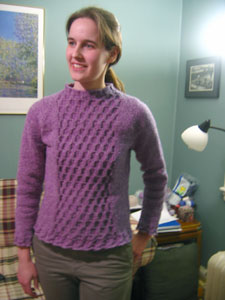 march 2006
Johanna's also working on socks: moc croc socks for her hubby.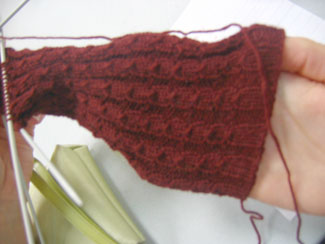 And she's making serious progress on that purple sweater of hers. It's almost done!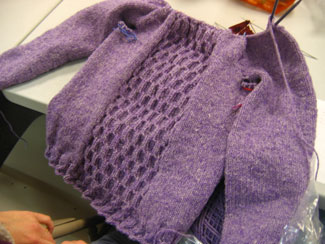 march 2006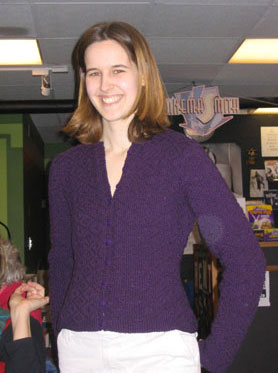 Johanna in her beautiful Huxley cardigan (Jaeger 38) in Aurora 8. Wow!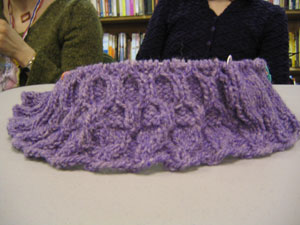 And her new project- another purple sweater which she described as "just a sweater". Yeah, right.

february 2006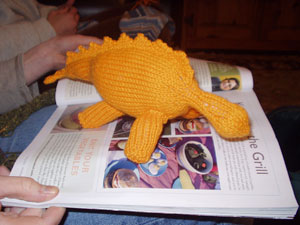 Look, Johanna just finished this cutie-patootie little orange dinosaur! She says it only takes one ball of Rowan Handknit DK and the pattern is great! She's got three more dinos planned.
But wait, there's more...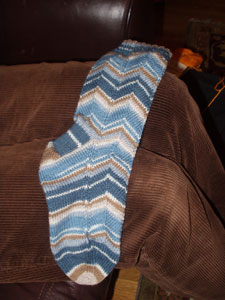 She's almost done with a fun pair of jaywalker socks in some cool self-striping Regia yarn.
But wait, there's more...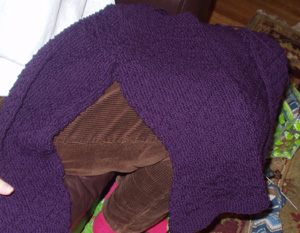 And just one more sleeve to set in and she'll finally be able to wear her gorgeous purple patterned Jaeger sweater. Ooooh, it's going to be so purty.

january 2006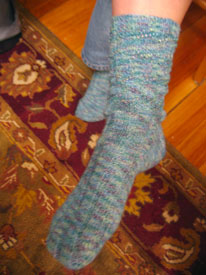 Look at Johanna's fun beaded socks!

december 2005
For her mother-in-law, Johanna knitted this beautiful pearl necklace!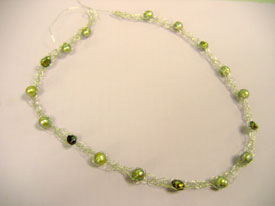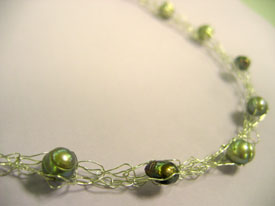 She's also knit a sweet little baby hat and is almost done with her super secret hubby socks.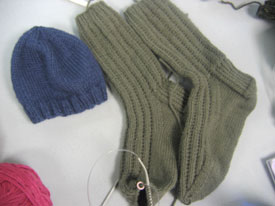 She just needs Trish to come through with her leftovers of the same yarn to finish off the socks and then she's all done!

november 2005
Seen at the swap: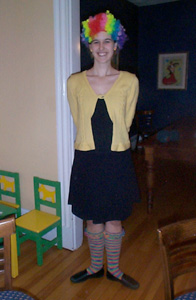 Johanna in her Halloween outfit (you probably can't see the candy corn earrings!) and her yummy pumpkin muffins.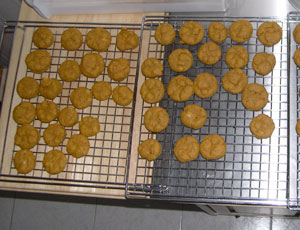 october 2005
We've had a warm spell here and got to see one of Johanna's wonderful summer tanks.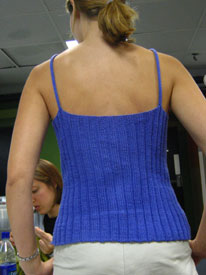 Look at how cleverly the waist shaping is done!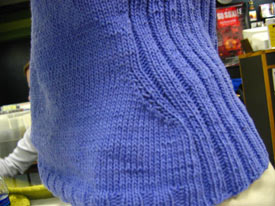 Her current project is this fabby t-shirt sweater in a new handpainted alpaca yarn called Atacama. Purty.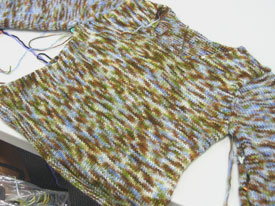 september 2005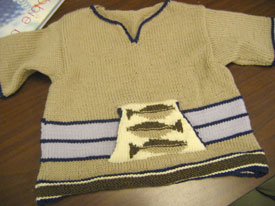 Johanna has just finished this super cute fishy sweater for a nephew, I think. The pattern is from a Bouton D'Or pattern book - they have such fun, unique patterns for kids!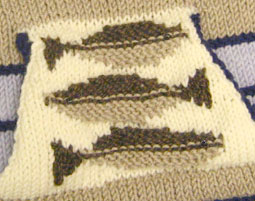 Look, she used beads for the little fishy eyes!

august 2005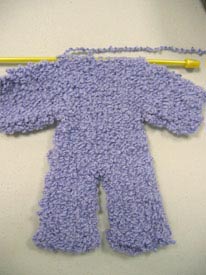 Johanna is making the sweetest little bear out of Debbie Bliss' new Cashmerino Asktrakhan yarn. Ooooh, it's so cute.

may 2005
Johanna finished her Rebecca top just in time to wear on her trip to Mexico. She brought it in this week to model it for us.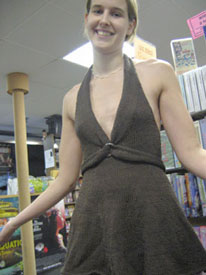 Wowza!


may 2005
The big hit this week was watching Johanna try on the swingy, flingy Rebecca top she was finishing up to wear on her trip to Mexico.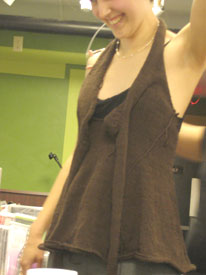 It's going to look great on her!

april 2005
Lovely ladies.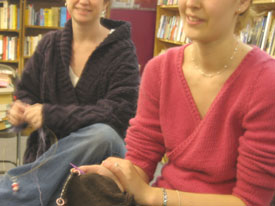 Terri just finished this stunning Jo Sharp shawl-collared, cabled cardigan. And Johanna's Debbie Bliss cotton angora ballerina wrap sweater is perfect for early spring.

february 2005
Shannon and Johanna show off their newly knitted socks and matching Land's End clogs!

july 2004
This week Johanna brought in her beautiful mitered sock to work on.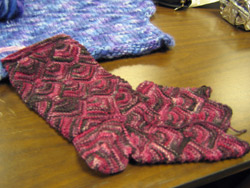 Nifty, huh?!

may 2004
Johanna just finished her Jo Sharp ballerina wrap cardigan.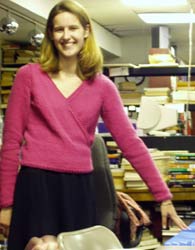 She used Debbie Bliss' cotton angora yarn and from listening to her while she was knitting, it was a real joy to make. It sure came out beautifully!

august 2003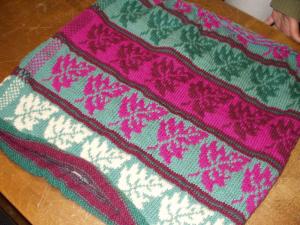 And here's the body, almost finished! Look at that cool steek. That'll be fun to cut!

august 2003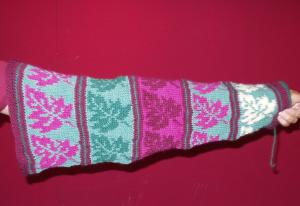 Johanna's new project is this beautiful leaf sweater from Poetry in Stitches. She's just finished the first sleeve.

july 2003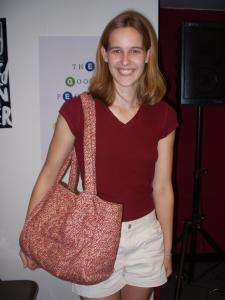 Johanna can also sew, and just made herself the neatest bag to carry her knitting in!

june 2003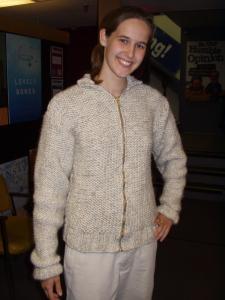 And a quick, bulky knit jacket in reverse stockinette (with zipper!). Somebody stop this girl!

june 2003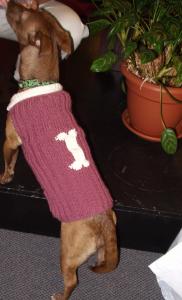 Awww! A dog sweater with a little bone on it made from leftovers from her first sweater.

june 2003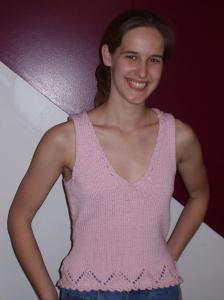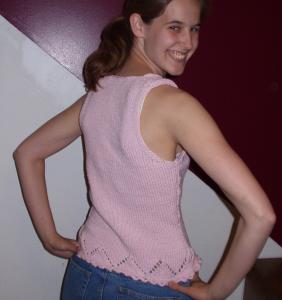 Here is Johanna's finished Smooch. It really came out lovely! She shortened the V-neck a bit and even did short rows on the shoulders for three-needle bind off. Show off! ;)

may 2003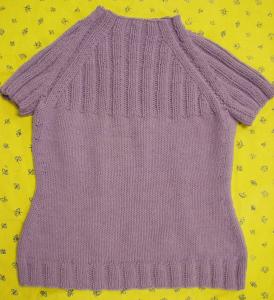 Finished almost simultaneously, Bob from Knitty in Lion Brand Cotton Ease.

may 2003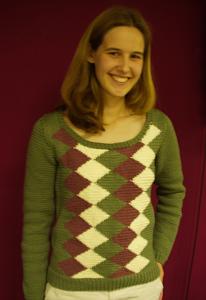 Johanna's first knitting project. Not only does she start with a sweater, but intarsia. Very impressive.