Emily knits



december 2008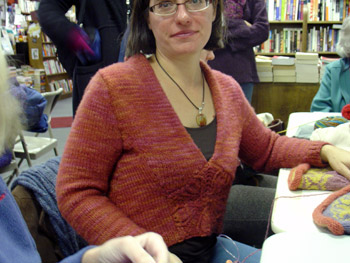 Emily showed up a couple of weeks ago in her beautiful Sand Dollar sweater from Nora Gaughn's Knitting Nature: 39 Designs Inspired by Patterns in Nature
.


october 2007
Emily has finished her amazing Lizard Ridge Afghan. Click for a bigger picture!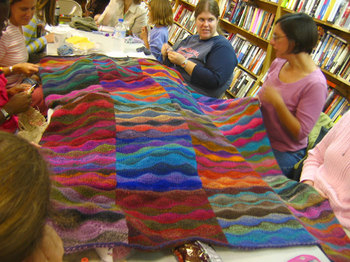 Gorgeous!! Now we all want to make one!

july 2007
Spotted at Webs this weekend...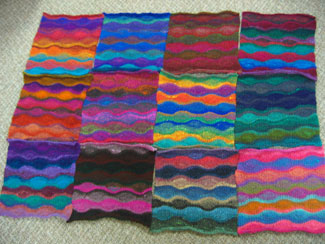 Emily has finished the first half of her Lizard Ridge afghan! (It was so gorgeous, I immediately sought out the Kureyon to get started on one of my own.)

june 2007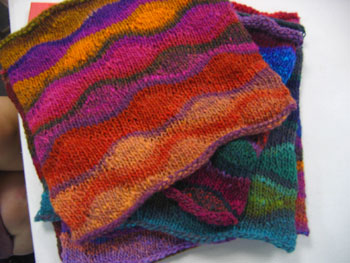 Emily's gorgeous Kureyon squares for her Lizard Ridge afghan. Wow!

june 2007
Emily's made a cool mitered square pillowcase.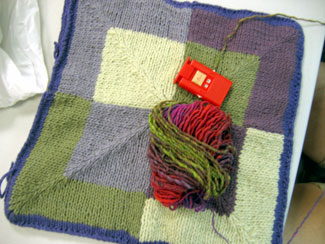 And since she hasn't stuffed it yet, she used it as a yarn rug for her in progress Noro project.

april 2007
Emily's gorgeous sweater from Knitting Nature
!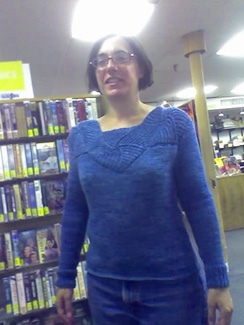 february 2007
What are those??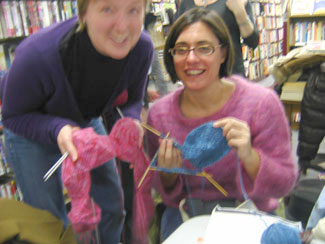 Emily and new Knitsmith, Carol, are both working on hexagons for a scarf from Knitting Nature
. Emily says it's hell, but Carol is loving the pattern.
(Wanna see the finished scarf? Check out the pic at Carol's blog.)

october 2006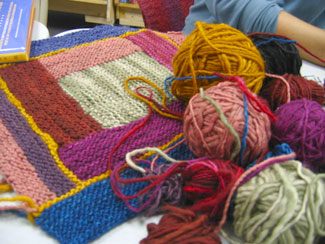 Emily (who has a little thing for Manos) is using her Manos leftovers to make a log cabin pillowcase. Ain't it gorgeous?!

september 2006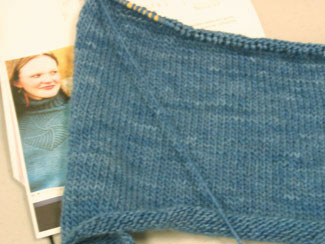 Emily was getting started on a sweater from Knitting Nature in an incredible silk/merino blend from Cherry Tree Hill.

august 2006
Catching up with the Knitsmiths: August edition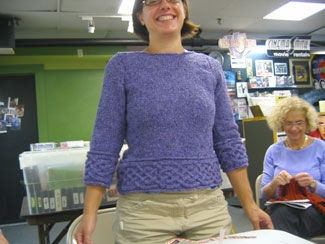 Emily finished her Kepler sweater (isn't that purple Jo Sharp Aran Tweed amazing?). I think it's the most flattering sweater she's ever made for herself. Don't you agree?!

august 2006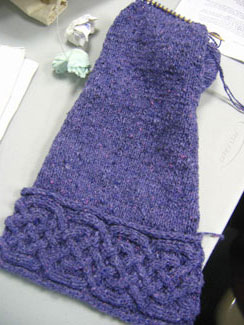 Emily is working on Kepler in the most beautiful color of Jo Sharp Silkroad Aran Tweed.

january 2006
Emily likes red.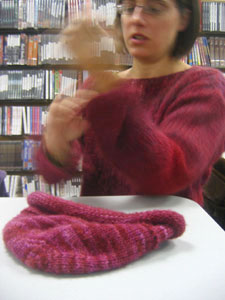 Her pinky-red Malabrigo hat matches her sweater!

december 2005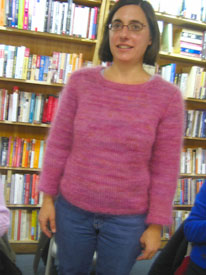 Emily finished her mohair pullover and it looks amazing on her!

november 2005
Seen at the swap: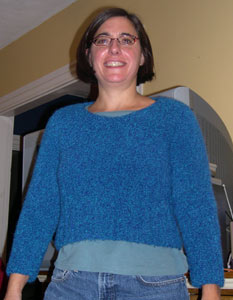 Emily in a fabby (and finished!) cropped pullover she got off the swap table. And here's the start to a sleeve for the lovely mohair sweater she's working on.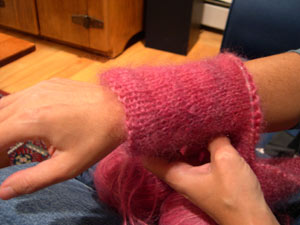 october 2005
Emily came in this week wearing the prettiest multidirectional scarf I've ever seen.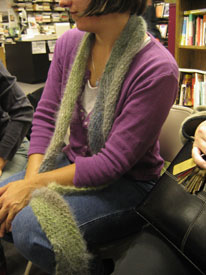 It gets skinnier around the neck, which gives it a long, elegant look. And I love the soft, fluffy yarn!

october 2005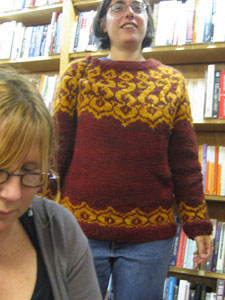 This week, Emily wore her amazing Moorish pullover (from Interweave Knits Winter 2003 in Manos. I love it when sweater season returns and we get to see everyone in their best sweaters, like this one from Emily, again.

june 2005
And even more socks! Just call us the Socksmiths.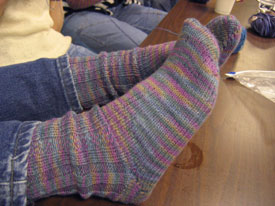 Emily finished her toe-up socks. She's using the same yarn (Lorna's Laces Shepherd Sock, I believe) to make another pair.

may 2005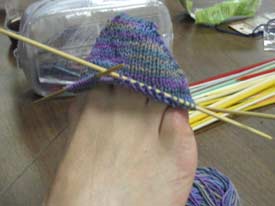 Toe-up socks are fun!

january 2005
Emily's begun working on her Hannah Falkenberg shawl again. The colors are so nice together and the fine wool is lovely and light.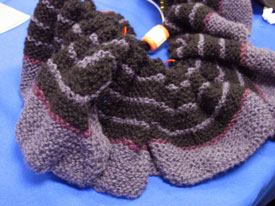 january 2005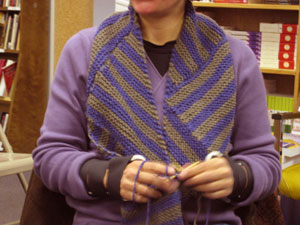 Emily's almost done with this neat multidirectional scarf for her nephew. He picked out the colors himself!

january 2003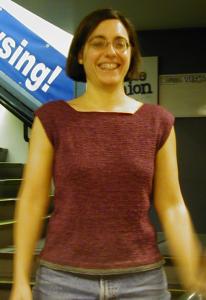 Emily just finished this beautiful fitted shell for herself. Doesn't she look great!


november 2002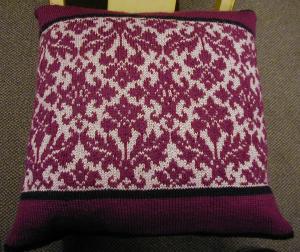 Emily has made so many beautiful things - sweaters, hats, afghans - but she's a bit camera shy. Today, she brought in this amazing Dale pillow that she just finished. Emily rules.